It's my favorite time of year — Halloween!! I love coming up with fun and easy ideas to decorate our front yard like Little Miss Pumpkin Head. I also like to figure out ways to use things around my house for our decorations, too. This posts contains affiliate links.
One of my passions in life is sewing and as such, I decorate a lot of my living room and home with dress form art. I've got tabletop ones, decoupaged ones, even art work on the walls of dress forms.
A few years ago for my birthday, my mom and I went to a giant antique store, and I found one of those bird cage style wire dress forms in a child size. I already had an iron adult sized metal dress form. The child size one wasn't really an antique, it was just made to look old. You can find these types of dress forms at craft stores or antique stores. I think we paid around $40 for it.
For the past few years for Halloween, I take it outside and turn it into a creepy little girl with a pumpkin head. She watches the street holding her candy bucket full of bones! Molly just thinks it's the coolest thing ever.
If you want to purchase your own easily to make this outdoor decoration, I found this one at Amazon – Manual Child Size Metal Dress Form Mannequin, 21-Inch
.
Little Miss Pumpkin Head
Supplies
1. I had an old broken 30-inch skeleton – the small size you can find at Target or Michaels, etc. I think they are between $10-$15/each. Remove the arms (including the metal rings attaching them). Then reattach the metal rings of the arms to the shoulders of the dress form.
2. Purchase a small foam pumpkin that you can carve (mine's from Dollar Tree) or Michaels, Walmart, etc. Then, carve a jack o'lantern face into it. Also cut a hole in the bottom to match the neck size of the dress form.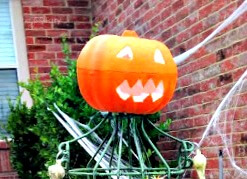 3. Next, go shopping at the thrift store and find a super cheap old style little girl's dress around a size 7-8. I found this gorgeous vintage smocked dress for 49 cents at the thrift store.
4. Put the dress on the dress form. Then slide the pumpkin head down onto the neck.
5. Next, zip tie the two hands together holding the candy bucket.
6. Take the dress form outside and using 4 garden staples, put one staple over each part of the metal foot all the way securely down in the ground.
7. This is optional. Take a bag of skeleton bones and lay them out on a piece of cardboard and spray them with glow-in-the-dark spray paint. Let them dry, them flip them over and do it again. Once they are dry, take them outside and place most of them around the little pumpkin head girl, and add a couple to her candy bucket.
Now you're done! And you'll creep out the neighbors, especially at night!
More Halloween Décor
Halloween Fun
Halloween Food to Make