Who's ready for a Halloween Scavenger Hunt? This year is going to be a bit different for Halloween and trick-or-treating. We are still decorating, but instead of trick or treating, we will be doing a Neighborhood Halloween Scavenger Hunt.
Last year we did a Christmas decoration scavenger hunt, and my kids loved it. So, I thought a Halloween version would be fun, too. Like us, man of our neighbors are pretty good about decorating for Halloween.
How do you play a Neighborhood Halloween Scavenger Hunt?
If you live in a place where there aren't many Halloween displays, then you can always find another neighborhood that has Halloween decorations.
You can get clipboards from the Dollar Tree. We do these scavenger hunts one of two ways.
We drive around a neighborhood, and I give each kid a pencil to mark off what they see as we drive around.
Or, we walk the neighborhood after dark checking out all the cool Halloween decorations and bring the list with us.
Whoever finishes first is the winner!
Download the Halloween Scavenger Hunt File
Halloween Music for the Car Ride
If you're going to do this in the car, download this Halloween music playlist to set the mood! You can even play a game of our Halloween Name That Tune Game with it, too!
More Halloween Games
Halloween Treats
After the hunt, come home some dreadfully delicious Halloween recipes. My personal favorite is the Monster Mash Cheesecake Bars. They are so fun and colorful and taste amazing! But, we've got so many more:
Halloween Activities for Kids
Do you need Halloween prizes?
We've got some easy Halloween Surprise Balls and Pumpkin Goody Bags you can make yourself. Or, check out these store bought ideas for prizes and party favors:
Get the Halloween Game eBook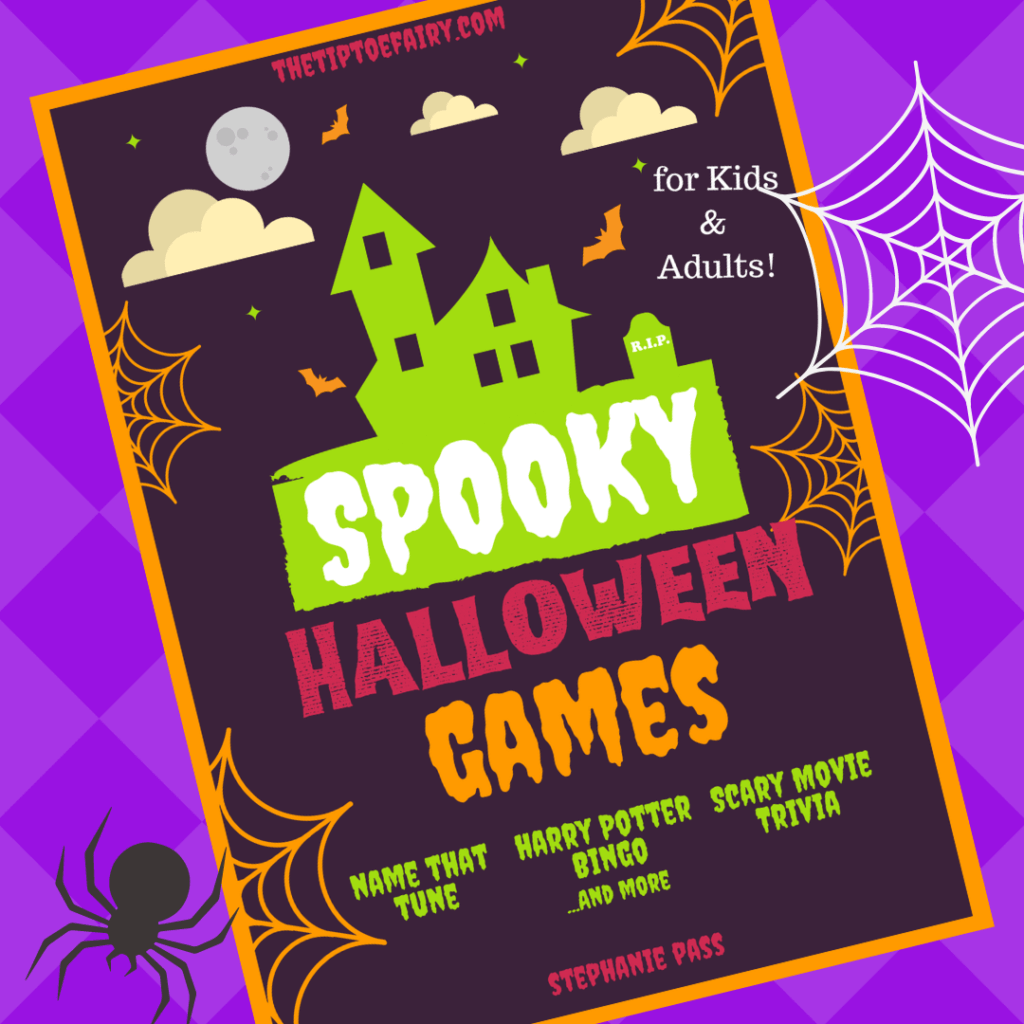 Want all the Halloween games? Instantly download a 31-page Spooky Halloween Game eBook with all the fun games from The TipToe Fairy for just $4.97! You'll get:
30 Days of Fall Fun
Halloween Scavenger Hunt
Halloween Treasure Hunt
5-pack of printables Halloween games – word search, crossword, maze, and secret messages!
Scary Movie Trivia Games for kids and adults
Halloween Pictionary
10 Harry Potter Movie Bingo Cards
Come Join Us!
Liked this article and want more? Follow along on Instagram, Facebook, Twitter, Pinterest, TikTok, and YouTube!
Come over and join us on Facebook in the group Recipes, Crafts, and more with TipToe Fairy or Sewing and Crafting with The TipToe Fairy!
Visit Our Other Blogs!