This shop has been compensated by Collective Bias, Inc. and its advertiser. All opinions are mine alone. #ThinkOutsideTheWipe #CollectiveBias
One of my favorite activities to do together with my kids is to make slime. Often we have a theme like something gross for Halloween like spiders or something glittery for Christmas or maybe sea animals for some under the sea slime.  My kids love to mix up the slime themselves, and cleanup is easy with Huggies® Natural Care® Wipes.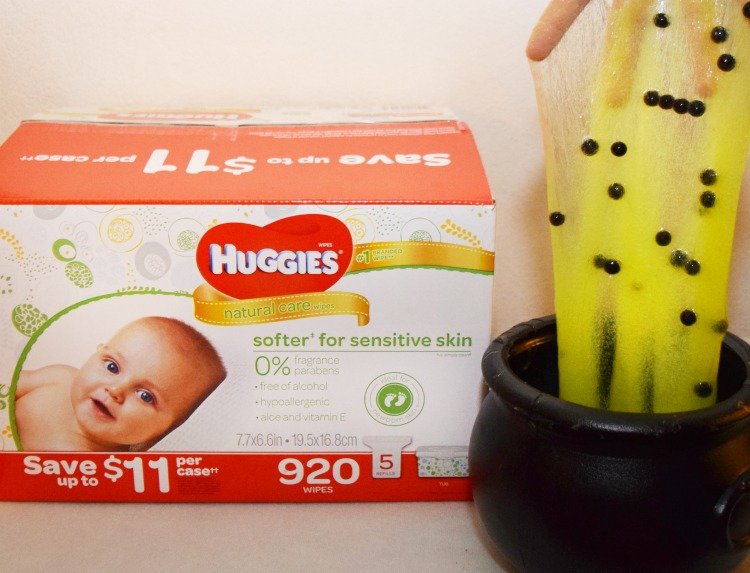 Interested in using Huggies® Natural Care® Wipes in your next creative endeavor? Hover over the photo above to click through to Samsclub.com and buy them!
We use a lot of wipes on my baby, but wipes are still so useful for so many things including cleaning up crafts, spills, and messes with my big kids.  Huggies Natural Care Wipes are my favorite because they have no parabens, alcohol, or fragrances and are perfect for hands and faces.  Plus, I love how thick they are because that thickness translates to easier cleanups.
Have you tried Scan and Go at Sam's Club? I am loving this app! You just use the app on your phone to scan your items and pay.  Then go to a kiosk to pick up the receipt.  That's how I picked up my big box of Huggies Natural Care Wipes just this past weekend.  No waiting in lines to check out. It's one of the reasons I just love being a member at Sam's Club.
Ready to make some slime? We like to call this one Witch's Brew Slime. It has black water beads in it to look like it's a bubbling brew. Here's what you need:
Supplies
1 teaspoon of black water beads (dry)
2 cups of water
1 bottle of glue
1 cup of liquid starch
green food coloring drops
spoon
bowl
A couple hours before you make the slime you'll need to soak your water beads in about 2 cups of water. I just used a disposable cup.  I found my black water beads online.
First you will poured the entire contents of a bottle of clear school glue. It needs to be clear glue.  Next you'll fill up the glue bottle halfway with warm water and add it to the glue and stir.
Next we will begin adding liquid starch 1/4 of a cup at a time until it gets to the desired consistency of slime.  It should not be extremely sticky like glue.  It should stick to itself for the most part.
You want it to congeal together and not be runny at all.
When your slime reaches the right consistency your ad about four drops of lime green food coloring and stir the slime until the food coloring is throughout all of it.
Next it's time to add the water beads. Don't add too many.  I have my daughter add a small handful at a time and then knead them into the slime.  She added about 3-4 small handfuls of water beads.
Now your Witch's Brew Slime is ready!
This makes a perfect little take home gift for a Halloween party.  We put them in little cauldrons and sealed them up in plastic bags.
Once your kids or you are done playing with the slime Huggies Natural Care Wipes are the perfect cleanup solution.
Messes happen – big ones, small ones, and all the sizes in between. Moms everywhere can embrace the mess and clean it up with confidence with the help of Huggies Wipes!