Ready to make some slime? We like to call this one Witch's Brew Slime. It has black water beads in it to look like it's a bubbling brew perfect for Halloween. This is a sponsored post. This post contains affiliate links.
updated 8/5/2002
What supplies do you need to make Witch's Brew Slime?
How do you make Witch's Brew Slime?
A couple hours before you make the slime you'll need to soak your water beads in about 2 cups of water. I just used a disposable cup. I found my black water beads online.
First you will poured the entire contents of a bottle of clear school glue. It needs to be clear glue. Next you'll fill up the glue bottle halfway with warm water and add it to the glue and stir.
Next we will begin adding liquid starch 1/4 of a cup at a time until it gets to the desired consistency of slime. It should not be extremely sticky like glue. It should stick to itself for the most part.
You want it to congeal together and not be runny at all.
When your slime reaches the right consistency your ad about four drops of lime green food coloring and stir the slime until the food coloring is throughout all of it.
Next it's time to add the water beads. Don't add too many. I have my daughter add a small handful at a time and then knead them into the slime. She added about 3-4 small handfuls of water beads.
Now your Witch's Brew Slime is ready!
This makes a perfect little take home gift for a Halloween party. We put them in little cauldrons and sealed them up in plastic bags.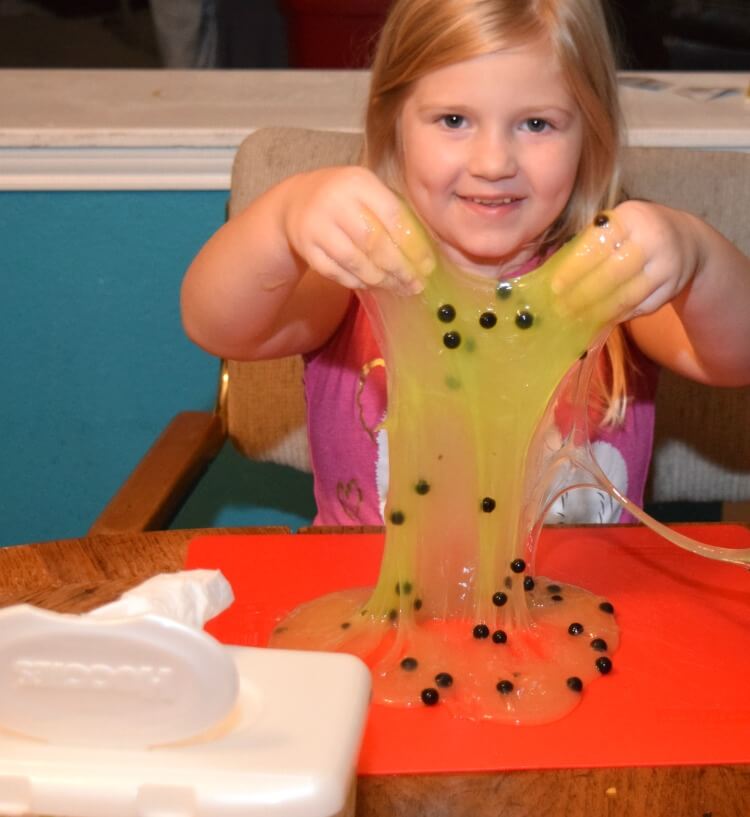 Once your kids or you are done playing with the slime Huggies Natural Care Wipes are the perfect cleanup solution.
More Halloween Crafty Fun
More Halloween Fun
Come Join Us!
Liked this article and want more? Follow along on Instagram, Facebook, Twitter, Pinterest, TikTok, and YouTube!
Come over and join us on Facebook in the group Recipes, Crafts, and more with TipToe Fairy or Sewing and Crafting with The TipToe Fairy!
Visit Our Other Blogs!