This shop has been compensated by Collective Bias, Inc. and its advertiser. All opinions are mine alone #SnackItAndPackIt #SeasonalSolutions #CollectiveBias
I just love decorating for Halloween. I love to change it up every year with new decorations and a new trick or treat station.  In the afternoon, we set up our self serve trick or treat station. This year it will be with this easy DIY Skeleton Treat Bowl.
Then, we take the kids trick or treating at 6 pm (that's always official trick or treat time here).  Once we get back, I replenish the bowl and we sit outside and hand out treats.  That's the most fun part!
I hand out more than just candy.  This year I picked up a variety of Kellogg's products — Kellogg's® Rice Krispies Treats® Original, Pringles® Original, Keebler® Cookie Mini Fudge Stripes, and Cheez-It® Variety Pack.  These are all portable and great on the go! I visited Kroger, but you can visit any Kroger or Kroger banner store.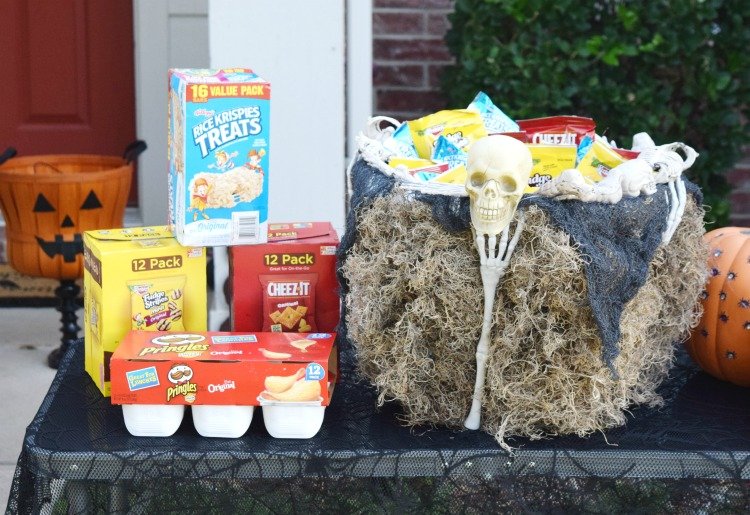 You can hover over the image above and each product will come up to add to your Kroger shopping list. Make sure to check out great offers and limited time special pricing on Pringles Snack Packs and Keebler Cookie and Cheez-It Variety Packs at your local Kroger or Kroger banner store! Plus, there's a digital coupon to save on Kellogg products at Kroger now through 11/2!
It usually takes us about an hour of trick or treating before we get back to the house, so I put out a huge bowl so we don't run out too quickly.  This year I turned a laundry basket into this creepy skeleton treat bowl! Here's how:
Supplies
1 dollar store laundry basket
1 creepy cloth
1 large package of spanish moss
bones and skulls
3 sets  of skeleton salad tongs (you can find these at all the dollar stores)
hot glue gun
1 trash bag
zip ties
First, line your laundry basket with a trash bag. I wanted my bag a little fitted, so I folded the sides together and add a dab of hot glue.
Next, begin adding the spanish moss around the entire laundry basket using hot glue.
Once you've covered the entire basket with moss, go back and fill in any holes.
Lay out the creepy cloth on the inside of the basket to hide the trash bag.  Let the corners fray and hang over the sides.
Add hot glue to the entire length of each skeleton salad tong. Then put them around the basket.  I used 3 sets.
To add security to the skeleton tongs, add zip tie at the wrist.  I just poked small holes through the moss and garbage bag as I fed the zip tie through.
Hot glue bones and skulls around the top of the laundry basket.
Fill your basket to the top with yummy Kellogg's treat!
On Halloween, make sure you've decorated the porch and even the yard for your trick or treaters.  We add:
creepy cloths
wreaths and signs
lights
a bluetooth speaker
We connect one of our phones to the bluetooth speaker, which we hide in the bushes.  Then we have a playlist of fun Halloween music like the Monster Mash and Thriller.  We leave the phone right inside the door so it stays connected and music plays for our trick or treat station.
Then, we set up a table for self serve trick or treating complete with spider webs and spooky decor.  I add a sign to remind everyone to take just one.  You can download your own copy HERE!
For more Kellogg Halloween inspiration, check out the social hub!