I just love decorating for Halloween. I love to change it up every year with new decorations and a new trick or treat station. In the afternoon, we set up our self serve trick or treat station. This year it will be with this easy DIY Skeleton Treat Bowl.
updated 8/7/2022
Then, we take the kids trick or treating at 6 pm (that's always official trick or treat time here). Once we get back, I replenish the bowl and we sit outside and hand out treats. That's the most fun part!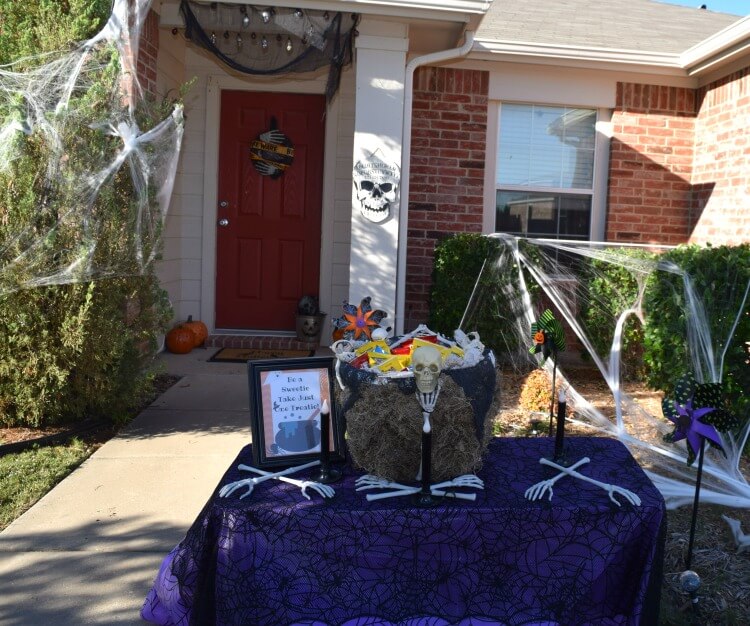 What do you need to make a DIY Trick or Treat Station & Skeleton Treat Bowl
It usually takes us about an hour of trick or treating before we get back to the house, so I put out a huge bowl so we don't run out too quickly. This year I turned a laundry basket into this creepy skeleton treat bowl! Here's how:
Supplies
1 dollar store laundry basket
1 creepy cloth
1 large package of spanish moss
bones and skulls
3 sets of skeleton salad tongs (you can find these at all the dollar stores)
hot glue gun
1 trash bag
zip ties
How do make a DIY Trick or Treat Station & Skeleton Treat Bowl
First, line your laundry basket with a trash bag. I wanted my bag a little fitted, so I folded the sides together and add a dab of hot glue.
Next, begin adding the spanish moss around the entire laundry basket using hot glue.
Once you've covered the entire basket with moss, go back and fill in any holes.
Lay out the creepy cloth on the inside of the basket to hide the trash bag. Let the corners fray and hang over the sides.
Add hot glue to the entire length of each skeleton salad tong. Then put them around the basket. I used 3 sets.
To add security to the skeleton tongs, add zip tie at the wrist. I just poked small holes through the moss and garbage bag as I fed the zip tie through.
Hot glue bones and skulls around the top of the laundry basket.
Fill your basket to the top with yummy Kellogg's treat!
How to decorate a porch for Trick or Treaters
On Halloween, make sure you've decorated the porch and even the yard for your trick or treaters. We add:
creepy cloths
wreaths and signs
lights
a bluetooth speaker
We connect one of our phones to the bluetooth speaker, which we hide in the bushes. Then we have a playlist of fun Halloween music like the Monster Mash and Thriller. We leave the phone right inside the door so it stays connected and music plays for our trick or treat station.
Then, we set up a table for self serve trick or treating complete with spider webs and spooky decor. I add a sign to remind everyone to take just one.
Download this Trick or Treat Sign
More Halloween Tutorials
Want to make more fun stuff for Halloween? Here's a few ideas:
Halloween Treats & Eats
Need Halloween treat ideas? Check out a few of these:
Halloween Party Fun
Having a Halloween party? Need some ideas to get the party started? Check out some of these fun free printables. There's something for everyone:
Come Join Us!
Liked this article and want more? Follow along on Instagram, Facebook, Twitter, Pinterest, TikTok, and YouTube!
Come over and join us on Facebook in the group Recipes, Crafts, and more with TipToe Fairy or Sewing and Crafting with The TipToe Fairy!
Visit Our Other Blogs!