Thinking of having a Halloween Party Zoom call or maybe just some friendly competition at home? These Halloween Games for Kids and Adults would be perfect to break the ice or get the competition going!
Halloween might not be the trick or treating and parties it usually is. But, we've got some really fun Halloween free printable games to have a great time.
What Halloween Games for Kids and Adults are included?
Halloween Pictionary
Scary Movie Trivia (Kids & Adult versions)
Super Secret Halloween Messages
How do you play Halloween Pictionary?
Simply cut the clues out, fold them up, and put them all in a bowl or jar.
Divide into two groups.
One person from each group takes a turn and draws a clue while their own team guesses.
If their team cannot guess and the opposing team can guess correctly, they win that point.
First team to 5 points wins.
How do you play Scary Movie Trivia?
This game is super simple and can be played a couple of ways. It's great fun if you're doing a Zoom call.
The first method is:
Each person is given a print out of the questions.
Set a timer for 1 minute and see who can answer the most questions in one minute.
The winner will have the most answers that are correct.
The second method (great for virtual parties on Zoom):
The host asks everyone the trivia questions.
Write in the chat your answer.
First person to get correct gets 1 point.
Whomever gets the most points wins.
How do you play Super Secret Halloween Messages?
This game is also a great ice breaker.
Each person gets a sheet of the clues.
Each person will need a copy of the cypher key or have several laying around for people to use together.
Give the players a time limit such as 5 minutes.
Whoever can solve the most secret messages is the winner.
Download the Halloween Games for Kids and Adults
Halloween Music Playlist
Set the mood for your little home party with the family or on a zoom virtual call and grab this Spotify playlist for some fun Halloween tunes. You could even download our other game — Halloween Name That Tune to play with it!
More Halloween Games
Halloween Treats
Make some ghoulishly delicious Halloween recipes. My favorite is the Monster Mash Cheesecake Bars. They are so fun and colorful and taste amazing! But, we've got so many more:
Get the Halloween Game eBook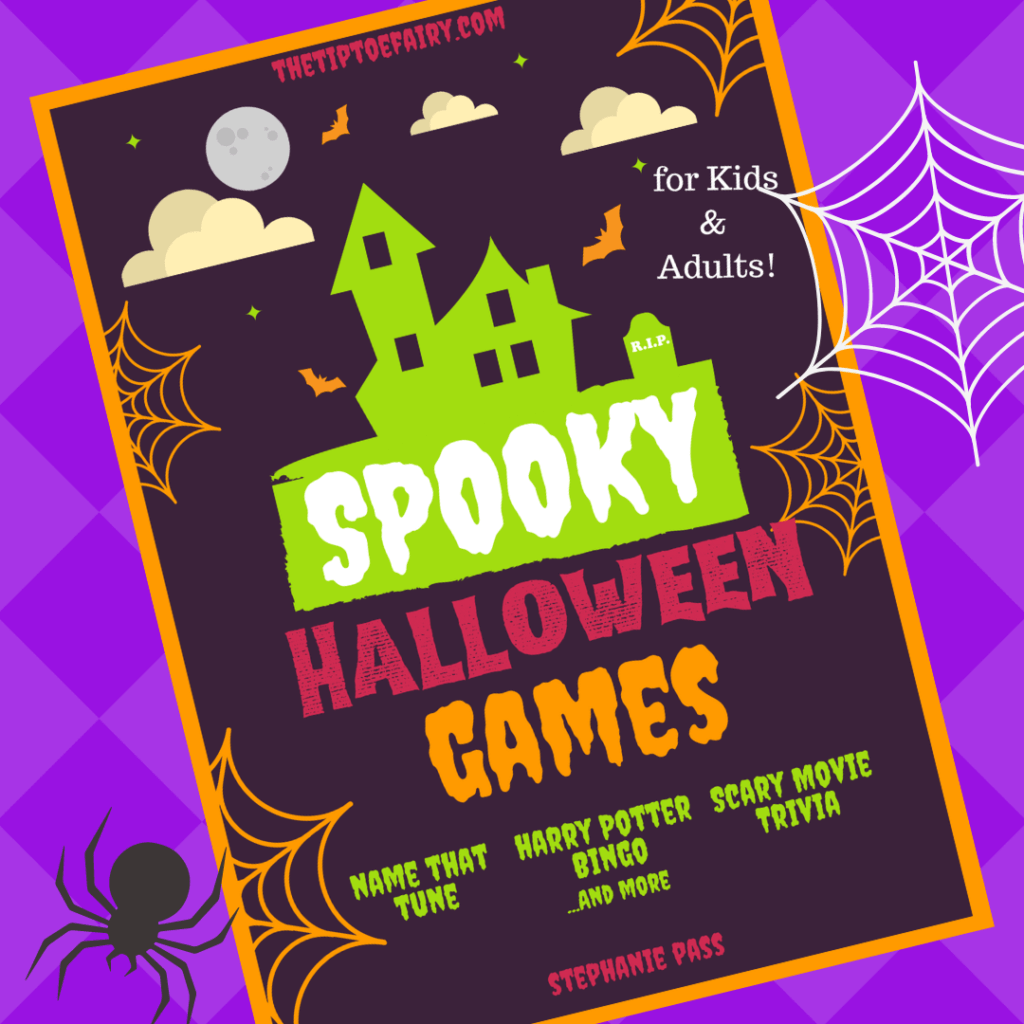 Want all the Halloween games? Instantly download a 45-page Spooky Halloween Game eBook with all the fun games from The TipToe Fairy for just $5! You'll get:
Halloween Scavenger Hunt
Halloween Treasure Hunt
5-pack of printables Halloween games – word search, crossword, maze, and secret messages!
Scary Movie Trivia Games for kids and adults
Halloween Pictionary
10 Harry Potter Movie Bingo Cards
12 Halloween themed Bingo Cards
3 I Spy Games
Come Join Us!
Liked this article and want more? Follow along on Instagram, Facebook, Twitter, Pinterest, TikTok, and YouTube!
Come over and join us on Facebook in the group Recipes, Crafts, and more with TipToe Fairy or Sewing and Crafting with The TipToe Fairy!