I love these little zombie eyes. You can make them to go in a snack mix with some pretzels, nuts, and Chex cereals. Or, you buy store bought cupcakes and insert these little zombie eyes in the frosting for some fun Zombie Eye Cupcakes. Or, you can just have a bowl of zombie eyes at the Halloween party for people to snack on.
They take no time to make, and you do not have to be a fancy cake or candy decorator to make these. They're zombie eyes, so they're supposed to look messed up. This post contains affiliate links.
I used the red-veined candy eyes to look like bloodshot eyes, but if you're planning on making a ton of these zombie eyes, a variety of eye colors like green or yellow or even blood red along with the bloodshot eyes would look creepy.
How do you get the candy melts to the right consistency?
Some people meld the candy melts over a double boiler on the stove. I prefer to do the microwave method. I microwave them in a microwave-safe bowl for 30 seconds a time. Then, I stir them after every 30 seconds. Usually it takes about 2 full minutes in the microwave before the candy melts are completely melted.
But, even then, your candy melts might be a little gloppy. If that's the case, you'll need to thin out the candy melts. You can do this with a little bit of oil or shortening. But, even then I've messed up my candy melts. The best way I've found to get the consistency perfect every time is using Wilton's EZ Thin. Just a couple of pinches stirred in gives it the perfect consistency. I used to struggle with the consistency being too lumpy or gloppy, but this stuff makes it so easy.
Make sure you are prepared before you begin dropping them in the candy melt. Have your wax paper set up on the cookie sheet. Have all your ingredients opened and ready to use. The sprinkles are ready to sprinkle. The candy eyes are open and ready to grab one at a time.
Now you can get started. I recommend doing one at a time from start to finish about 3-4 times to get a handle on how to make them, before you do a quick assembly line style. Here's the process:
Dip in candy melt
Set on wax paper
Shake on red sprinkles
Dab candy melt on back of eye
Set eye on top of cookie
Once you're confident you have the process down, then you can do 3 to 4 cookies together. The candy melt dries pretty quick on these small cookies, so I recommend doing no more than 4 cookies at the exact same time.
How do you make Zombie Eye Cupcakes?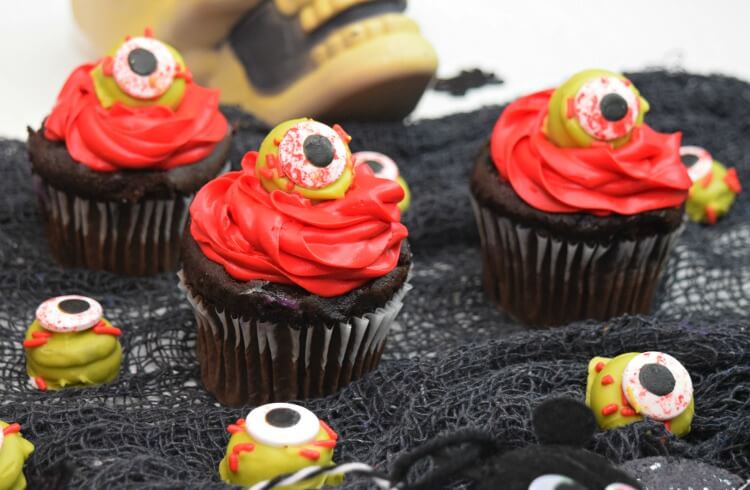 You can make your own cupcakes and then top the frosting with these zombie eyes. When I'm in a hurry for a quick Halloween treat for a party, I just buy plain white store bought cupcakes. I remove the white frosting, then I purchase Pillsbury Funfetti RED Vanilla frosting. The red frosting just adds to the zombie eyes.
I whip the frosting with my electric mixer to make it light and fluffy. Then, I pipe it onto the cupcakes, then add a zombie eye right in the middle. Now your creepy Zombie Eye Cupcakes are ready!
More Homemade Halloween Treats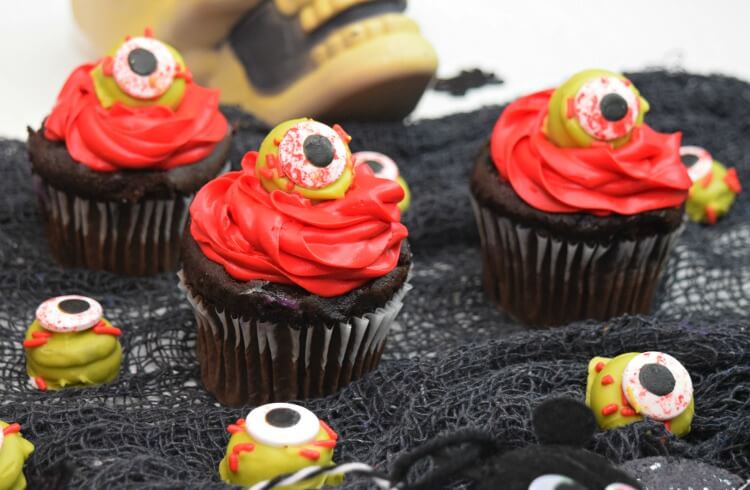 Yield:

18 cupcakes
Zombie Eye Cupcakes
Make your own Zombie Eyes with OREO mini cookies. Then, turn basic cupcakes into Zombie Eye Cupcakes for Halloween!
Instructions
Lay out a piece of wax paper on a cookie sheet.
Melt the vibrant green candy melts in the microwave for 30 second increments. Stirring after each 30 seconds.
Continue microwaving until they stir smooth.
Drop a mini OREO into the candy melt and using a fork, completely submerge it.
Then, lift it up on the fork, tap the fork gently on the side of the bowl to remove excess candy melts.
Set it on the wax paper.
Shake the sprinkles over the top.
Take a bloodshot eye, add a little candy melt to the back and then set it down on top of the cookie.
Repeat these steps until all the cookies are done.
Pop the cookie sheet into the freezer for 5 minutes.
Store in a sealed container until ready to add.
Scrap the frosting off store bought cupcakes
Pipe red frosting onto cupcakes with a large star tip.
Top each cupcake with a zombie eye.
Come Join Us!
Liked this article and want more? Follow along on Instagram, Facebook, Twitter, Pinterest, TikTok, and YouTube!
Come over and join us on Facebook in the group Recipes, Crafts, and more with TipToe Fairy or Sewing and Crafting with The TipToe Fairy!
Visit Our Other Blogs!