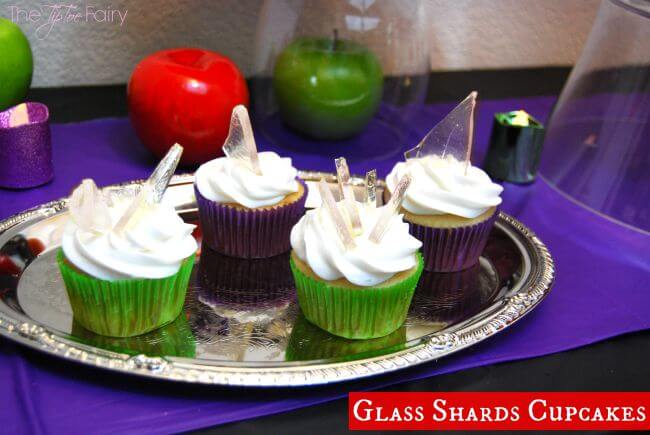 Last week I had a Disney's Descendants movie watching party for my kids and their friends. I showed you how to make the DIY spell book prop for the party. Now I'm going to show you have to make cupcakes with shards of glass. This is perfect for a certain Evil Queen with a broken mirror, or it's great for just a scary ol' Halloween party, too!
Video for Sugar Glass Shards Cupcake
I have to admit, I was so scared I was going to mess this up. It looks really hard and complicated, but follow these instructions exactly and you will get the sugar shards. It really does come together fast and so easy.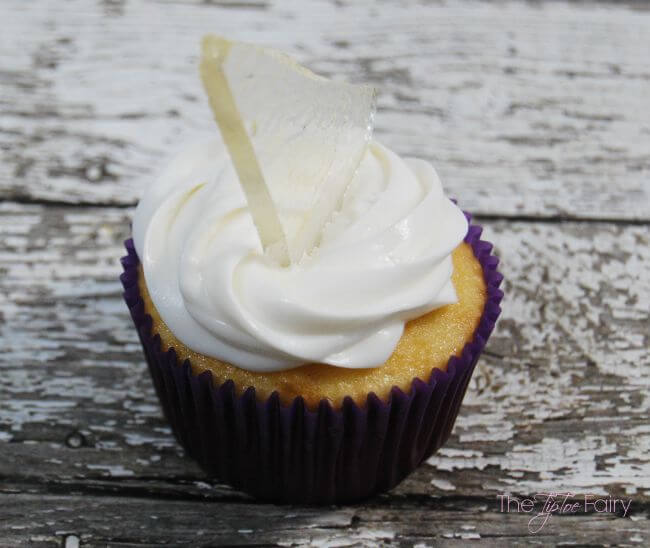 How to make Sugar Glass Shards Halloween Cupcakes
First, you'll need to make glass sugar.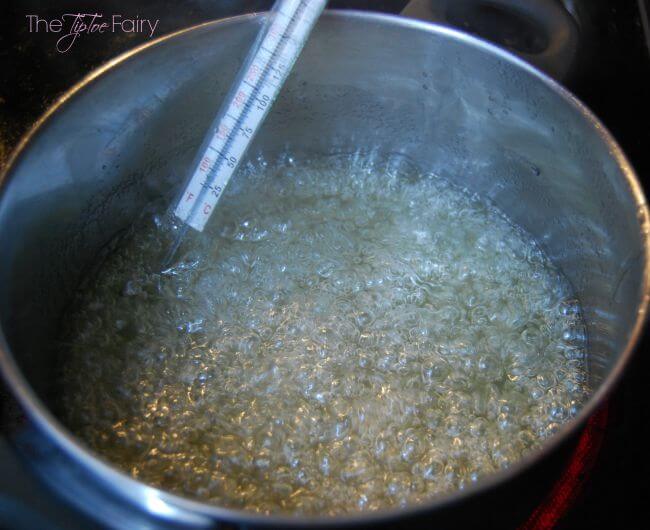 Spray a 13 x 9 cookie pan with olive oil. Clip the candy thermometer to the sauce pan. Combine the ingredients and stir until it begins to boil. When it starts to boil, don't stir. Just let the bubbles work their magic.
When it reaches 300 degrees, remove from fire and let it sit for just a few seconds while it stops boiling.
As soon as it stops, pour onto the cookie sheet and let it sit for an hour or two while it hardens.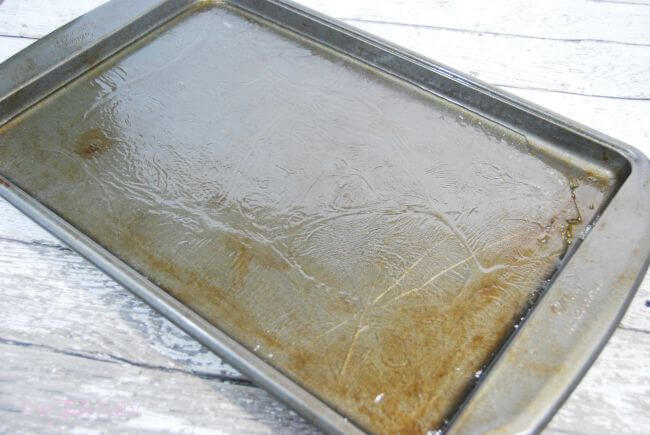 Before smashing it, make sure it's completely cooled and hard.
Then, use a hammer to break it up.
For the shards for cupcakes, you'll want to not smash it much so that the shards are large.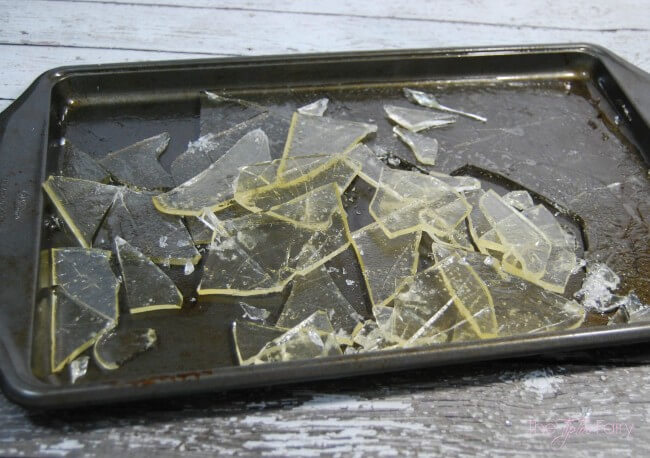 I used the edge of a knife to pull the pieces up from the cookie sheet.
How do you make the cupcakes bleed?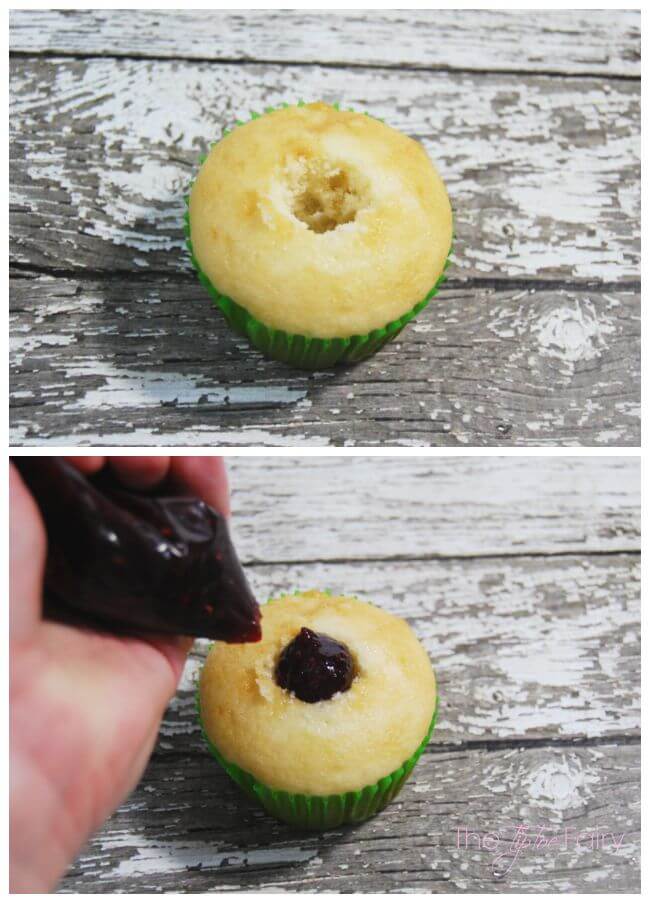 You can use any basic cupcake mix. I used a plain white cake mix. When they had cooled, I cut out the centers and piped in raspberry jam for a little bloody effect. Then I used a star tip to pipe the frosting and added the shards.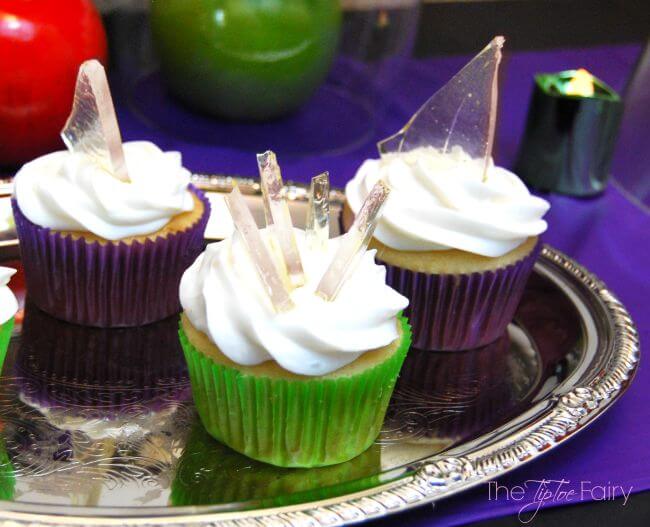 How do you make Bloody Sugar Glass Shards Cupcakes?
If you're making these for a fun Halloween party, you can add blood. I mixed a few drops of red food coloring with corn syrup and spooned just a tiny bit over the sugar glass.
More fun and easy Halloween treats?
A fun topping for Halloween cupcakes!
Ingredients
1 3/4 cup sugar
3/4 cup light corn syrup
1/2 cup water
Instructions
Spray a 13 x 9 cookie sheet with olive oil, liberally.
Make sure you have a candy thermometer. Clip it to the sauce pan.
Combine all ingredients in a sauce pan over medium-high heat.
Stir until sugar is dissolved and it begins to boil.
Once it begins to boil do not touch it - stop stirring. Let the bubbles do the work.
I did not add any food coloring. If you are adding food coloring, add it when it starts to boil so the bubbles will distribute it evenly.
As soon as the thermometer reaches 300, turn off the fire and remove the pain. Let it sit for just a few seconds while it stops boiling.
Then pour it onto the cookie sheet and let it harden for 1-2 hours.
When it's ready, use a hammer to break it up.