[disclaim]This is a sponsored post on behalf of Del Monte. All opinions are 100% my own. [/disclaim]
Are you one of the lucky ones whose kids love fruits and veggies? If you're like me, it can be hard to get fruits and veggies into your kid. I've come up with a few sneaky ways of getting them into my 5 yr old like giving her Del Monte's new Fruit & Veggie Fusions for school lunches.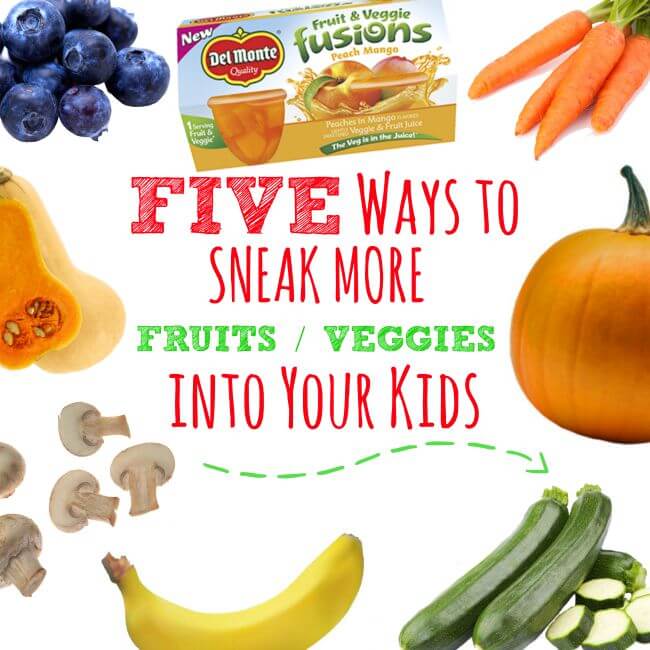 This is Super Molly! She's about to head off to swimming lessons where she is so close to swimming across the pool by herself, but first she must leap couch cushions in a single bound and eat her Del Monte Fruit & Veggie Fusions for lunch!
You can share your kid's super moments, too, when you participate in the Share the Super Sweeps now through September 18th, 2015. You can enter for a chance to win some amazing prizes from Del Monte! Check it out HERE!
Sometimes she does turn her nose up at every fruit or vegetable I offer her. There's days she'll love broccoli, and the next night at dinner, I'll put some on her plate, and she tells me I should know she hates broccoli. What?
So, I've found some creative ways to sneak them into her diet. Sometimes you just have to be clever!
1. Her favorite meal is either meatballs (skip the spaghetti for her) or meatloaf muffins, which are basically meatloaf in cupcake tins. I will finely chop carrots, zucchini, or even bell pepper and hide it in the meat. She has no idea she's eating vegetables, and she gobbles it up!
2. She loves spaghetti sauce on her meatballs, and what better way to sneak in some finely chopped mushroom? It absorbs the flavor so well, and they never know!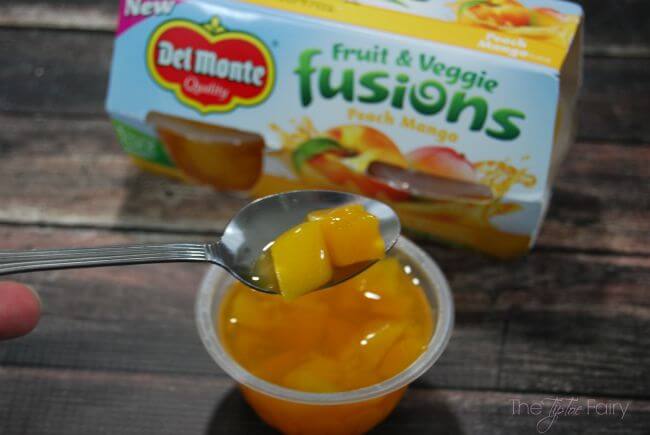 3. Del Monte Fruit & Veggie Fusions combine the great taste of Del Monte fruit cups with the power of vegetables, which are the perfect sidekick to accompany your little superheroes through busy days! There are three varieties:
Peach Mango
Cherry Fruit Trio
Apple Pear Watermelon
Each fruit cup has lightly sweetened vegetable and fruit juice inside for a delicious snack to bring out the super in the whole family. Del Monte Fruit & Veggie Fusions help nourish and energize kids for all their super moments.
New Del Monte Fusions include 1 combined serving of fruit and veggies in every cup. There's no high fructose corn syrup and no artificial colors or flavors, making for a delicious and nutritious Fusion.
4. Smoothies are another great way to sneak both fruits and veggies into their diet. I add avocado, spinach, or carrot to a smoothie full of fruits and yogurt, and she just loves it.
5. My daughter also loves frozen bars. When making homemade versions, it's easy to sneak fruit into those. I puree ripe berries with a little bit of water and then just freeze them in lawyers in popsicle molds.
Don't forget to enter your kid's super moments for a chance to win some amazing prizes from Del Monte! Find out more HERE!
Which flavor would you like to try of the new Del Monte Fruit & Veggie Fusions?
Be on the look out September 8th, 2015 for Del Monte Fruit & Veggie Fusions to show up at your local Walmart!