This is the best time of the year! Let's make some Hocus Pocus Spell Book Brownies! One of my favorite Halloween movies is Hocus Pocus and now Hocus Pocus 2 is coming! This post contains affiliate links.
updated 9/30/2022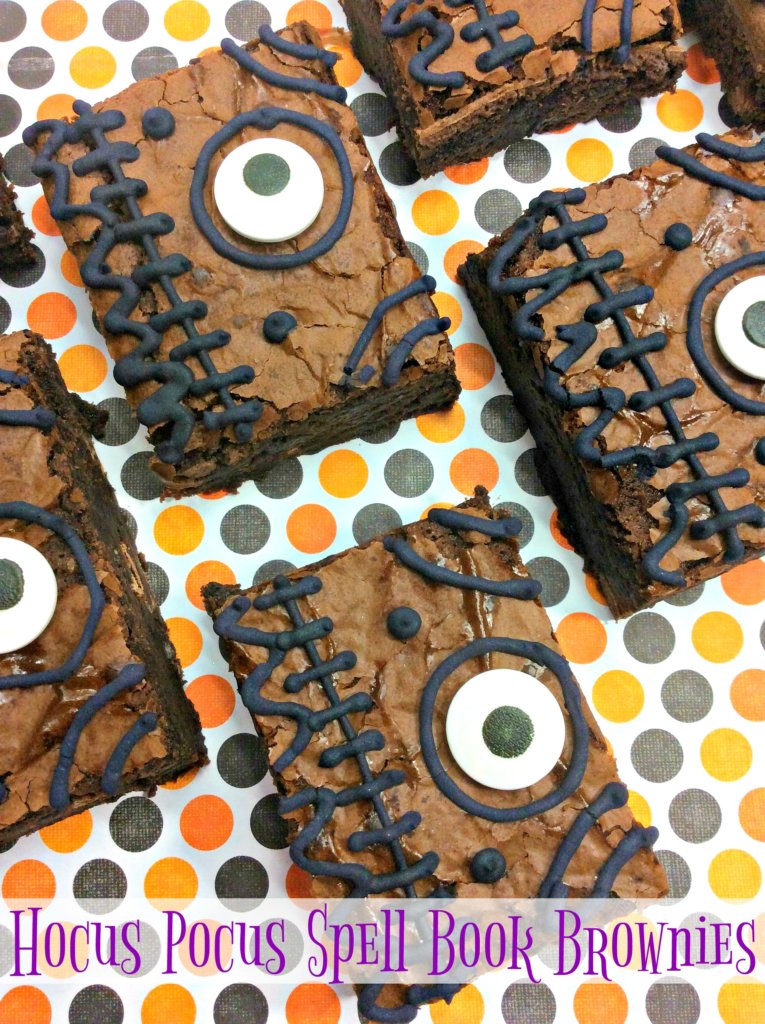 My favorite parts of Halloween are witches and witch decor. I just love witch apothecary decor and spell books. They are just so fun! Here is a fun spell book prop that is perfect for your next Halloween party tablescape.
These are so cute and so fun to decorate. And, if it's a kids' Halloween party, they can easily decorate their own Hocus Pocus Spell Book Brownie as an activity. My kids love eating things they decorate themselves.
You can take your time and make your own from scratch brownies. Or…you can just get a couple of boxes of brownie mix and save time so you can get to decorating these fun little treats. I usually chose the fudge brownie box mix because it tastes pretty dang good, and I don't have to mess the kitchen up with a ton of ingredients when I have a party in a few hours.
Ingredients to make Hocus Pocus Brownies
your favorite brownie recipe OR Box Mix Brownies
Black Cookie Frosting
1-inch candy eyes
How to make Hocus Pocus Spell Book Brownies
If you're making these for the kids to decorate, I'd prep ahead and have the brownies cut and set on paper plates ready to go. Get a few tubes of ready made black cake frosting with tips already added or black cookie frosting and have them ready to use next to a bowl of the eyes.
I found 3/4-inch eyes were the easiest to find. But, you can also order 1-inch eyes on amazon in different styles, but they were more expensive.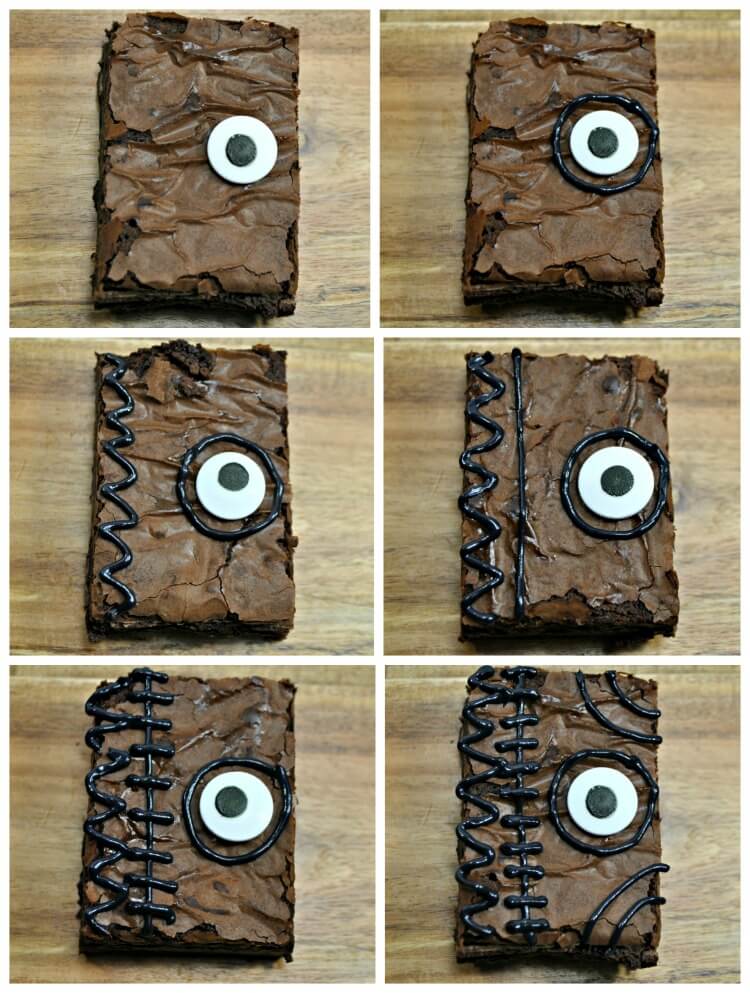 Wait until they are completely cold or you'll get a frosting mess from the heat. I found popping the brownies in the freezer for 15 minutes or so made them easier to cut into rectangles without much stickiness. Plus, decorating them cold makes the frosting dry very quick.
This is the way we did it, but the kids can totally have fun designing their own Hocus Pocus Spell Book Brownies.
We began with the eye, and then added a circle around it. Next, we piped a zigzag down one side of brownie and then a straight line down next to it. Then, we piped stitches across the line and then finished off with some half circle corners.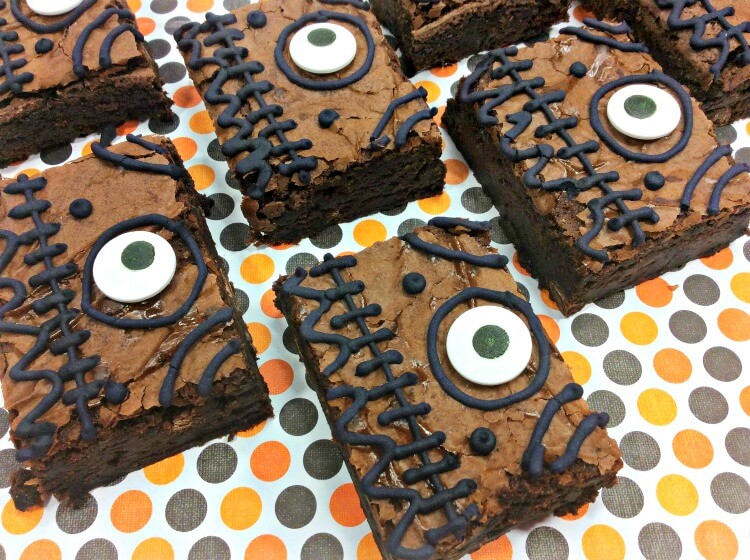 Allow the icing to dry for an hour before serving.
More Witchy Fun
More Fun Halloween Treats
Halloween Fun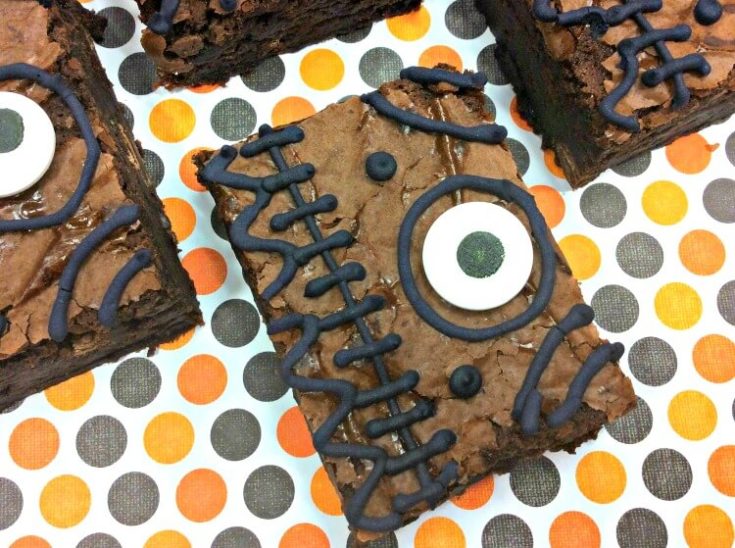 Hocus Pocus Spell Book Brownie Halloween Treats
Have Hocus Pocus themed Halloween party with these fun and delicious Hocus Pocus Spell Book Brownie Halloween Treats!
Ingredients
1 box of fudge brownie mix - 13 x 9 size
2 eggs
oil
water
1 container black cookie icing
1 container of large candy eyes
Instructions
Preheat oven to 350 F degrees.
Spray a 9 x 13 pan with non-stick spray.
Combine brownie mix, eggs, water, and oil. Mix until just combined.
Spread the batter into the prepped baking dish.
Bake for about 20-25 minutes, until middle is done.
Remove the brownies from the oven and allow them to fully cool.
Once completely cooled cut into about 15 bars.
Squeeze the black cookie icing into the piping bag or ziplock baggie using a round icing tip.
Pipe a dollop of the icing onto the back of an eye.
Place eye onto the middle of the brownie along the side like shown.
Pipe a black circle around the eye.
Pipe a zig zag down one side of brownie.
Pipe a line straight down next to the zig zag.
Pipe stitches across the line.
Pipe half circle on the corners of the bar.
Allow icing to dry for an hour before serving.
Come Join Us!
Liked this article and want more? Follow along on Instagram, Facebook, Twitter, Pinterest, TikTok, and YouTube!
Come over and join us on Facebook in the group Recipes, Crafts, and more with TipToe Fairy or Sewing and Crafting with The TipToe Fairy!
Visit Our Other Blogs!