I created an escape room for Halloween for my kids. I will be sharing it with you later this week. We made it into a little party complete with a table full of Halloween treats and eats including these Witch's Brew Halloween Brownies. This post contains affiliate links.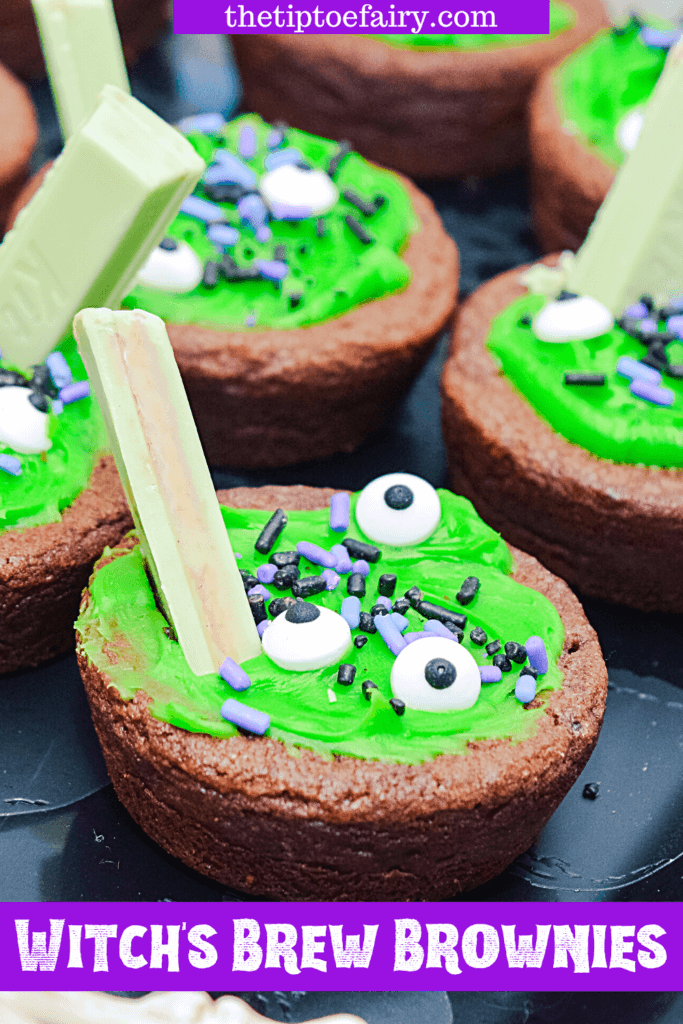 If you aren't much of a baker, these are so easy to make. Did you know Pillsbury has refrigerated brownie dough now, like their cookie doughs?
I've used this brownie dough a few times as my tween likes to bake. It's even edible, which is great for my kids who flock to raw dough like it's going out of style.
How do you make Witch's Brew Halloween Brownies?
These are simple to make. You can use your own brownie dough, use the refrigerated brownie dough, or you can even buy store bought brownie bites.
Pillsbury also has some Halloween-themed Funfetti frostings that have Halloween-themed sprinkles like candy eyeballs with them. We got the Funfetti Halloween green frosting that came with sprinkles and eyeballs at Walmart. I thought it was just perfect to turn a brownie bite into a witch cauldron for these Witch's Brew Halloween Brownies.
I also used the new Kit Kat Witch's Brew chocolate bars for the stirring stick. They are green chocolate outside and marshmallow creme inside. Honestly, I had no idea they were supposed to be marshmallow creme. They just taste like white chocolate Kit Kats to me and my family.
I felt the Kit Kat were too long for this, so I cut about 1/2 inch off one end and then stuck that end in the brownie at a bit of angle.
These are super easy to decorate. Once they're cool, it takes five minutes to make them look like cauldrons. The kids can totally help decorate them.
If you want them to look more like bubbling cauldrons, pick up some lime green sixlets or sugar pearls, or non-pareils, to finish the look.
Can you make these Witch's Brew Halloween Brownies ahead of time?
Yes! You can make the brownie bites a day ahead of time, and you even decorate them a day ahead of time as well. I would recommend putting them in a sealed air-tight container at room temperature if you plan to make them ahead of time.
More Halloween Treats
If you liked these treats, I have a lot more Halloween treats right here on the blog. Here's a few favorites:
Yield:

12 brownies
Witch's Brew Brownies
Additional Time:
30 minutes
Ingredients
1 package Pillsbury Ready to Bake Brownie Dough
1 can of Pillsbury Funfetti Halloween Green Frosting
Halloween Sprinkles
KitKat Bars
Candy Eyes
Instructions
Preheat oven to 350 F degrees.
Spray a muffin pan liberally with olive oil spray.
Place one brownie dough into each muffin tin.
Bake for 18 minutes.
Allow to cool for about 5 minutes.
Gently pop out of the muffin pan. Sometimes a knife around the edge can make this easier.
Allow to cool for 30-60 minutes.
Decorate with the green frosting.
Add candy eyeballs and sprinkles that came with frosting.
Cut about 1/2 inch off of 12 pieces of Witch's Brew Kit Kits.
Gently insert the Kit Kat piece into each brownie at an angle to look like a stirring spoon.
Come Join Us!
Liked this article and want more? Follow along on Instagram, Facebook, Twitter, Pinterest, TikTok, and YouTube!
Come over and join us on Facebook in the group Recipes, Crafts, and more with TipToe Fairy or Sewing and Crafting with The TipToe Fairy!
Visit Our Other Blogs!