I just love all the Santa Clause movies. We've seen them all! I made some Jack Frost Christmas Chocolate Bark for watching , The Santa Clause 3, with Martin Short. I just love his villainous character, Jack Frost. This post contains affiliate links.
I was inspired to make some Jack Frost Christmas Chocolate Bark – it's blue and covered in frost and snowflakes!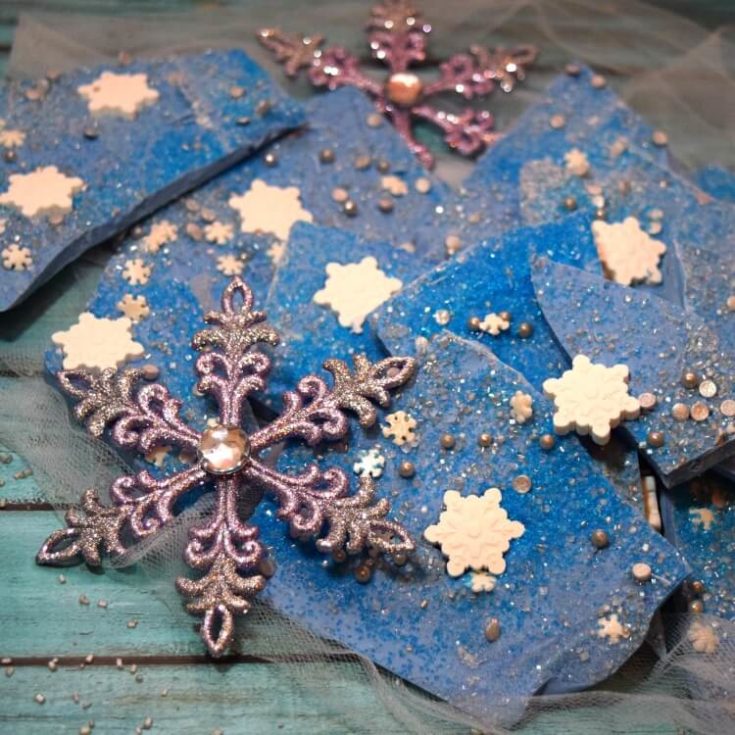 Jack Frost Christmas Chocolate Bark Recipe
This Jack Frost Christmas Chocolate Bark is easy to make and perfect to snack on while you're watching The Santa Clause 3: The Escape Clause.
Instructions
Cover a cookie sheet with wax paper.
Pour all 3 bags of candy melts into a large microwave bowl and mix gently.
Follow the package directions for heating in the microwave. I heat them 30 seconds at a time and stir.
When they are completely melted, stir the candy melts until they are smooth.
Pour the melted candy onto the wax paper and using a spatula or knife smooth it out into a rectangular shape. Tap the cookie sheet a few times to smooth the top.
Work quickly and begin adding the Snowflake Mix, the two sanding sugars, and finally place the edible snowflakes.
Freeze the bark for 10-15 minutes until hard.
Break apart into pieces with a knife.
Store in a sealed container for up to a week.
Notes
If you want more of swirl effect with the bark, heat the colored candy melts individually and then combine on the cookie sheet, swirling with a knife.