This post contains affiliate links in which we earn a small commission if you make a purchase through those links.
I love making fun themed kid treats, and it's so fun to do them with store bought snack cakes. There's no baking; just decorating!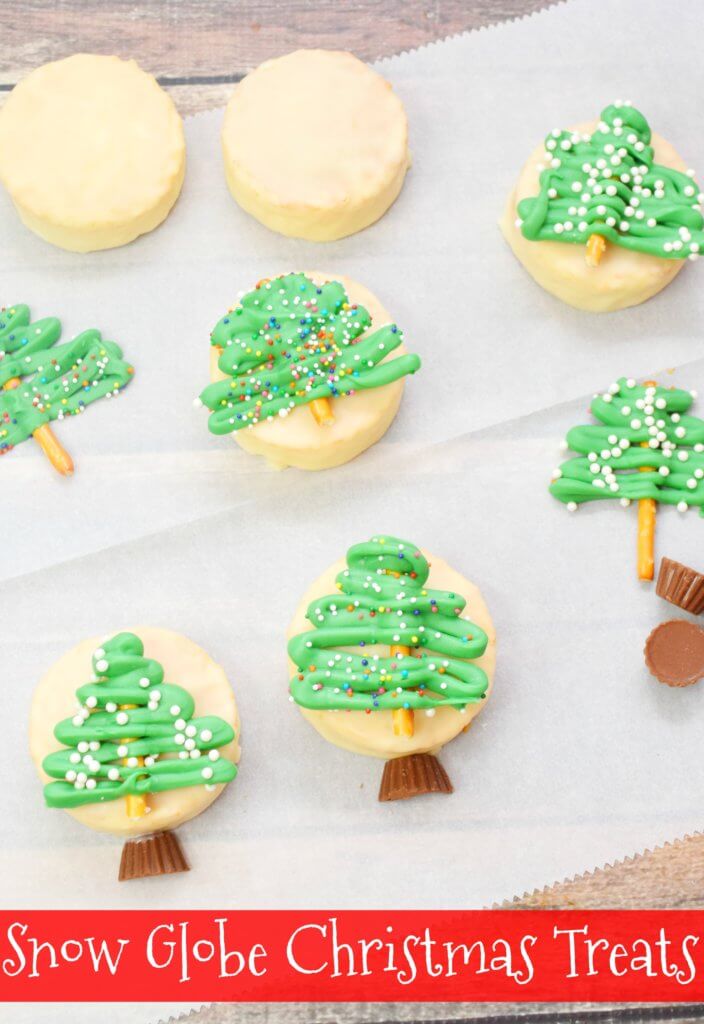 These Snow Globe Christmas Treats for Kids are perfect for the class holiday party, and nobody will know how easy they are to make!
Snow Glove Christmas Treats for Kids
Makes 10 Snow Globe Christmas Treats
Supplies: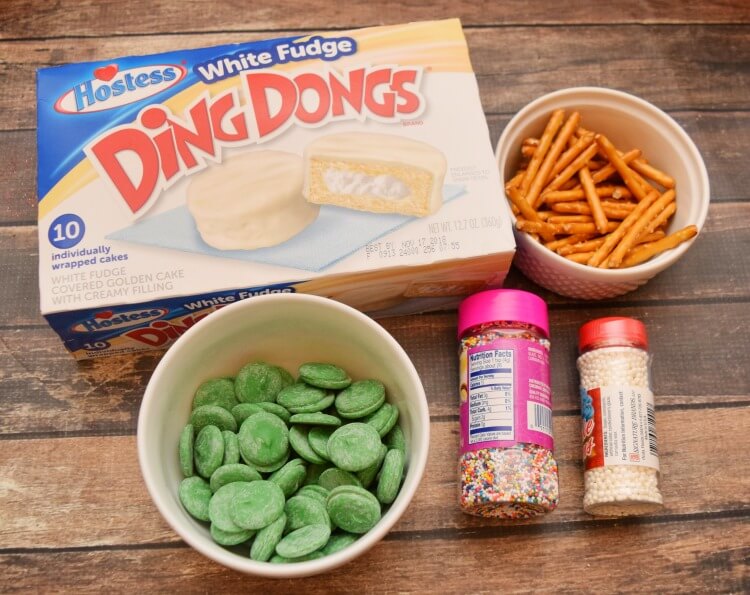 Directions:
Lay out a sheet of wax paper on 2 cookie sheets.
On one cookie sheet, lay out 10 stick pretzels spread out pretty far on the cookie sheet.
On the second cookie sheet, lay out all 10 white Ding Dongs.
In a microwave safe bowl, melt the green candy melts in 30 second increments in the microwave until they stir up smooth. Add 1 tsp or so of vegetable oil or a pinch of EZ Thins to make it smoother if needed.
Transfer the candy melts to a squeeze bottle or a zipper baggie with a corner snipped off.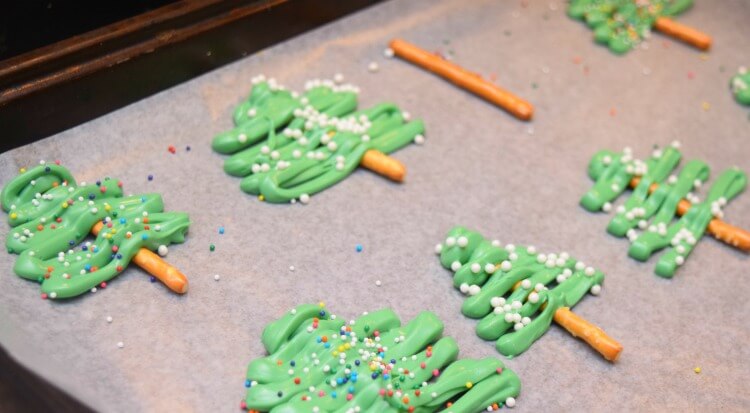 Quickly drizzle a tree shape over each pretzel, that are each not as wide as the Ding Dongs. I just eyeball it when I do this.
Shake nonpareils over each tree while it's still wet. I do half with multicolor nonpareils and half with white nonpareils.
Pop the cookie sheet in the freezer for five minutes or so to harden the trees.
Now you have little Christmas trees. You can decorate more than just Ding Dongs with these – cupcakes, brownies, a cake, etc. You'll probably need to break off a small piece on the end of the pretzel stick so it doesn't hang off the Ding Dong.
Take your mini Reese's peanut butter cups and cut 5 of them in half.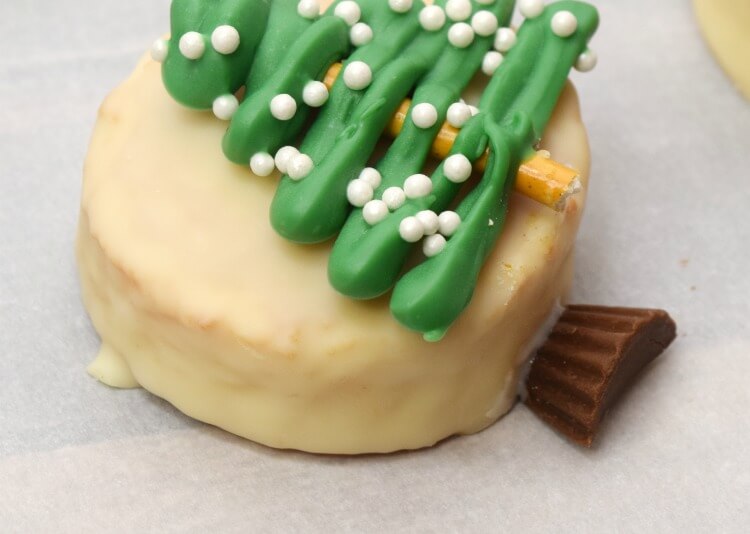 Using the clear gel, glue a peanut butter cup to the bottom of each Ding Dong. Be mindful of this because it can take awhile for it to dry and really stick.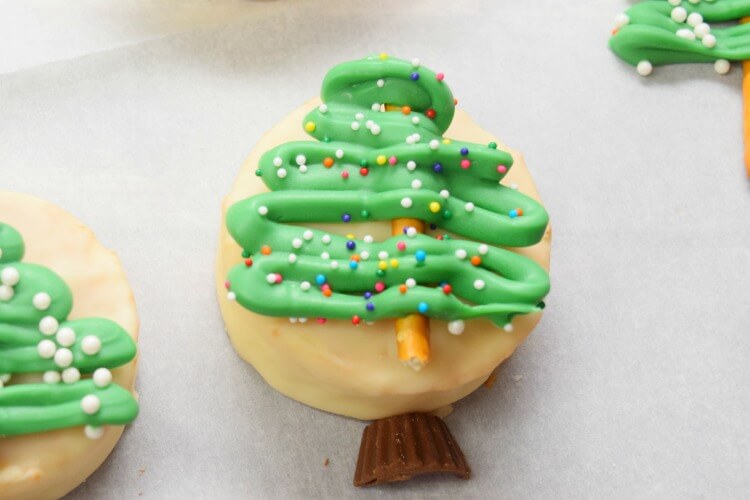 Next, squirt a bit of clear gel on the back of the pretzel stick and glue it down to the Ding Dong.
That's all there is to it! Allow them to dry before serving. These are great to package up for a bake sale or the class holiday party at school in some cookie bags. Or, they work great on a platter for a fun kid holiday party at home, too!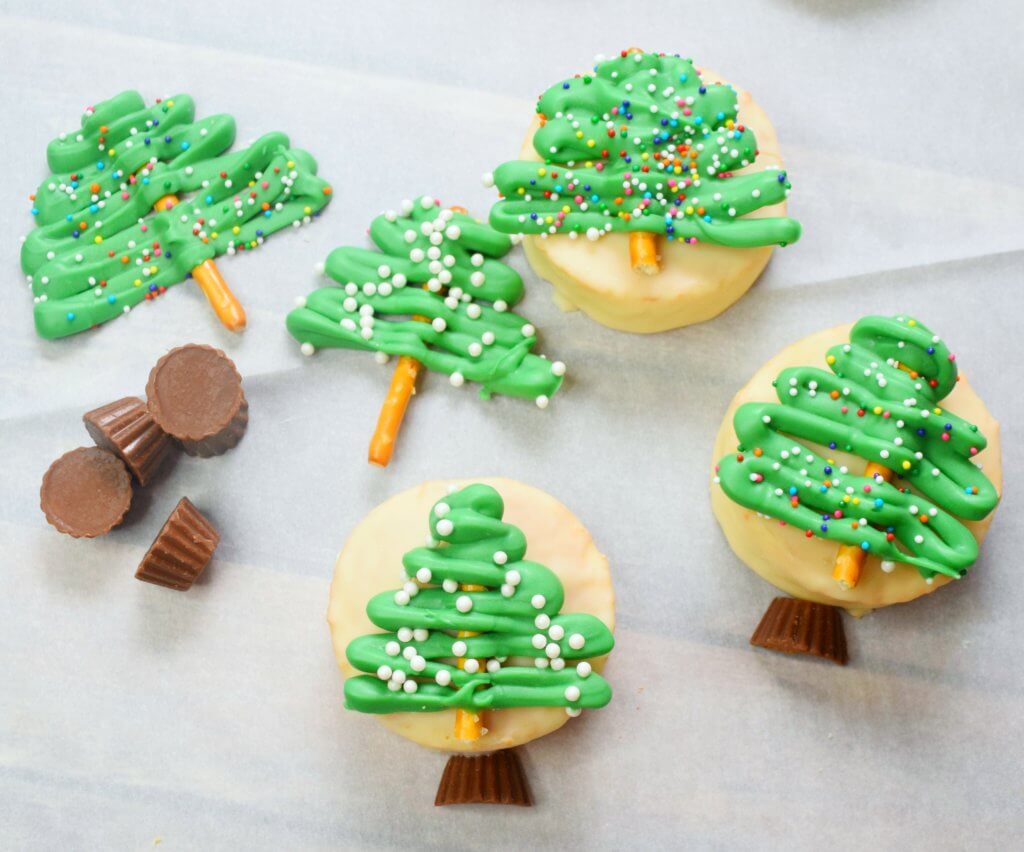 Looking for more easy treats to make with ready made snacks? Try these:

Grinch Twinkies | Disney Christmas Donuts | Santa Belly Ding Dongs
Do you make any fun Christmas Treats for kids with ready made snacks?