This is a sponsored post for SheSpeaks/Relay by Republic Wireless.
Do you remember roaming the neighborhood all day long throughout the summer when you were a kid? I remember being 8-9 yrs old and spending hours playing with my neighborhood friends. We would play four-square or red rover until, literally, the sun went down. Those are some of my fondest memories.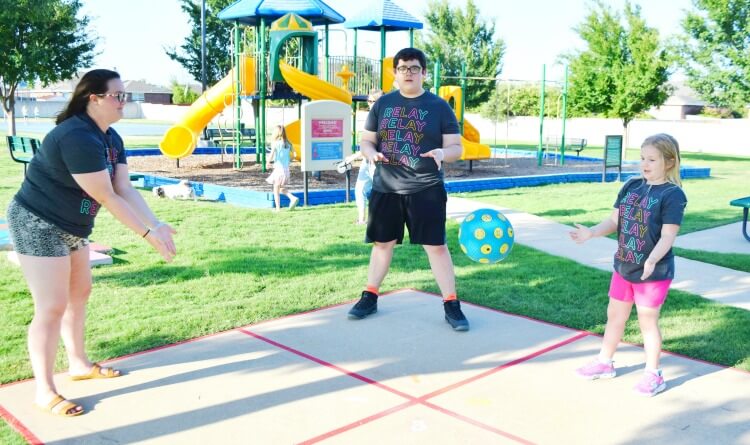 Often, I try to give my kids the same experiences I had growing up. I want them to play with their friends and have so much fun they lose track of time. I want them to learn how to solve conflicts among themselves without grownups always getting involved. I want them to have freedom, to be independent as kids, and not be afraid to make decisions.
I'm definitely not a helicopter parent, but the reality of parenting has changed. My kids don't play outside like I did as a child. I could play four square for hours.
The thought of my 8 year old playing outside with her friends without a way to contact me feels very scary. I don't think she's ready for a smartphone just yet. But, Republic Wireless has a new way to keep your kids close while still letting them go far, with Relay.
What is Relay?
Relay lets you stay in touch with your kids without worrying about phone numbers or screens, but it's also fun for your kids. It's like a walkie talkie, but smarter!
It's a nationwide cell phone alternative with just one-touch communication with 4G LTE coverage, and it was developed with kids in mind. You activate with an app on your smartphone that also controls the settings and includes a GPS tracker. Not only can you track your kids, but it also comes with additional channels for fun for the kids like voice effects, kid to kid communication, as well as music and even Google assistant.
There's no phone number, and your child can only communicate with people you approve. Relay can give you peace of mind and let them have more of a childhood like yours.
Relay is a great way to get away from the screens and have an epic childhood like we did. Do you try to show your kids how to have fun like you did as a kid? Get some ideas from other moms here!