[disclaim]This is a sponsored conversation written by me on behalf of Wet Ones®. The opinions and text are all mine. #WishIHadAWetOnes [/disclaim]
My kids are all about five years apart, so there's a wide variety of preferences between them when it comes to taking lunch to school. Here's a few different lunch box ideas for kids of different ages I'd love to share with you. No matter what their age, adding a Wet Ones Singles is perfect for cleaning them all up after lunch.

One thing I've found with preschoolers and young children in kindergarten is they love to take apart their food. This lunch box idea is all the ingredients of a sandwich made a little fancier with cookie cutters. There's cheese, bread, and cold cuts with a few veggies thrown in.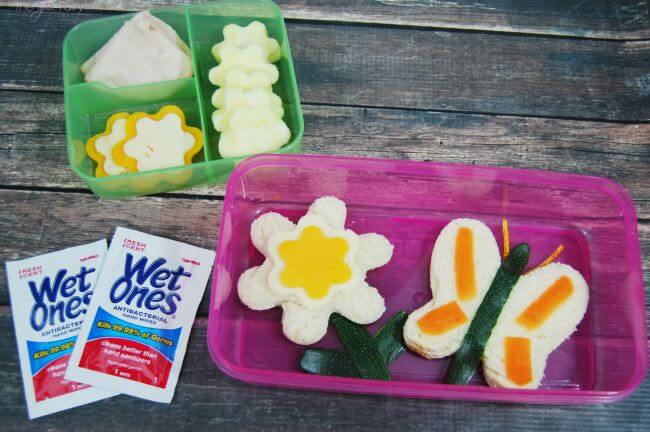 At this age, my kids all eat like a bird, so giving them just a few things will mean less food wasted. Plus, it all packs together nicely for a lunch they can easily get to themselves.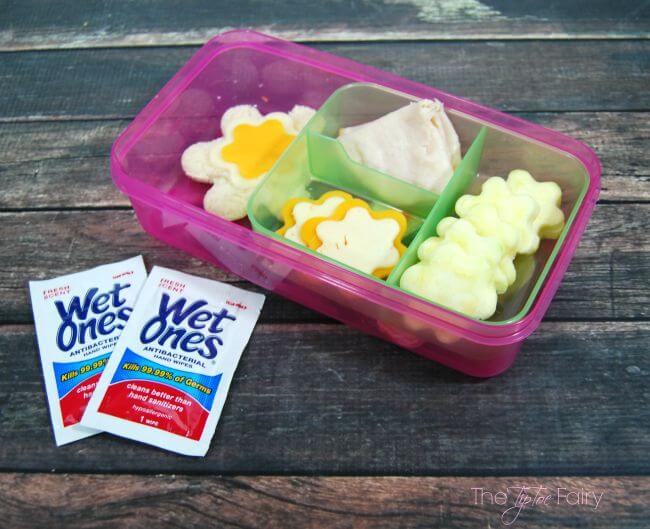 Next up is a lunch that works well for most elementary school kids. My new kindergarten LOVES anything on a stick, and so does my 6th grade son. When they saw me putting this together, they both were clamoring to get to take it to school the next day.
This one has more food as well as variety and lots of things on pretzel sticks.
Next up is the tween / teen meal. When my teenager moved up to middle school and now high school, she was thrilled with the availability of microwaves in the lunch room, no more cold sandwiches. These are my favorite lunches to play around with.
When I make my tween or teen lunches, I tend to lean towards food they can reheat that's also filling so they aren't starving by the end of the day. Many times I like to give them leftovers from last night's dinner, but change it up just a bit.
This is leftover spaghetti and meatballs turned into a spaghetti boat over sourdough bread. I sliced up the meatballs and added cheese. I also included zucchini flowers that will soften while the spaghetti boat is cooking in the microwave.
I try to make sure my older kids get enough food at lunch, so I usually add fruits and veggies along with dipping sauce like ranch. Plus, the Wet Ones Singles are great for them to clean up after something a little messy like spaghetti.
Creative lunch boxes don't need to be complicated. I try to keep it simple like using leftovers for my older ones and keep it fun for the little ones with quick cut out shapes. And, don't forget to put a Wet Ones Single in their lunch for easy clean up!
What kinds of lunch box meals do your kids like to take? I'd love to know your ideas!
This is a sponsored conversation written by me on behalf of Wet Ones®. The opinions and text are all mine.