Disclosure: This post is sponsored by Dunkin' Donuts in conjunction with Blog Meets Brand and I have been compensated for my participation. All opinions are my own.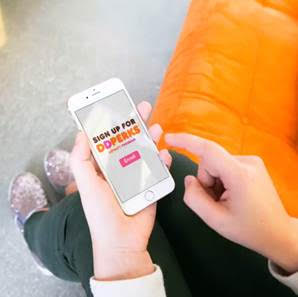 Who doesn't loves Dunkin' Donuts? I sure love all those yummy ice cream flavored coffees, and let's not forget to mention the donuts. Donuts are a favorite special treat in our house, especially when we take a trip to Dunkin' Donuts and get the fancy ones with all the sprinkles.
Dunkin' Donuts has got an super exciting campaign starting TODAY, April 14th! You're going to love this! When you pay with your DD Perks card, either the plastic card or through the Dunkin' Mobile App, you'll get 5 points for every $1 you spend on qualifying purchases, which can add up fast to free stuff!
What's better than that deal? Well, right now through April 21, if you join Dunkin' Donuts rewards program, DD Perks, using the special code "STARS," you can earn even more points! You can earn an automatic 125 points towards a free any-size beverage when you use this special code. Plus, you'll get an additional 125 points with each of your next two purchases at a Dunkin' Donuts restaurant. With these deals for new DD Perks members, you can easily get up to three free Dunkin' drinks during this time!
Signing up for the DD Perks Reward program is super easy, and you can do it online HERE. As a DD Perk member, you will receive a free beverage upon enrollment as well as each time you build up 200 points.
I am terrible at keeping up with all my cards, so I love that I can do all this through the DD Perks mobile app. It makes it so easy to keep up with my points and sometimes there's even more special offers that pop up that I can redeem.
After you get to 200 points, you'll get a coupon for a free any-size drink of your choice at any participating Dunkin' Donuts restaurants.
You also get a coupon for a free any-size drink on your birthday!
Plus, DD Perks members will receive exclusive offers to earn bonus points throughout the year.
Those bonus points can add up fast, too! I just checked and have one of those special offers in my account for double points on certain drinks. I think I'll be making a stop into Dunkin' Donuts this week! Who's with me?
What's your favorite treat at Dunkin' Donuts?