This post is sponsored by Soyfoods Association of North America in conjunction with Blog Meets Brand and I have been compensated for my participation. All opinions are my own.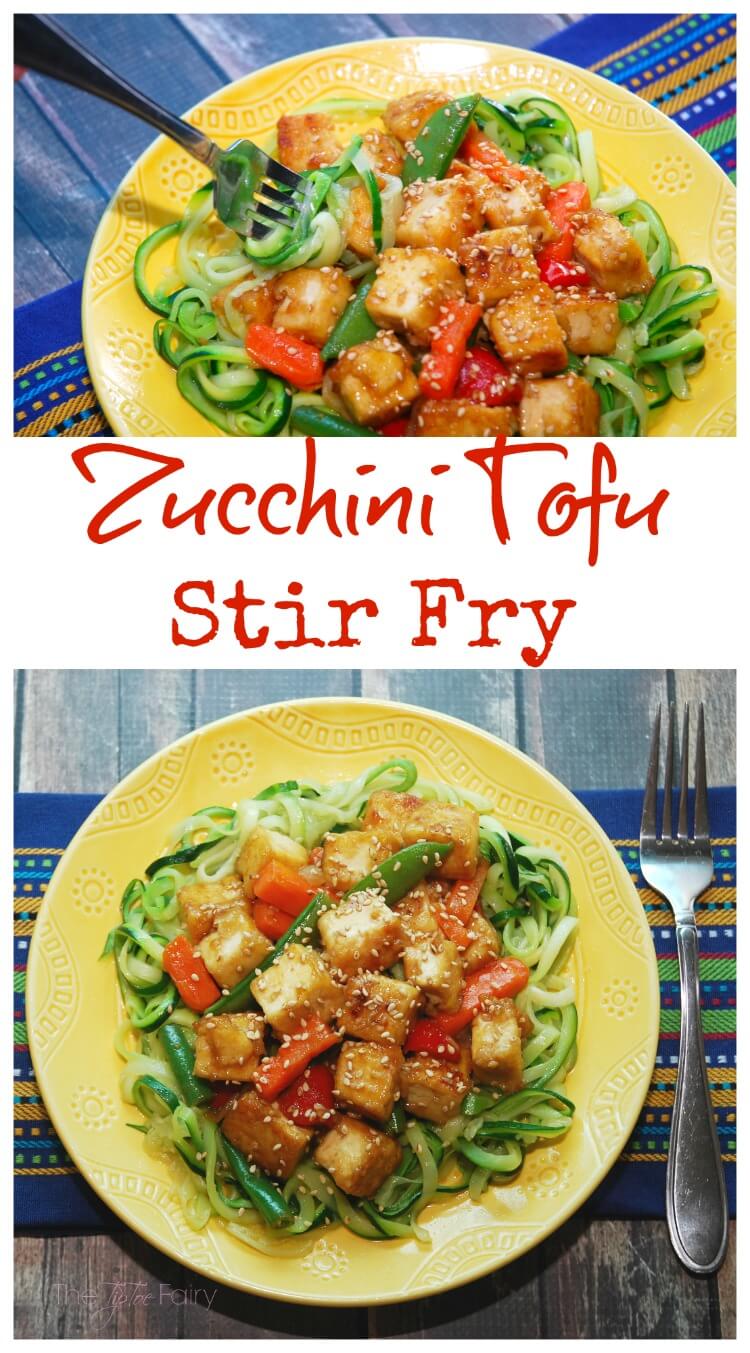 Did you know April is National Soyfoods Month? Health experts say that increasing plant proteins over animal proteins can cut your risk of obesity, heart disease, diabetes, and more. Tofu is a great way to move to more plant-based proteins in your diet. I can't wait to share with you my mouthwatering Zucchini Tofu Stir Fry. It's easy to make, and you're just going to love it!
There are many benefits to incorporating soy into your diet. According to Nancy Chapman MPH, RD, executive director of the Soyfoods Association of North America, "Soy is the only plant protein that is highly digestible and comparable to beef, milk, fish and egg protein in terms of protein quality." Soybeans are also:
Environmentally friendly in that they require fewer natural resources like land and water compared to other protein like animal.
Heart healthy in that they are a lean protein that contains less saturated fat and naturally has no cholesterol. It's also the only protein recognized by the USDA for reducing cardiovascular disease.
The only dairy alternative that meets USDA child nutrition requirements for protein, calcium, potassium, and vitamins A and D.
Switching to soy in your favorite recipes can help reduce calories, cholesterol, and fat while also adding iron, fiber, calcium, magnesium, and zinc.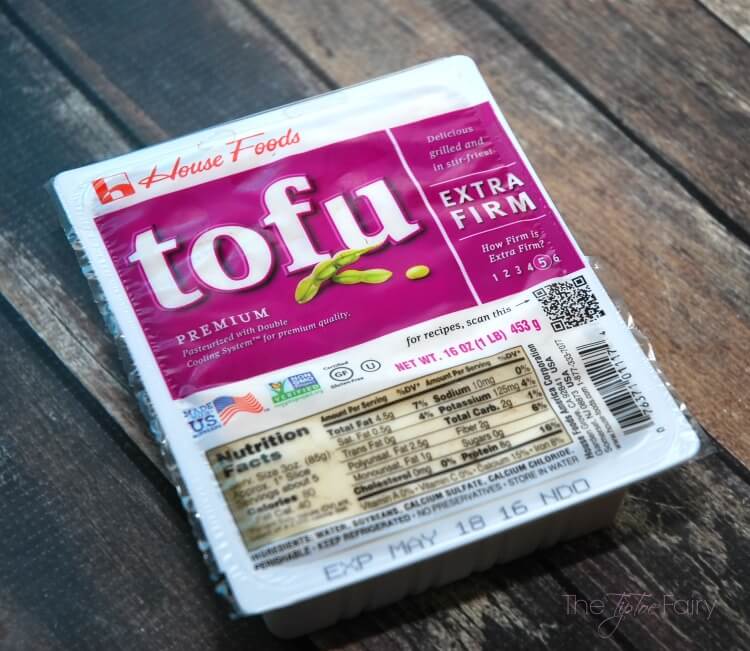 Many years ago my parents moved to a neighborhood that had this amazing Mongolian grill. It's buffet style where you choose all the meats, veggies, sauces, etc. for your stir fry, and they cook it on a giant round grill. It was there that I discovered tofu. What I love about tofu is that it absorbs the flavors of the sauces. It really has no flavor, but once you cook it with aromatics like garlic and onions along with soy sauce or tomato sauce, it tastes amazing.
I work from home, so stir fry is a quick and easy meal I can whip up in a single serving for lunch any time. My favorite tofu is House Foods extra firm. When I buy a block of tofu, I like to fry it up all up at once so I can just pull out what I need for a single-serving. One block is good for about four servings.
First, I put the tofu block between a few paper towels and press it on all sides to really get it dry. They actually make tofu presses for this, but I just use my hands. Some people like to put a glass dish on top of the tofu for 20-30 minutes to press the water out. I take about 2-3 minutes and just use my hands and paper towels to press until it feels like I've gotten a lot of water out of it. Then, I cut it into cubes.
After I cube the tofu, I place it in another paper towel and gently squeeze any additional water. Then, I dredge it in a little bit of flour and fry it up in a tablespoon of olive oil and a tablespoon of sesame oil. I let the oil get really hot on high and saute the tofu on all sides for about 5-8 minutes. Then, I let it drain any excess oil on a paper towel. After it's fried, you can keep it in the fridge, and just use it as you need it for single serving meals, or you can make about four servings of stir fry in one batch.
Then, I make up the stir fry sauce and cook the dish. I tend to like a garlicky sesame sauce. For this particular dish, I made zoodles from zucchini instead of using rice or chinese noodles. You can definitely substitute these for the zoodles if you prefer.
Print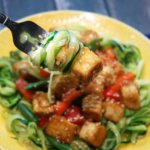 Zucchini Tofu Stir Fry
---
Fried Tofu
1/2 cup

cubed tofu, extra firm

2 tablespoons

flour

1 tablespoon

olive oil

1 tablespoon

sesame oil
Zoodles
1

zucchini, sliced into zoodles

1 teaspoon

sesame oil
Zucchini Tofu Stir Fry
1 tablespoon

sesame oil

2 tablespoons

brown sugar

1 tablespoon

corn starch

1 teaspoon

sesame seeds

1 tablespoon

minced garlic

1 tablespoon

lemon juice

1/2 cup

water

1/2 cup

low sodium soy sauce

1/2 cup

loosely packed fried tofu

1 cup

of chopped veggies – sugar snap peas, carrots, broccoli, bell pepper, water chestnuts, etc.
---
Fried Tofu
Press the tofu with paper towels to remove as much water as possible.
Then, slice it in half and then cube it.
Dredge the tofu cubes in the flour.
Add the olive oil and sesame oil to a skillet and turn the heat just under high.
Fry the tofu until it's golden brown on all sides.
Remove and lay on paper towels to soak up excess oil.
Zoodles
Spiralize a zucchini and then blot with paper towels to remove excess moisture.
In the same skillet add a teaspoon of oil and turn fire to just under high.
Saute the zucchini for just 1-2 minutes, then remove to paper towels to blot excess oil.
Stir Fry
Combine the oil, sugar, corn starch, sesame seeds, garlic, lemon juice, water, and soy sauce and mix until sugar is dissolved.
Turn fire on skillet again to just under high and wait for it to get really hot.
Add the veggies and tofu to the skillet.
Add 3-5 tablespoons of the stir fry sauce and saute until sauce has thickened and veggies are cooked to your liking (usually 5-7 minutes)
Lay the zucchini noodles on the plate and top off with the tofu and veggies.
Add extra sesame seeds, garlic, sriracha, etc. to your liking.
Recipe Card powered by
If you precook the tofu, this meal can be ready in just 15 minutes for a nice hot lunch or dinner! But, even if you need to prepare and cook the tofu, it's still ready in less than 30 minutes.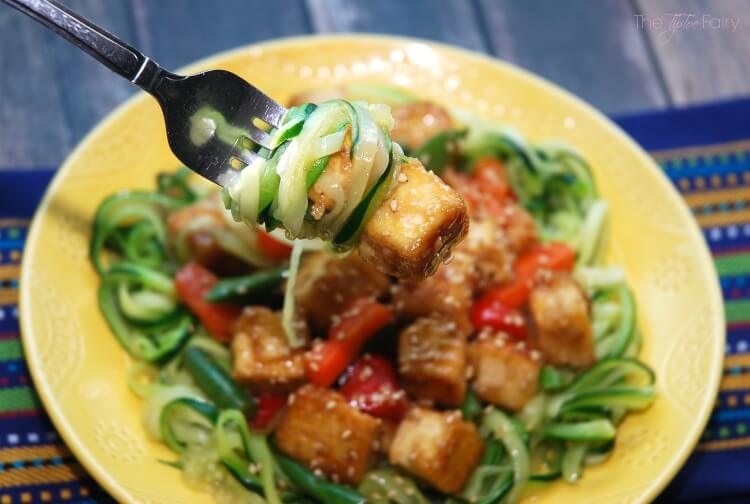 Click HERE to learn more about soy foods and get delicious recipes and other helpful information.
What are your favorite soy foods to eat?