One of my most popular Instant Pot posts is cooking Frozen Tamales in the Instant Pot. Today's recipe will be showing you how to make fresh Homemade Pork Tamales in the Instant Pot from start to finish.
I'll warn you now, this may look like a daunting process. But, once you get started it's step by step and easy. It will take a few hours, but it's so worth it. Homemade tamales are amazing, and you will feel like you've really accomplished something, especially when you put a few ziplock bags of them in the freezer.
We eat them at Christmas time…well, we have tamales all the time. But, our family get together is usually centered around TexMex food and that always includes tamales.
What kind of meat do you use for authentic pork tamales in the instant pot?
I recommend a pork shoulder roast to make tamales. That's traditionally what is used. You also will need lard and ancho chiles, which you can find dried in the Mexican food aisle at the grocery store. You'll also find a bag of corn husks there as well.
Before you do anything, you'll need to soak those corn husks so they'll be flexible and limber to fold over the tamales. You can use a pot or just the stopped up kitchen sink and soak them in warm water for at least an hour, preferably longer. I usually put them onto soak the night before.
How do you make authentic homemade pork tamales in the instant pot?
First, we'll cook the pork roast down to tender in the Instant Pot. You can also do this in a roasting pan in the oven or in the slow cooker as well. We want it to cook down until it's fork tender so we can shred it. I find the best way to do this is to cut the pork roast into big chunks before cooking.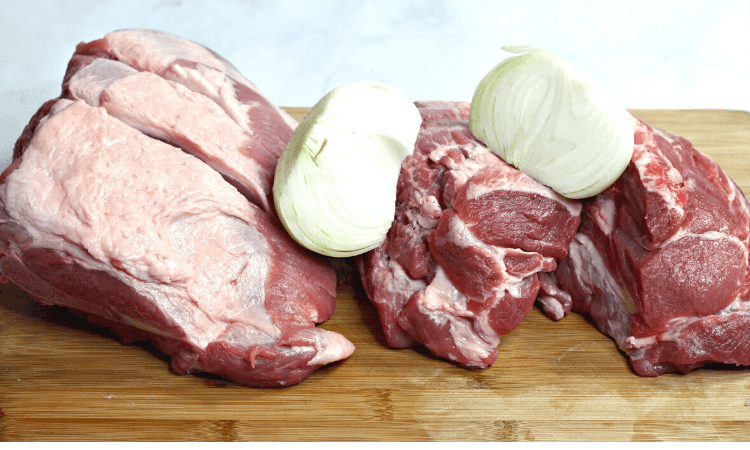 When it's ready to come out, let it sit on a platter or in a large bowl for awhile until it's not too hot to touch. Then, you'll shred it. THIS is the most important part of making authentic tamales. You do not want big tough hunks of pork roast in your tamales. It is literally the grossest thing to bite into. So, shred that meat until you can pick up handfuls and it just easily slides through your hands as fine pieces of meat.
I once bought 3 dozen tamales from a lady who claimed she knew what she was doing. First tamale I bit into had giant hunks of meat. She barely shredded it. I thought it was a fluke until I opened about half a dozen tamales to find out she did that in all of them. There is nothing worse than when you're craving tamales and you bite into one with a huge tough piece of meat in it.
How do you make the masa for authentic pork tamales?
I've seen recipes where they recommend using oil instead of lard. Don't do that. You want masa flour and lard. Otherwise, you won't get that authentic tamale flavor.
You also want to use the pork roast drippings. It's best to run it through a fine mesh sieve, and then combine it with chicken broth until you've got about 3 to 3 1/2 cups. Then, slowly add it as you mix the masa until you have the right consistency. The perfect consistency is like peanut butter – thick but spreadable. If it's too runny, slowly add a bit more masa at a time until you get that peanut butter consistency. If it's too dry, add more of the pork juice.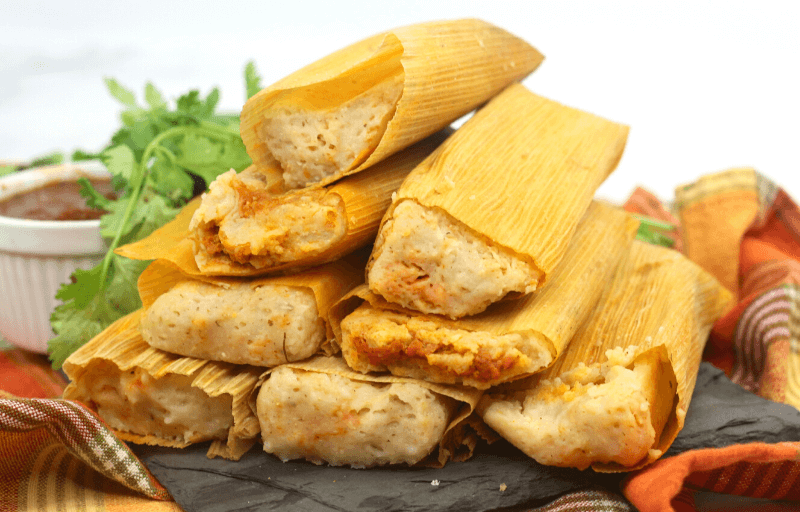 How do you make homemade pork tamales with corn husks?
Take the most ripped up corn husks and tear them into strips so you can tie the tamales wrapped in the corn husks shut.
Sit down at the table with the bowl of shredded pork and the bowl of masa and a big plate in front of you. Bring a big pile of corn husks to the table, wrapped in paper towels, so they aren't dripping wet. Then, take a corn husk and a small ball of masa and spread it into a square shape. Next, you'll add a few tablespoons of the shredded pork. Then, fold left and right and then down from the top. Take one of the strips of corn husk and tie the folded down part closed around the tamale. You might need two ties.
While I'm making tamales, I like to put on a podcast on my phone and just sit there and make tamales for an hour or so. While you're continually making the tamales, you can cook the first batch of homemade pork tamales in the Instant Pot to be ready while you're getting the next batch ready.
If you plan to freeze any of the tamales, make sure to cook them first and then freeze them.
If you run out of meat before masa, which often happens to me. I will make a quick batch of refried beans in the instant pot and make bean tamales to use up the rest of the masa. Then, I cook them and freeze them for a later meal.
More Instant Pot Recipes
More Tex Mex Recipes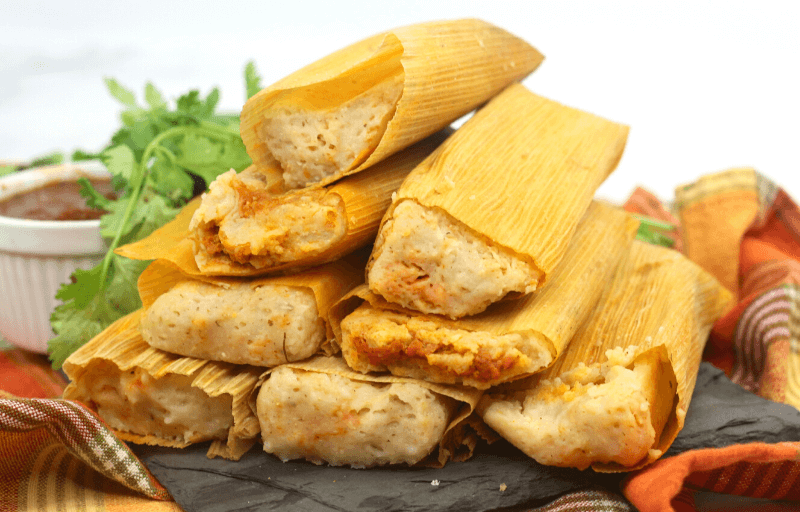 Yield:

14 pork tamales
Instant Pot Homemade Pork Tamales
Cook Time:
2 hours
15 minutes
Additional Time:
30 minutes
Total Time:
3 hours
15 minutes
Ingredients
1 tablespoon oil
1 tablespoon salt
2 1/2 lbs. pork shoulder roast
6 garlic cloves (smashed)
4 dried ancho chile pods (remove stem and seeds)
1 teaspoon Mexican oregano
1 cup water
4 cups masa harina
1 teaspoon baking powder
1/2 cup lard
1 teaspoon salt
1 1/2 cups of pork roast juices or chicken broth
14-18 corn husks
Warm water (for assembling tamales)
Instructions
Prior to beginning of the recipe
Fill a pot with warm water and add corn husks to soak.
Use the lid of the pot or something heavy to weigh the corn husks down so they stay in the water.
Soak the husks for at least one hour, preferably overnight.

Pork Filling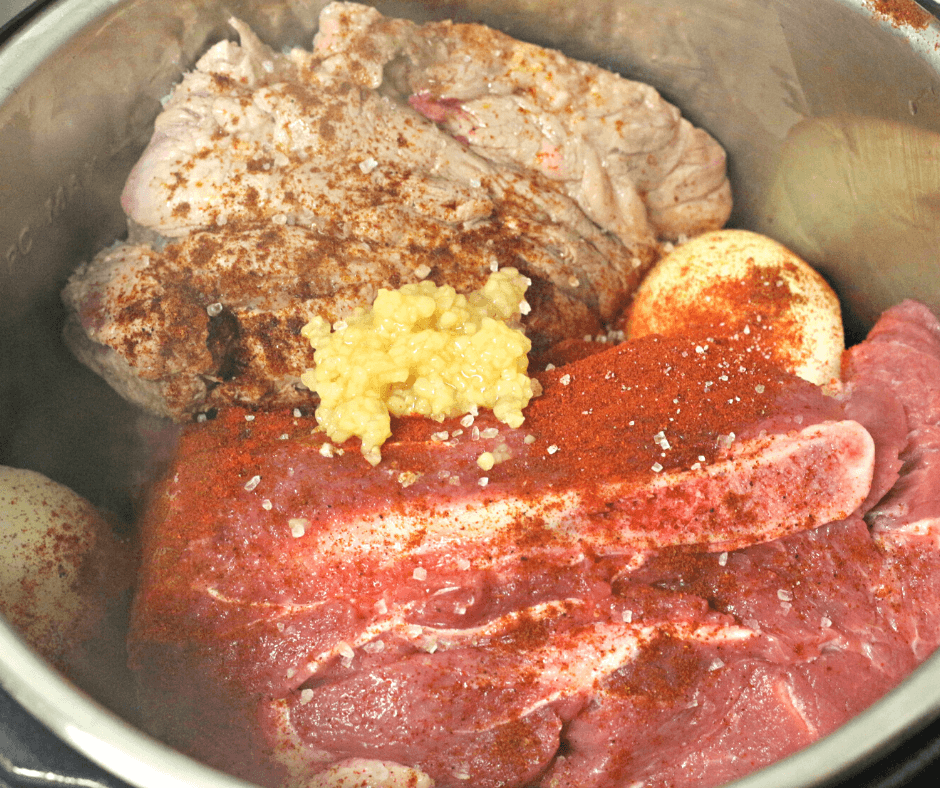 Set Instant Pot on Saute mode and add oil.
Cut the pork roast into large cubes. Coat both sides of the pork roast with salt. Add the roast to the Instant Pot. Sear the roast pieces on all sides until the sides are browned. (About 5 minutes on each side)
Add garlic, chile pods, oregano, and water to the Instant Pot. Close the lid of the Instant Pot. Set the Instant Pot to high pressure for 60 minutes. Allow the pressure to naturally release.
Transfer the roast to a large bowl.
Transfer the cooking liquid into a measuring cup through a fine mesh sieve.
Press down on the chiles and garlic to force out as much liquid as possible.
Set aside both the liquid and meat until they cool enough to handle. Remove any fat chunks as necessary.
When the meat is no longer too hot to touch, shred it with two forks. Make sure to shred finely until there are no big chunks.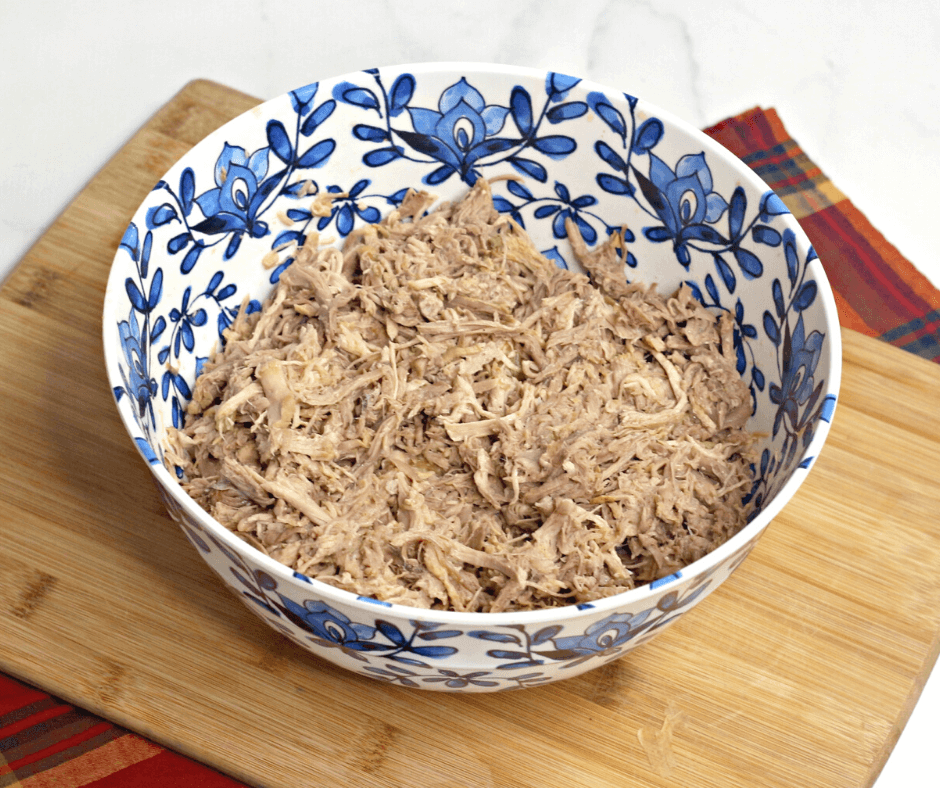 Masa Filling


Using an electric mixer on low and combine masa flour, baking powder, and salt in the mixing bowl.
Combine chicken broth and the drippings from the pork roast to equal 3 1/2 cups.
Add the cups of liquid and the lard to the masa flour.
Whip the masa mixture on medium high for about 10 minutes, scrap the sides halfway through

Tamale Making Directions
Save 2-3 corn husks that are too torn up to use and rip them into long strips to tie the tamales closed.
Measure to make sure that 6-inch tamales can fit in your Instant Pot. (You will place the tamales vertically on the steamer insert.)
Before you start making the tamales set aside a small bowl of warm water in your work area. Start with one corn husk by putting the pointy end of the corn husk is facing you. (This will look like a capital V)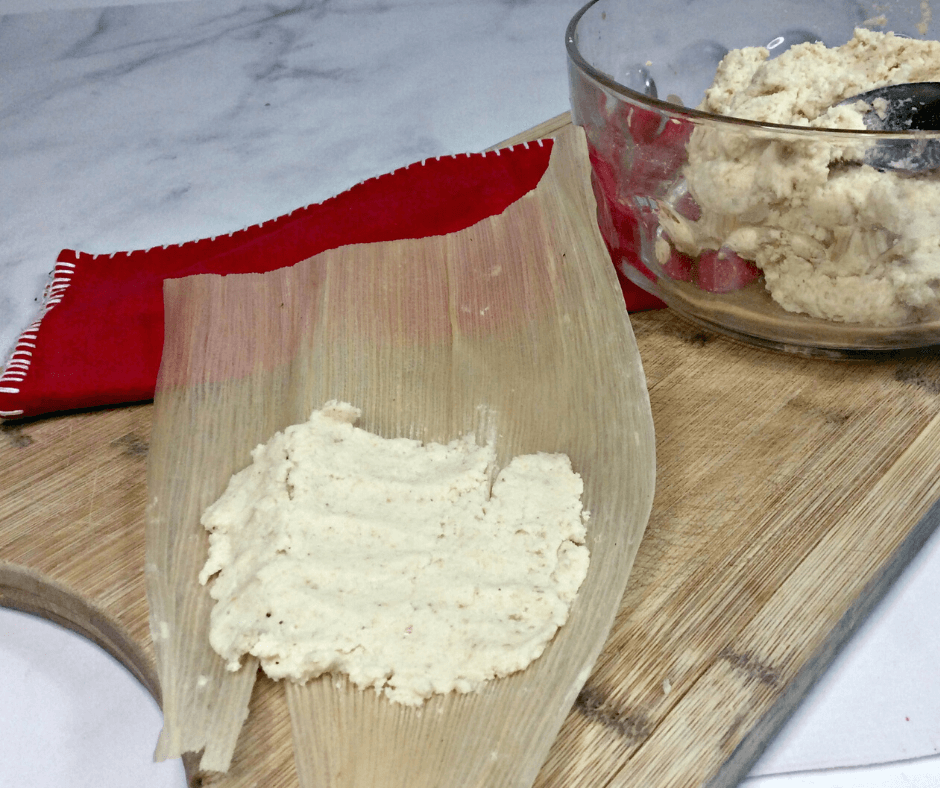 Scoop a generous amount of the masa on the husk. Wet your fingers in the bowl of warm water. Starting about 3 inches from the bottom of the husk, spread the masa into a thin layer in the shape of a square. Continue to spread the masa to about one inch from the top of the corn husk and one inch from the sides.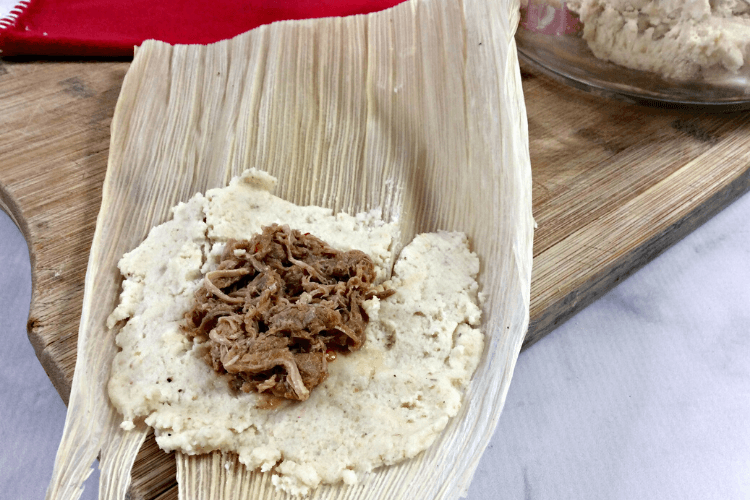 Fill the corn husk in a straight line in the middle of the masa with the pork. Stop about 1/2 inch from top and bottom of masa to allow enough room so that you can seal the tamale. Add enough filling but leave room so that you can wrap the sides completely around to seal it.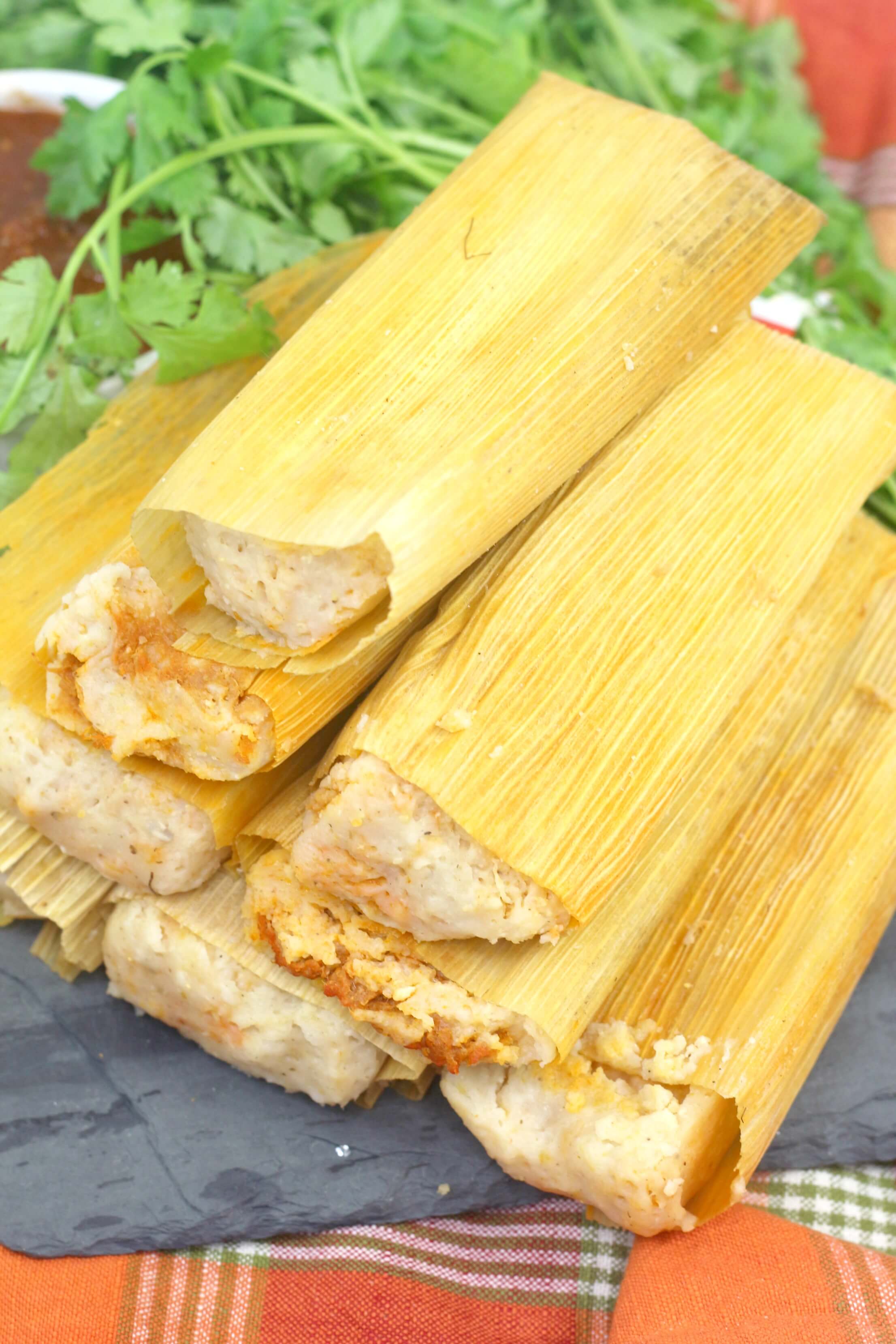 Fold one side of the husk then the other to bring the sides closed so that the masa is totally around the filling. Fold top down and bottom up toward the seam and then use the extra shredded corn husk strips and tie closed. You may need 1-2 ties.
Continue doing so for all the tamales.


Cooking the Tamales
Put the steamer insert into the Instant Pot. Add a cup of water to fill the bottom of the Instant Pot until it comes to the bottom of the insert.
Carefully put that tamales in the Instant Pot vertically, open side up. (If necessary push the tamales down a little bit in order to allow the lid to fit.)
Close the lid.
Cook of high pressure for 35 minutes.
Serve immediately or freeze. (See Notes)
Notes
Instead of serving immediately, you can freeze the tamales after cooking in the Instant Pot. Gently place the tamales side by side in a freezer zipper baggie. Remove as much air from the baggie as you can before placing in the freezer. They can be frozen up to 2 months. When you're ready to serve them, follow these instructions.
Recommended Products
As an Amazon Associate and member of other affiliate programs, I earn from qualifying purchases.
Nutrition Information:
Yield:

14
Serving Size:

1
Amount Per Serving:
Calories:

682
Total Fat:

36g
Saturated Fat:

10g
Trans Fat:

0g
Unsaturated Fat:

23g
Cholesterol:

100mg
Sodium:

873mg
Carbohydrates:

60g
Fiber:

6g
Sugar:

11g
Protein:

34g
Any nutritional information on thetiptoefairy.com should only be used as a general guideline. This information is provided as a courtesy and there is no guarantee that the information will be completely accurate.