Having a party? Then, you NEED this Instant Pot Chili's Skillet Queso. It takes way less time than the slow cooker version and you don't have to pay attention to the stove making it in the skillet.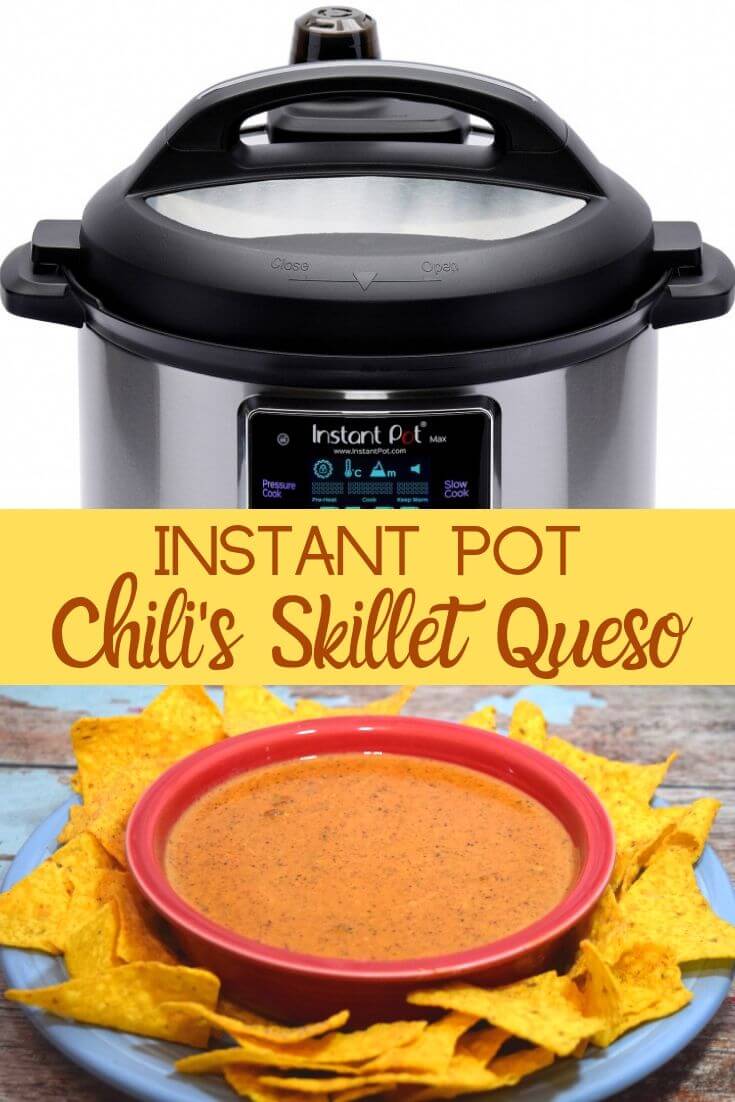 I've been making a copycat version of Chili's Skillet Queso for years. My husband and his friends and coworkers just love it. It's often a recipe I make for game night when we play board games and card games with friends.
He was having a potluck on Friday, so I sent him to work the other day with a slow cooker full of skillet queso. Then, I realized I should have given him the Instant Pot, so he could have made it quicker. Less than 20 minutes compared with at least 1 1/2 hours is a definite time saver!
How do you make Instant Pot Chili's Skillet Queso?
This is one of those quick and easy recipes where you can literally dump everything together, give it a quick stir and start the cooking process. Aren't those your favorite kind of recipes?
One thing I recommend is cutting the Velveeta cheese block as small as you can. I noticed with bigger chunks I had, I had to stir them up at the end to completely melt.
I'd recommend sticking with low pressure. It cooks amazingly fast. I would recommend against trying a shorter time using high pressure because I've read other queso recipes in which the Velveeta burned on the bottom of the pan or they got a burn warning on the Instant Pot while it was cooking. Plus, with low pressure, it doesn't have to take all that time to build up pressure like when you're using high pressure, so your skillet queso is ready super quick.
Can you cook it in a Slow Cooker?
Yes! I've made this exact same recipe in the slow cooker. For time, you'll need to cook it on HIGH for 1 hour or on LOW for 2 hours. At the end of either time, just give it a stir and cook it an additional 30 minutes. Then, just set to warm.
Can you make it in a Skillet?
Yes! BUT…I'd recommend cutting the recipe in half unless you have a mighty big skillet. Click HERE for the Skillet Queso recipe.
More Instant Pot Recipes you'll enjoy!
Yield:

20 servings
Instant Pot Chili's Skillet Queso
Save time and make your favorite copycat Chili's Skillet Queso in the instant pot!
Ingredients
2 15 oz cans chili with no beans
32 oz Velveeta block cheese
2 1/2 tablespoons chili powder
1/2 scant teaspoon of salt
2 cups half & half OR 1 cup of milk + 1 cup cream
4 teaspoons paprika
1 teaspoon ground cayenne pepper
2 tablespoons lime juice
1 teaspoon ground cumin
Instructions
Cut the Velveeta into 1 inch cubes.
Combine all the ingredients into the Instant Pot.
Set Instant Pot to Manual with Low Pressure for 7 minutes.
When the time is complete, remove the lid and stir up really well.
Serve immediately with tortilla chips.
Notes
This same recipe can be put in the slow cooker. Cook on HIGH for 1 hour OR LOW for 2 hours. Then, stir it up really well and cook for an additional 30 minutes.