I'm embarrassed to admit my mom gave me an Instant Pot over a year ago, and it sat in the box unopened all this time. Until I wanted to make refried beans from a bag of dry pintos a few weeks ago. I was able to make refried beans in 30 minutes instead of hours on the stove. I was hooked! This post contains affiliate links.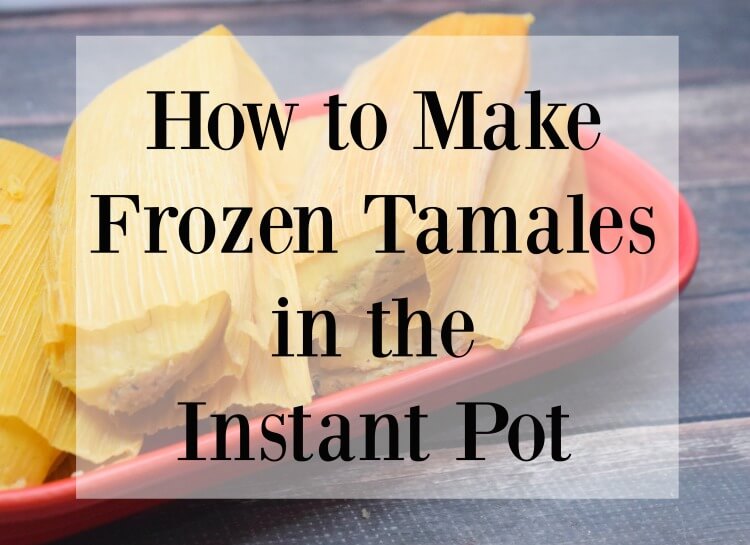 Now, I'm a little addicted to it. The other night I wanted an easy meal since we've all been so sick, so I decided on make your own tostadas for dinner. (Both my husband and I have been battling bronchitis and pneumonia since Christmas.) I pulled out the rest of the bag of pintos beans and started making a new batch of healthier refried beans.
While those were cooking in the instapot, I decided to pull out some store bought frozen tamales my mom gave me for our Christmas dinner. I knew we couldn't eat that many, so I froze a couple packages of them.
My daughter and I searched high and low for how to make frozen tamales in an Instant Pot, but neither one of us could find one. We'd get recipes and videos for making fresh tamales that require longer cooking or books on ways to cook tamales.
When you first actually make the tamales, you need to steam them, but my tamales were already cooked, I just needed to know if I could cook them when they were still frozen. So, I gave up and did it myself, and they came out perfectly. Here's how we did it.
Frozen Tamales in the Instant Pot
These instructions are for tamales from the freezer that are pretty much frozen solid. If your tamales are defrosted, this amount of time might make them fall apart.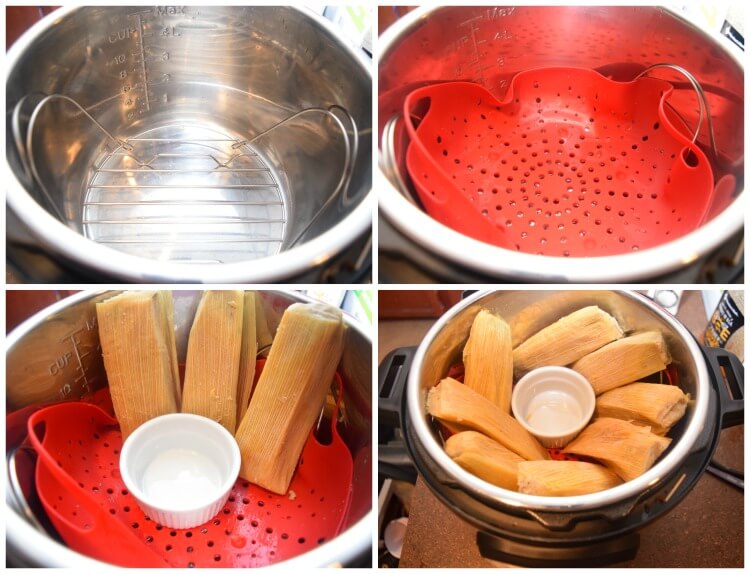 If you're counting, you'll notice in the photos, I only have 8 tamales in my instant pot. These are tamales from Costco and they are huge. One of these is the size of 2 tamales when compared to the ones I purchase at the regular grocery store.
Just follow the easy instructions in this recipe, and you'll be eating tamales in less than 30 minutes.
How do you make Authentic Homemade Pork Tamales in the Instant Pot?
I have a brand new blog post with a tutorial to make homemade pork tamales from cooking the pork roast in the instant pot to cooking the freshly made tamales in the instant pot. Once you make them, you can actually freeze them for later, and then come back here for these instructions to cook those frozen pork tamales in the instant pot!
Stay tuned, it's tamale-making season! I'll be sharing how to make chicken tamales in the instant pot very soon!
More Instant Pot Recipes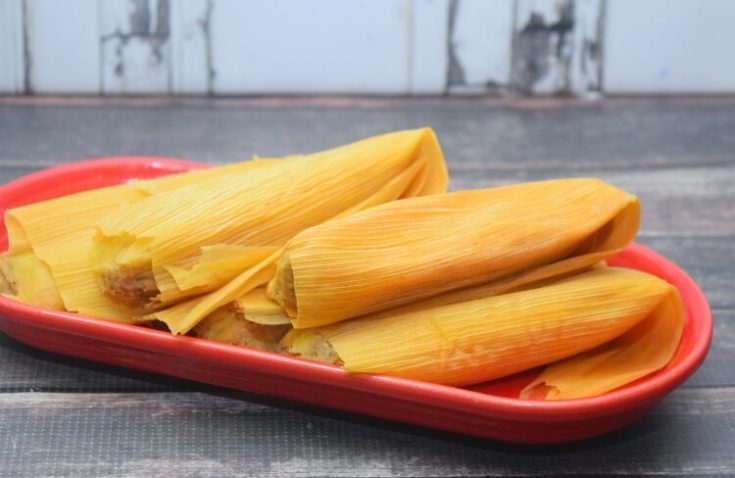 Frozen Tamales in an Instant Pot
You can have frozen tamales right from the freezer ready in less than 30 minutes in the Instant Pot.
Ingredients
1 dozen tamales
1 1/2 to 2 cups of water
the trivet insert for your Instant Pot
Instructions
Insert the trivet that came with your Instant Pot
Then insert the steamer basket on top of the trivet.
Pour the water into the bottom of the Instant Pot.
Insert a small ramekin or something similar to help hold the tamales upright.
Add the frozen tamales with folded side down around the ramekin.
Set the Instant Pot to Manual.
Set the time to 15 minutes.
Do a natural release.
If you can, it's best to lift up the steamer insert out of the pot, but if you can't reach it, then gently use a spoon or tongs to lift out the tamales.
Serve immediately.