Did you know it's tamale season? One of my most popular posts — how to make frozen tamales in the instant pot — is going crazy right now. But that's when you already have tamales. Check out this easy recipe for Rotisserie Chicken Tamales in the Instant Pot.
What if you need to make fresh ones? Did you know you can take a shortcut to tamale making by using store bought rotisserie chicken? This post contains affiliate links.
Tamales for Christmas Dinner
Christmas dinner down here in Texas is all about the tamales, especially homemade tamales. We usually have a Tex Mex feast for Christmas dinner with tamales, refried beans, Mexican rice, and more!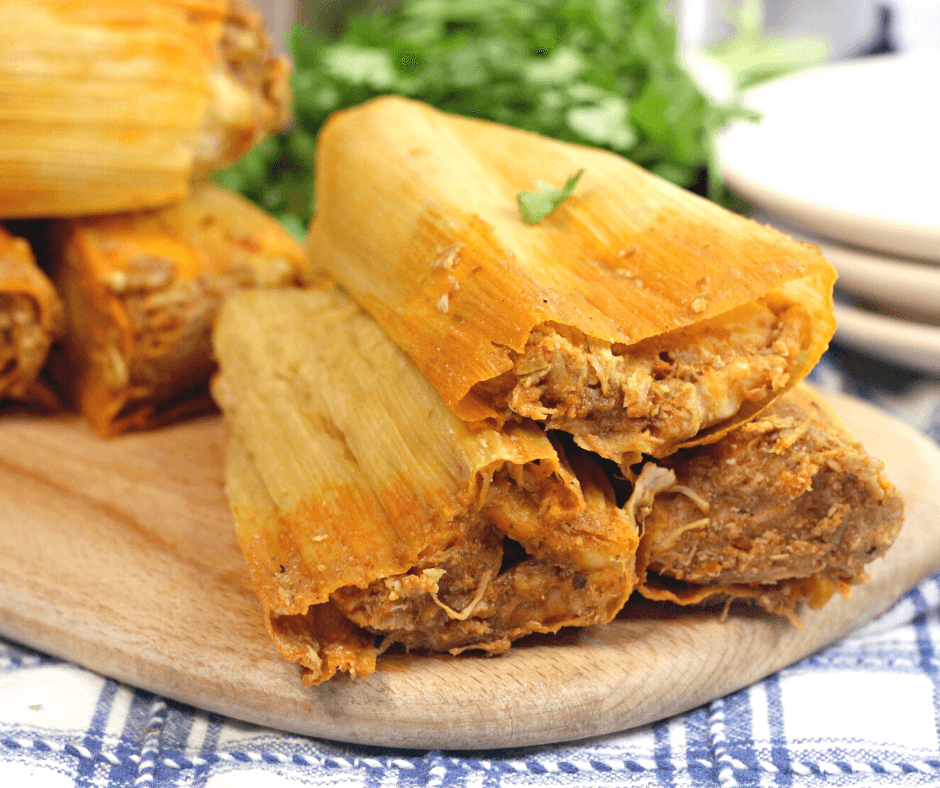 Why does it take so long to make tamales?
Tamale making is by nature just a long process all around from the meats to the actual tamale cooking. But, it's also a wonderful way to spend a day with family and friends and just be together while you all works towards making something delicious. You can truly get the whole family in on the process from kids to grandmas.
There are a couple of things that traditionally make tamale making an all day affair.
First, it's roasting the meat. The best way to make the meat for tamales — chicken, pork, or beef — is roasting it, which is a slow process. Using store bought rotisserie chicken really helps skip this time-consuming step. You do still need to debone the meat from the chicken and shred it.
The other time-consuming part of tamale making is cooking them. When you make fresh tamales, usually you need to steam them for 1 1/2 hours. By using an Instant Pot, we are able to shorten this down to just 35 minutes.
How do you make the masa?
This pork tamale recipe is how I make my masa for any flavor tamales. You can actually take a shortcut to this step as well. Mexican grocery stores and even tamale factories sell prepared masa. You will still need to add liquid
Your masa should be the consistency of peanut butter or mashed potatoes or cookie dough.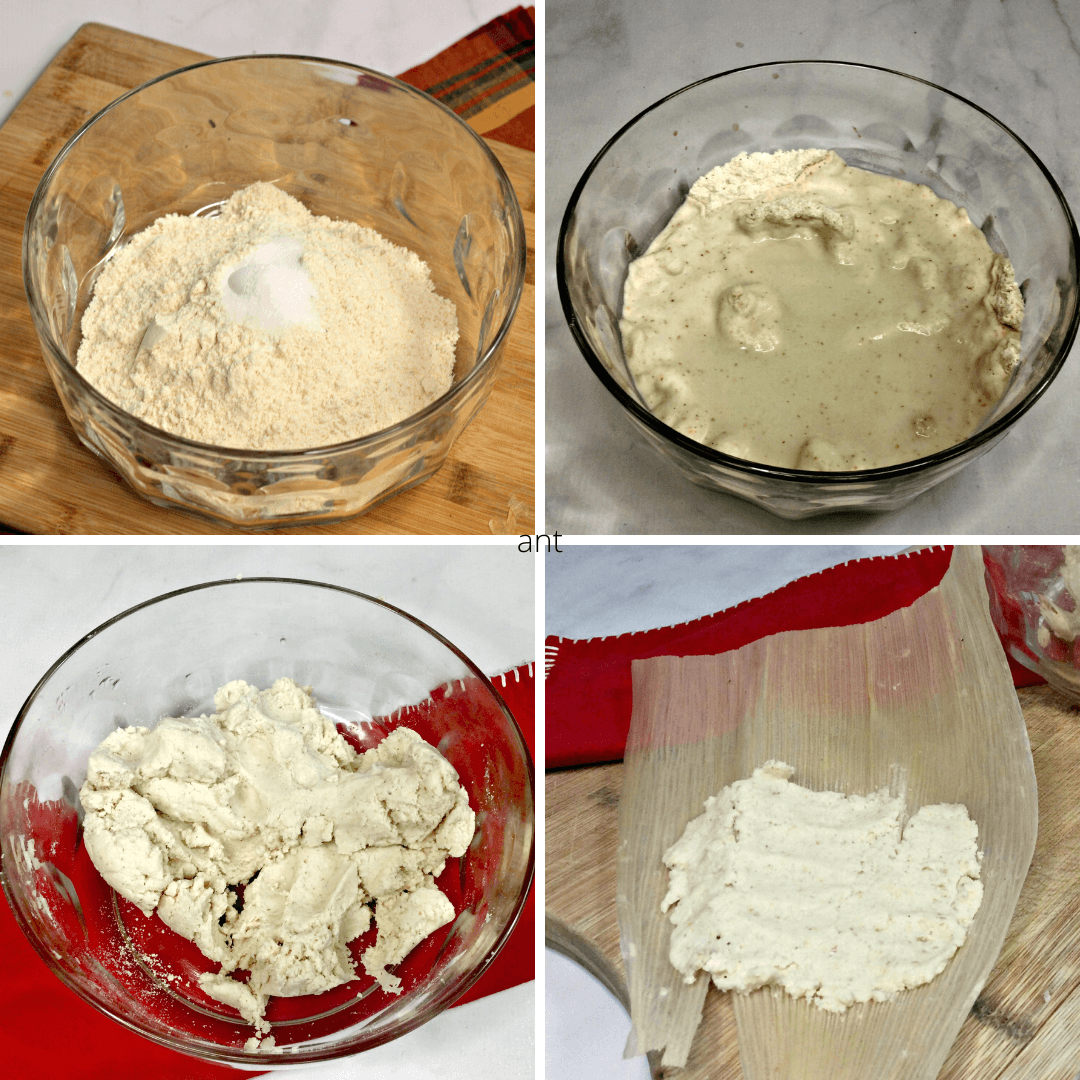 Don't spread your masa all the way to the edges. Other than that, any shape is fine. Try the upper center. You want to leave enough room at the bottom to fold the tamale and leave about 1 to 2 inches at the top, because the tamales will swell as they steam.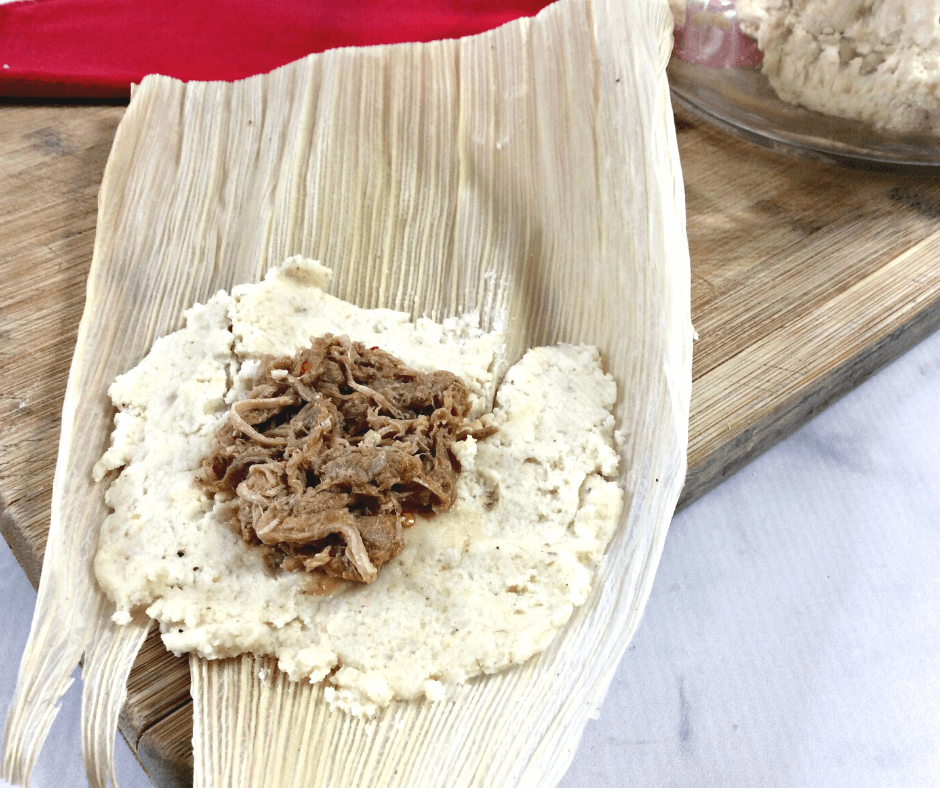 Rotisserie Chicken vs. Make Your Own Chicken?
Using store bought rotisserie chicken speeds this process up a lot. Often store bought rotisserie chickens are about 3 lbs, which will get you about 3 cups of de-boned, shredded chicken. This will make about 12-14 tamales.
In a pinch, you could also use canned chicken, but I recommend draining and rinsing it a lot. Canned chicken has a strong smell, but I've found draining it and then rinsing it thoroughly makes it acceptable.
If you just want to make the chicken yourself, you can use this simple Salsa Chicken recipe for the slow cooker. Set it in the morning, and by afternoon you can start the tamale-making process.
What's wrong with my tamales?
For the most part, this process is very forgiving. Tamales go together very simple and cooking is just a matter of steaming them — which is why an Instant Pot is perfect for cooking tamales.
The most important thing to remember is you don't want ingredients that are too wet.
Pat try the corn husks after they've soaked in water.
Make sure your meat is not too wet. You might need to use a slotted spoon to remove the shredded meat from too much liquid. (A little liquid is fine. It does not need to be bone dry.)
Make sure your masa is not too wet, that's why consistency like peanut butter is the key.
These will make the tamales take a much longer time to cook.
More Tex Mex Recipes
More Instant Pot Recipes
How do you make Instant Pot Rotisserie Chicken Tamales?
Yield:

12-14
Instant Pot Rotisserie Chicken Tamales
Total Time:
1 hour
15 minutes
Take a shortcut to fresh tamales by using store bought rotisserie chicken.
Ingredients
1 tablespoon olive oil
16 oz jar of salsa
3 cups cooked rotisserie chicken
1 teaspoon salt
1 teaspoon paprika
1 teaspoon cumin
1 teaspoon garlic powder
1 cup chicken broth
16-20 corn husks
2 lbs prepared masa
1 cup of water for Instant Pot
Instructions
Corn Husks:
In a large pot soak the corn husks in a water on low for 2 hours.
Drain water.
For the Filling:
Set your Instant Pot on Saute and add the olive oil.
Add the salsa, cumin, garlic powder, paprika, and chicken broth.
Stir to combine.
Let simmer for a few minutes.
Shred the rotisserie chicken and add to the pot. Make sure to have ALL bones and skin removed.
Stir occasionally and cook until the liquid is mostly gone.
Remove the chicken and place in a bowl to the side.

Tamales:
Prepare the masa or use masa preparada. (Note)
Add a scoop about 1/2 cup of prepared masa on each corn husk.
Add a heaping tablespoon of the chicken to the center.
Fold one side of the corn husk over, then the other side. Then, fold the top down. Tie with shredded corn husks as needed.
Place the tamale on a tray side raw edges down. Set aside. Repeat until you are out of chicken filling.
Place the steam rack on the bottom of the Instant Pot.
Add 1 cup of water.
Place all the uncooked tamales on the rack, standing upright.
Make sure to pack them in to limit movement .
Lock the lid in place.
Turn the valve to "SEALING."
Set the Instant Pot to pressure cook at high pressure 35 minutes.
When the pressure cooking is done, let the steam release for a few minutes.
Then turn the valve to "venting."
Remove the lid.
Eat immediately or store in freezer zipper bags and freeze for up to a month.
Notes
1 rotisserie chicken should give you about 3 cups of deboned chicken - both white and dark meat.
Prepare about 2 pounds of masa according to the package. Your other choice is to purchase prepared masa from a Mexican grocery store or a tamale factory - but, those often require liquid added. It's important to make the masa consistency like the consistency of peanut butter or cookie dough or mashed potatoes.
If you need to prepare the masa, follow the recipe from my Instant Pot pork tamales.
Recommended Products
As an Amazon Associate and member of other affiliate programs, I earn from qualifying purchases.