My mom is famous for her enchiladas. Everyone always raves about them. Mom's Cheese and Onion enchiladas are super delicious, easy to make, and a little bit different.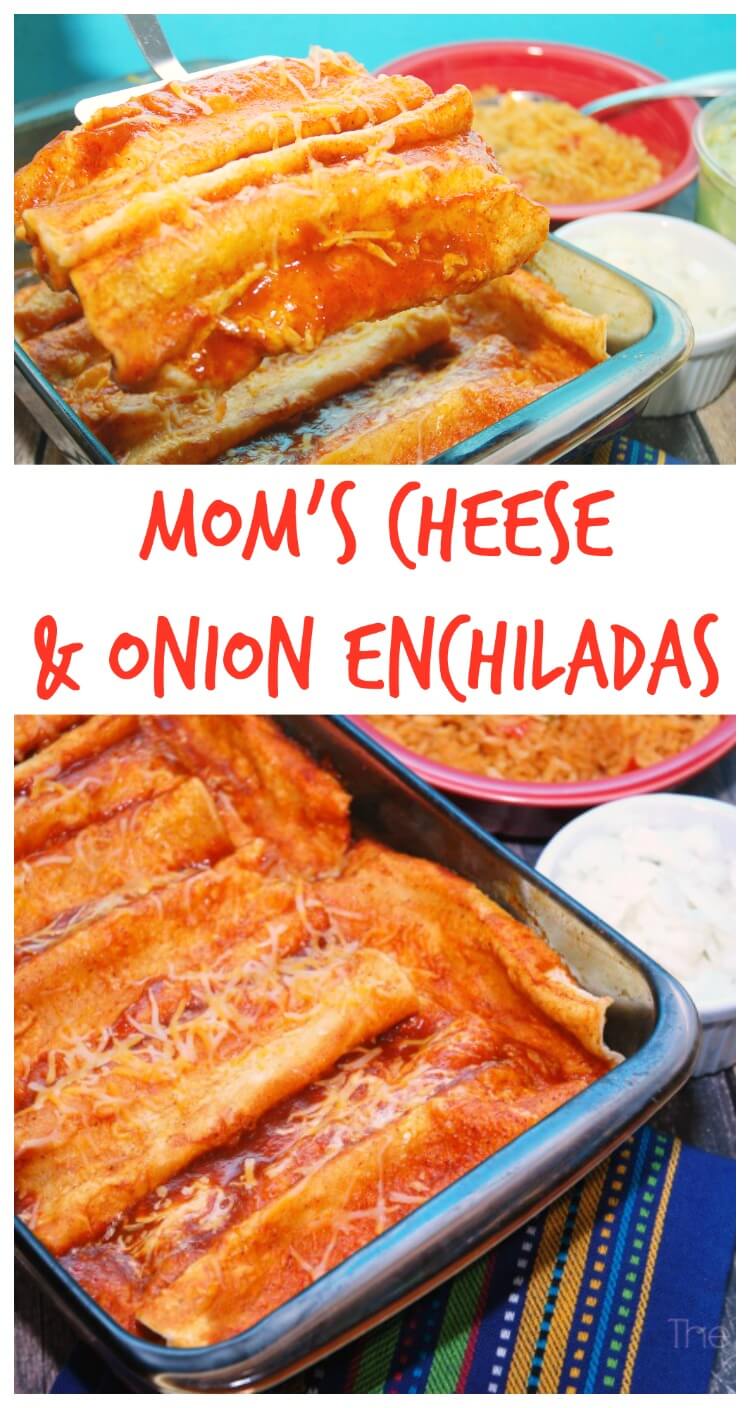 When I was a kid growing up, this was her famous dish people would always want her to make for get togethers.
I have never been a fan of onions, so she'd make me my own special batch without onions.
More Enchilada Recipes
What do you need to make my Mom's Cheese & Onion Enchiladas?
This recipe doesn't take much. You'll need:
10-15 oz can red enchilada sauce
Monterrey jack cheese, shredded
1 chopped onion
12 corn tortillas
How do you make cheese and onion enchiladas?
My mom uses red enchilada sauce and Monterrey jack cheese. Sometimes she makes her own enchilada sauce when she has time, but usually she uses Old El Paso's mild red enchilada sauce.
You might find Old El Paso is too spicy for your taste. I find that the Rosarita brand Red Enchilada Sauce is better. It's a milder sauce.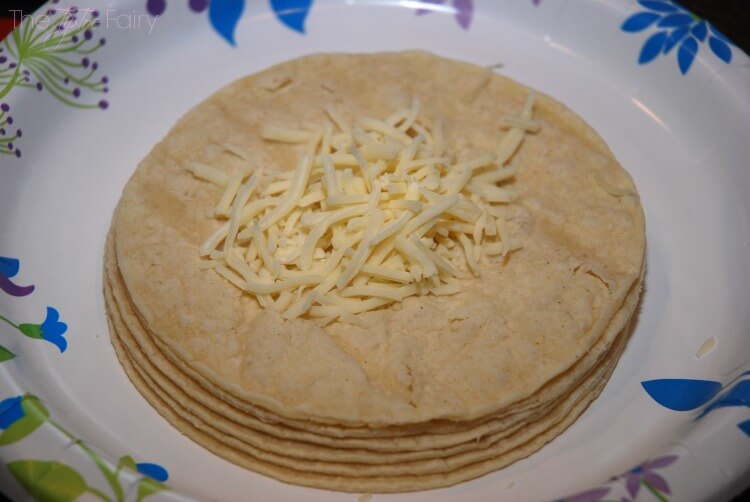 These are super simple to make. I steam about a dozen corn tortillas wrapped in damp paper towels for about a minute in the microwave.
Add Monterrey jack cheese and onions to each tortillas. Then roll it up.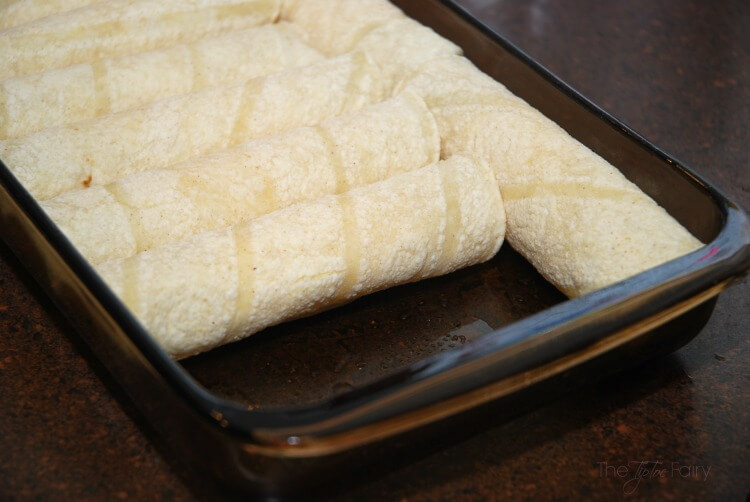 Enchiladas are very good at getting stuck to a pan, so my favorite tip for these is to always, always, spray the pan with non-stick spray before adding the enchiladas. It works every time!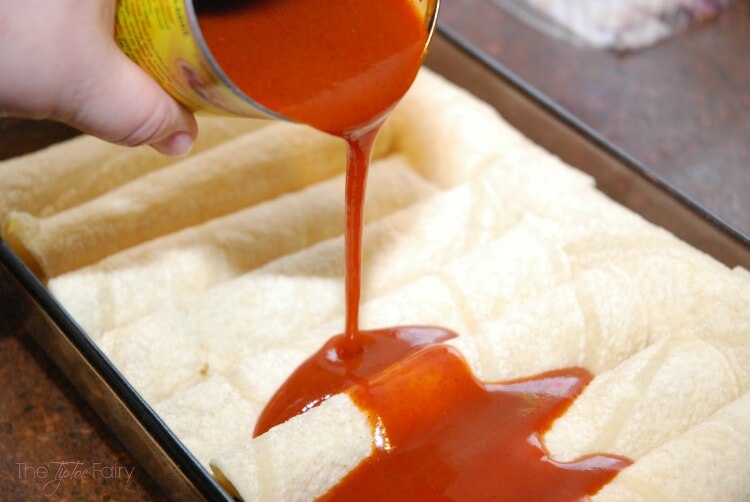 I have found one 15 oz can of enchilada sauce can cover two small pans of enchiladas.
My husband prefers flour tortilla enchiladas, so I have now relented to making a dozen corn enchiladas and a half dozen flour enchiladas, and one can of sauce works great to cover both.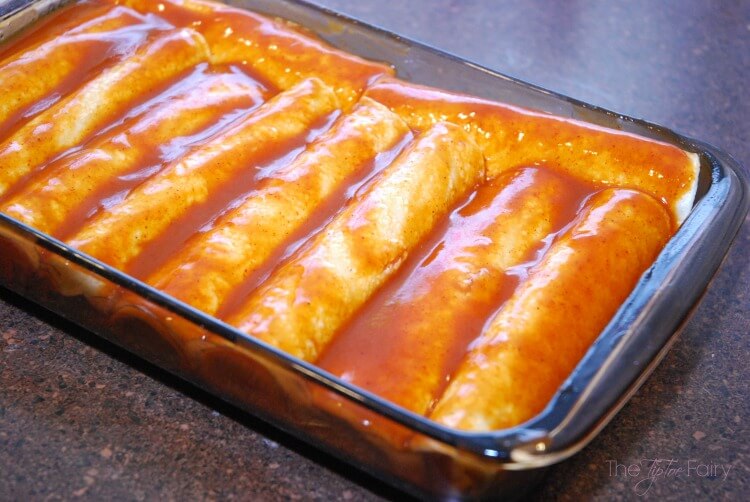 You do not want to over saturate the enchiladas with sauce or they'll just get slimy, so half a can per dozen work perfectly.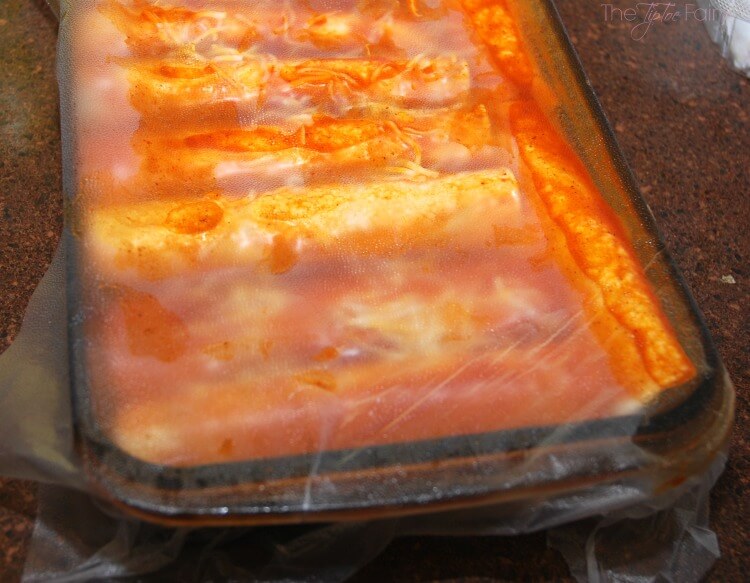 My mom was the one who taught me the shortcut of cooking enchiladas in the microwave.
Cover each casserole dish with wax paper (or you can use plastic wrap) and cook for just 4 minutes.
This is my favorite thing about making enchiladas. It takes less than 15 minutes to make dinner.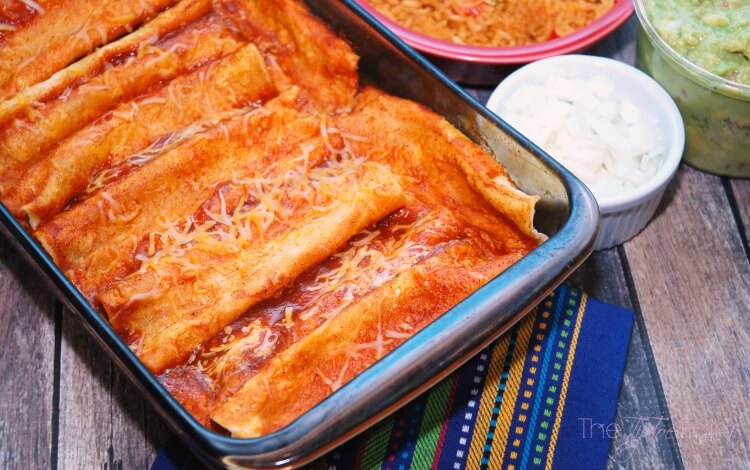 Can you make Mom's Cheese & Onion Enchiladas ahead of time?
Absolutely! You can keep them in the fridge for a day or two, wrapped in plastic wrap.
Then heat them in the microwave when you're ready to serve. They may take an extra couple of minutes in the microwave since they've been cold in the fridge.
Can you bake these enchiladas instead of microwaving them?
Absolutely! It just takes longer. When I've baked these in the oven, I bake them at 350 F degrees for about 20 minutes.
How do you store leftover enchiladas?
These make great leftovers! Just put them in a sealed container in the fridge for up to 4 days.
These are perfect to make ahead of time and then portion out in meal prep containers for easy to grab lunches with some rice and beans in each container.
Recipes to pair with Mom's Cheese and Onion Enchiladas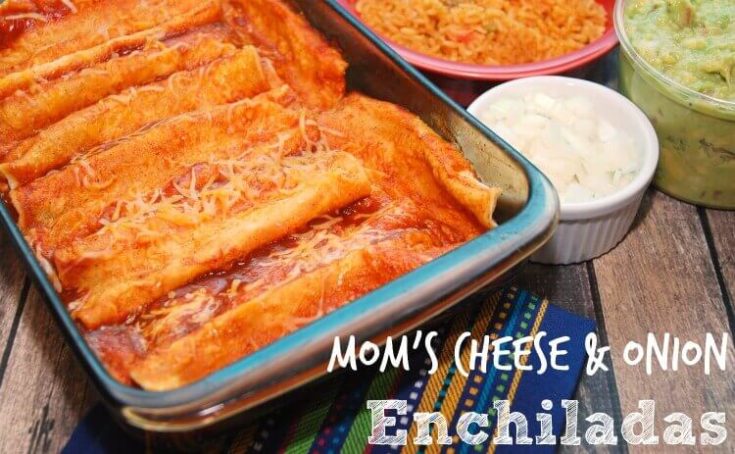 Yield:

about 12
Mom's Cheese & Onion Enchiladas
Ingredients
12 corn tortillas
8 oz monterrey jack cheese
1/2 cup onions, diced
15 oz can of red enchilada sauce
Instructions
Spray nonstick spray in a microwave-safe 9 x 13 inch casserole dish.
Heat the tortillas wrapped in damp paper towels for 1 minutes, or until steamed and soft.
Add a couple tablespoons of cheese and about a teaspoon of onions to the center of each tortilla.
Wrap the tortilla and place in the casserole dish.
When the casserole dish is full, pour about half the can of sauce over the enchiladas. Use a spoon to gently spread the sauce around.
Cover the top of the dish with microwave-safe plastic wrap and heat for 4 minutes.
Serve immediately.
Come Join Us!
Liked this article and want more? Follow along on Instagram, Facebook, Twitter, Pinterest, TikTok, and YouTube!
Come over and join us on Facebook in the group Recipes, Crafts, and more with TipToe Fairy or Sewing and Crafting with The TipToe Fairy!
Visit Our Other Blogs!