These enchiladas are truly the EASIEST Chicken Enchiladas you'll ever make. You can use pantry staples like canned chicken and cream of chicken soup. You can substitute things if you need to. And the best part? You can cook them in less than 5 minutes in the microwave!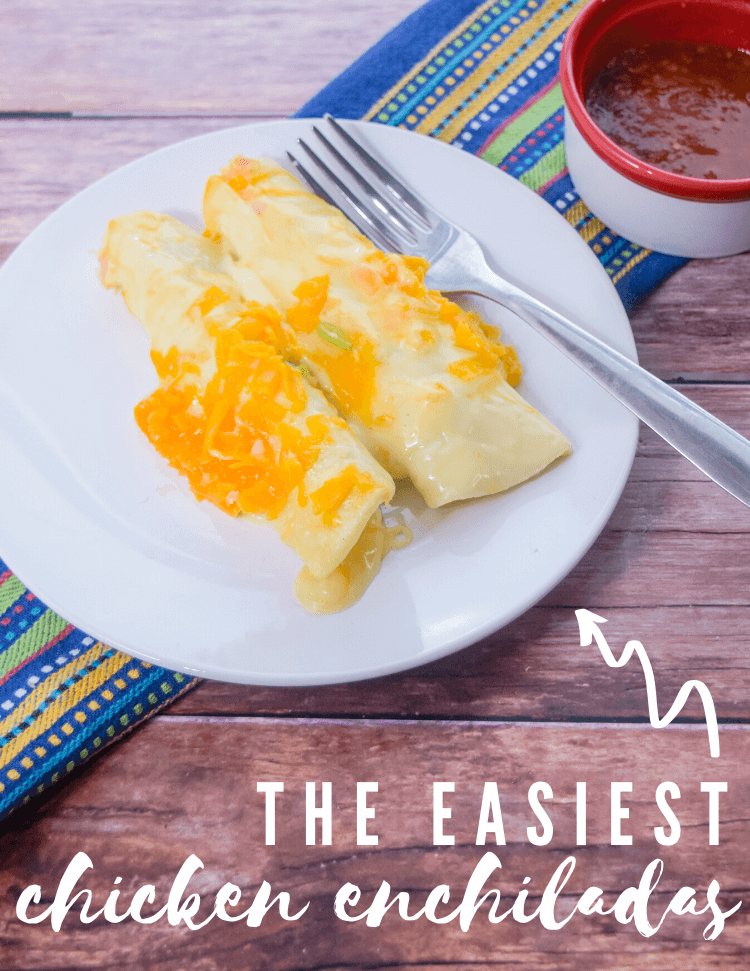 What kind of substitutions can you make with these Chicken Enchiladas?
I love a recipe where I can change things up, and it still tastes yummy.
In this recipe you can switch out the canned chicken for freshly shredded chicken breasts or rotisserie chicken or even canned turkey or tuna. You could definitely turn these into tuna enchiladas if you needed to. You can also switch out the sour cream for Greek yogurt or even regular plain yogurt if that's what you have on hand.
How do you cook Chicken Enchiladas in the Microwave?
It's pretty easy. You need a dish that's microwave safe that can hold your enchiladas. You also will need to cover the dish because in my experience as the chicken enchiladas are heating up, the chicken likes to explode all over the microwave.
It's best to cover them. I usually wrap the dish in plastic wrap. It allows the enchiladas to steam while cooking, so the tortillas or the sauce don't dry themselves out. You could also wrap them in parchment paper or wax paper – just something to contain splatters.
Can you cook these Chicken Enchiladas in the oven?
Yes! It's definitely quickest if you cook them in the microwave, but you can totally bake these in the oven. I recommend baking at 350 F degrees for 20-25 minutes.
How do you make the Easiest Chicken Enchiladas?
First of all, if you are new to making enchiladas, please do not make enchiladas with flour tortillas. I have seen this trend, and it's not good. Flour tortillas get slimy when people use them for enchiladas.
Corn tortillas stay nice and firm. I recommend ONLY using corn tortillas for any kind of enchilada – cheese, beef, chicken, whatever. But, I understand if flour is all that you've got right now.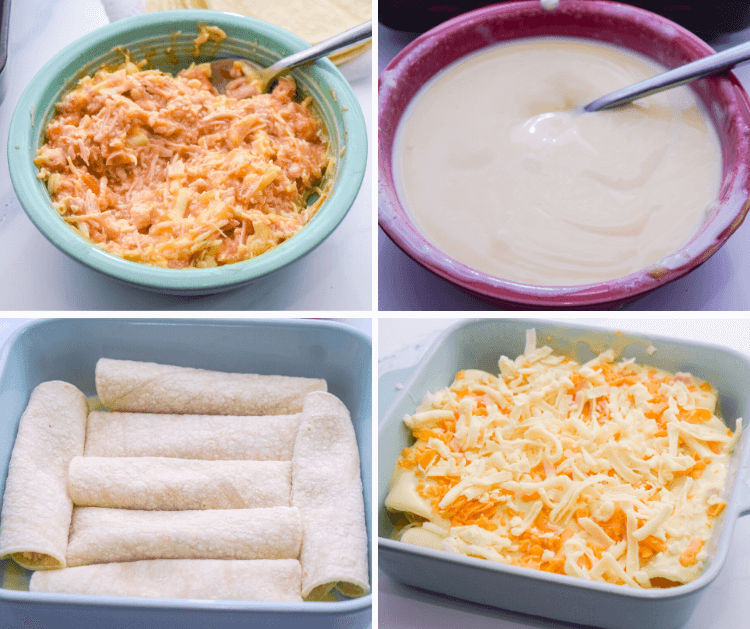 There are only two things that need to be precooked ahead of time:
#1 The chicken, like from a can or leftovers from chicken breasts or rotisserie chicken, etc. There's no raw chicken in chicken enchiladas.
#2 The tortillas should be warmed up right when you're ready to use them. Traditionally tortillas are warmed up in oil in a skillet, but that takes too long for me. And, I find it unnecessary. I wrap 10 corn tortillas in paper towels and heat them in the microwave for 30 seconds. This steams them so they are pliable and don't tear when you're rolling them into enchiladas.
Other than those things, you don't need to prebake anything. I've seen people with recipes who make you bake the enchiladas before adding the sauce. You don't need to heat up the chicken mixture or the sauce mixture.
Side Dishes for Enchiladas
More Enchilada Recipes
Yield:

10 enchiladas
The EASIEST Chicken Enchiladas
Cook Time:
3 minutes
30 seconds
Total Time:
8 minutes
30 seconds
Ingredients
10 oz canned chicken, drained, rinsed, and shredded
1 can cream of chicken soup
2 tablespoons sour cream
1/2 cup shredded cheese, cheddar or jack cheese
2 tablespoons salsa
1/2 cup milk
9-10 corn tortillas
Instructions
Use a microwave-safe casserole dish. An 11 x 7 size dish will hold about 10 enchiladas.
Steam the tortillas for 30 seconds wrapped in a paper towel in the microwave.
Drain the chicken and rinse it in water. Shred the chicken into small pieces.
In a cereal-size bowl combine chicken, 1/2 the can of the cream of chicken soup, the salsa, and 1/2 the cheese.
In another bowl combine the rest of the cream of chicken soup, the sour cream, and the milk. If it's too thick, add a little extra milk to make it more sauce-like.
Add a couple spoonfuls of sauce to the bottom of the pan and spread it all over.
Spread about 1-2 tablespoons of the chicken mixture in a tortilla. Roll it up, and place it seam side down in the dish. Do this for the rest of the enchiladas.
Pour the sauce over all the enchiladas so that every tortilla is covered.
Sprinkle the rest of the cheese on top.
Cover the dish with plastic wrap or wax paper.
Microwave the dish on high for 3.5 minutes.
Top with chopped onions or green onions if desired.
Serve immediately.
Nutrition Information:
Yield:

5
Serving Size:

1
Amount Per Serving:
Calories:

252
Total Fat:

15g
Saturated Fat:

6g
Trans Fat:

0g
Unsaturated Fat:

7g
Cholesterol:

55mg
Sodium:

871mg
Carbohydrates:

7g
Fiber:

0g
Sugar:

1g
Protein:

21g
Any nutritional information on thetiptoefairy.com should only be used as a general guideline. This information is provided as a courtesy and there is no guarantee that the information will be completely accurate.
Come Join Us!
Liked this article and want more? Follow along on Instagram, Facebook, Twitter, Pinterest, TikTok, and YouTube!
Come over and join us on Facebook in the group Recipes, Crafts, and more with TipToe Fairy or Sewing and Crafting with The TipToe Fairy!
Visit Our Other Blogs!