If you watch my Instastories on Instagram, then earlier this summer you got to see my apricot tree full of apricots as well as the harvests over the course of a couple weeks. We had a huge crop from the tree this year.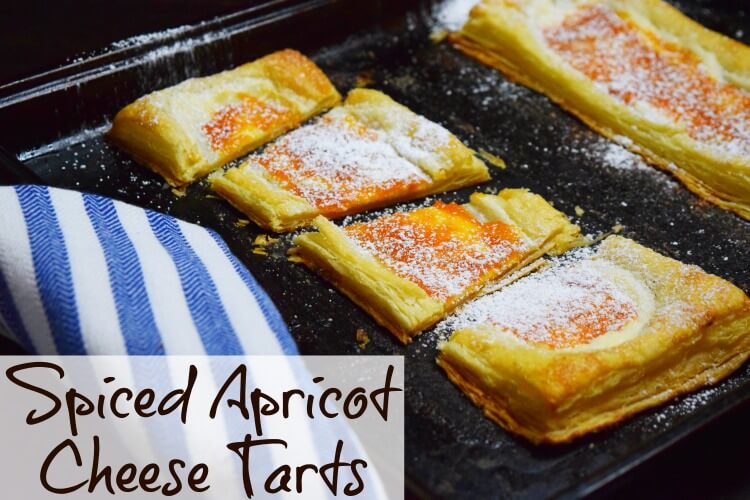 After eating a ton and giving away some, I froze the last few pounds. But, I can't resist apricots. Even though they've been a freezer for a month, I pulled half of them out and made two jars of spiced apricot jam. It's basically apricot jam with cinnamon. It tastes divine!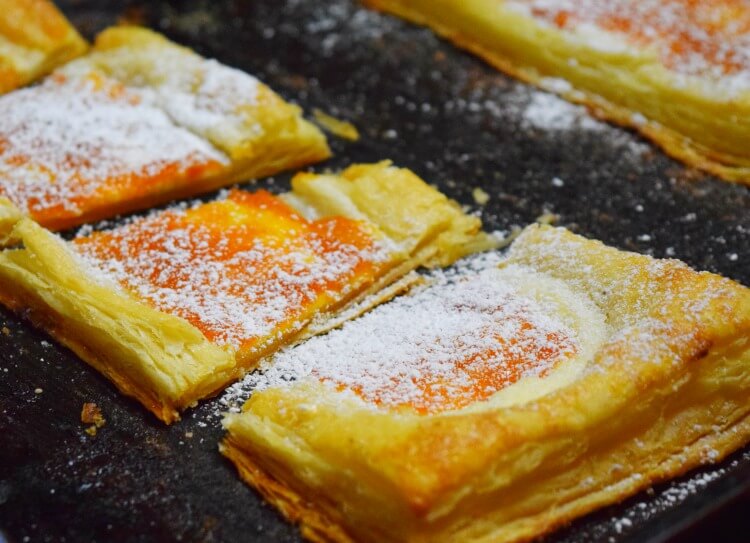 One jar is still in the pantry. But, the first jar we ate half of it and then I used the last half of the jar to make some delicious Spiced Apricot Cheese Tarts with cream cheese, puff pastry, and my spiced apricot jam. I made it as a surprise dessert one night last week, and the kids loved it.
These Spiced Apricot Cheese Tarts are one of my favorite desserts. I'm not sure if it's because they taste so delicious or because I made the apricot jam from the apricots from my tree.
Ingredients
2 puff pastries
1 jar of apricot jam
8 oz cream cheese, softened
2 tablespoons raw sugar
1 tablespoon heavy cream
1/4 cup powdered sugar
Instructions
Set out the frozen puff pastry to defrost.
Preheat oven to 400 F degrees.
Once the puff pastry has defrosted, cut each puff pastry in half and lay two halves on a cookie sheet.
Combine the softened cream cheese and powdered sugar until smooth.
Spread 1/4 of the cream cheese over one of the halves of puff pastry. Make sure to leave about an inch crust around the edge. Do this for all 4 halves.
Then, spread the jam over the cream cheese.
Brush the edges of each puff pastry with heavy cream.
Then, sprinkle the raw sugar over the edges and over all the puff pastry.
Bake for 20-25 minutes, until the puff pastry is a golden brown.
Let cool for a few moments before slicing each half into four pieces.
Notes
Store extras in a sealed container in the fridge, due to the cream cheese, for up to a week.