I participated in an Ambassador Program on behalf of Mom Central for the National Pasta Association. I received pasta samples and a stipend to facilitate the creation of pasta recipes as well as a promotional item to thank me for my participation.
With the holidays coming up, I have been thinking up new dishes. We never really incorporate pasta into our traditional Thanksgiving meal. However, after checking out PastaFits.org for the last couple months and making new pasta dishes, I thought about adding one to this year's Thanksgiving line up.
If you've never visited Pasta Fits, I definitely recommend it. There are tons of recipes and tips for cooking pasta as well as information on nutrition and more all sponsored by the National Pasta Association.
I'm thinking this year, we need a spruced up salad. Something different with a lot of flavor. We usually have a regular salad mix with dressings set out for everyone to simply make their own, and we have a fruit salad that's been handed down in my family since before I was born called Heavenly Hash. But, I love a ready made salad mixed up with some kind of vinaigrette.
Remember my last pasta recipe and how my family tends to just give me one big eye roll when I mention spaghetti for dinner? Pasta is still a staple in our house because it's such a budget friendly option and versatile enough for everybody. But, I have been changing up our pasta big time, and they are liking it. Thanks to PastaFits.org, I've been learning how to make quite a few easy, quick, and wholesome meals for my family.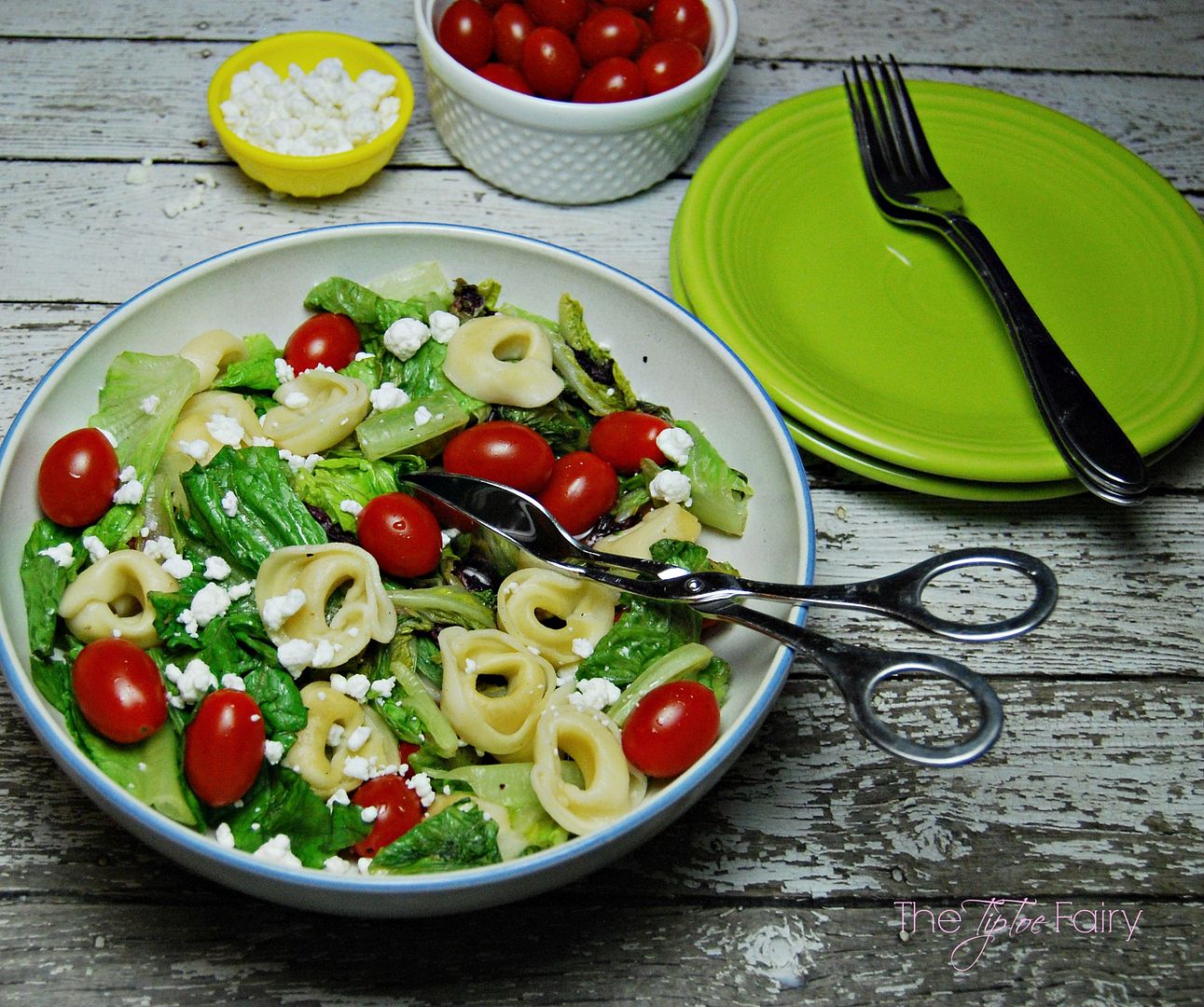 This Tortellini Caesar Salad has been calling my name in the Pasta Fits recipes for some time. I love tortellini and love Caesar salad, but I am just not a fan of cold pasta. So, I decided to change it up into a hot salad with wilted lettuce straight from the skillet. Then, instead of Caesar dressing, I cooked a simple three-ingredient vinaigrette.
This is going to be the new salad I'm serving at Thanksgiving this year. I have always loved wilted salads, and this one came out just exactly how I imagined. Check out how simple this is:
Save time and cook the tortellini the day before. Then, simply combine the dressing ingredients in a skillet and allow them to reach a boil. Throw the lettuce, tortellini and tomatoes in the pan and cook it for a minute or two until the lettuce starts to wilt. Then, it's ready to serve! This is a super easy salad with just a bit of sweet and tangy. So delicious!
An easy hot, wilted salad to make featuring tortellini and goat cheese crumbles.
Ingredients
[u]Dressing Ingredients:[/u]
Dressing Ingredients:
1/4 cup vinegar (I used a Raspberry Blush vinegar)
1/4 cup sugar
1/2 tsp black pepper
[u]Salad Ingredients:[/u]
Salad Ingredients:
1/2 bag of frozen tortellini, cooked per directions
2 romaine hearts, washed and chopped
1/2 cup grape tomato
goat cheese crumbles
Instructions
Prepare tortellini.
Wash and chop salad.
Wash tomatoes.
In a large skillet on medium heat combine the vinegar, sugar, and pepper. Stir together until sugar is completely dissolved. Let simmer for 1-2 minutes until boiling.
Add the lettuce, tomatoes and tortellini and coat thoroughly with the dressing.
Cook for an additional minute while the lettuce is wilting.
Then immediately remove from heat and transfer to salad bowl.
Top with goat cheese.
Serve immediately.