This Heavenly Hash recipe has been a mainstay in my family's holiday meals since before I was born. One of us still makes it and brings to the holiday dinners each and every year. There is just something about a fluffy fruit salad that says this meal is special. If you want a bit of color to your creamy fruit salad you could also try this Cherry Fluff Fruit Salad.
<
Do you have family recipes that just take you back? I definitely do. Heavenly Hash is probably one of my favorites. It reminds me of being a kid and heading over to my grandma and grandpa's house. Their house always smelled so nice. It was like the scent of Dove soap. I think she put it in the linen closet.
This recipe was one of the hallmarks of our Thanksgiving and Christmas dinners. The few times it was left off the menu, it just wasn't the same. Everyone would ask — where is the Heavenly Hash?
When my mom started hosting holiday meals at our house with her side of the family, she served Heavenly Hash, even though it came from my dad's side of the family. This recipe was one of the first things I learned how to make. It was where I learned how to whip cream.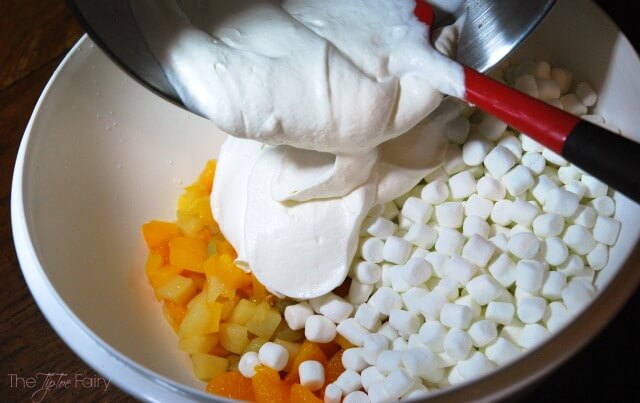 How do you make Heavenly Hash?
There is no hard and fast rule about what canned fruit to use. Years ago my grandma would use canned peeled green grapes, but now they're hard to find. So, we often use fruit cocktail as a replacement. You can also add coconut to this recipe. But, I have a family who does not like coconut, so we leave it out.
When you make Heavenly Hash, make sure to drain the fruit really well. Next, add the marshmallows to the fruit. Then, gently fold in the whipped cream.
You can substitute Cool Whip, but if you ask me, the taste is so much better with real whipped cream.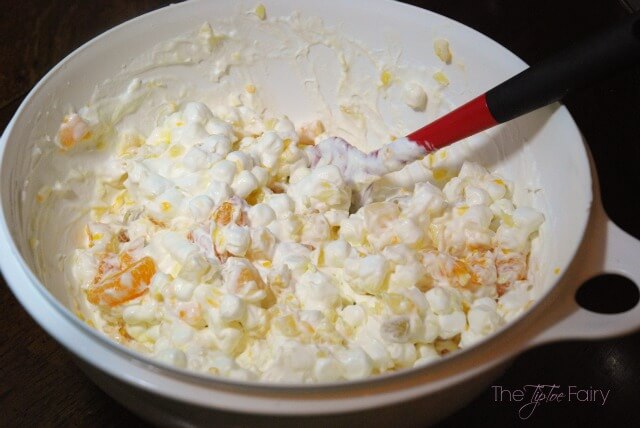 Can you make Heavenly Hash the day before?
Absolutely! It's better when you do make it ahead. You can make Heavenly Hash right before serving, but it's best left to sit overnight and let it all mingle together. Before I put it in the fridge, I transfer it to the serving bowl. Then, you can pull it out when you're ready to serve!
More Holiday Recipes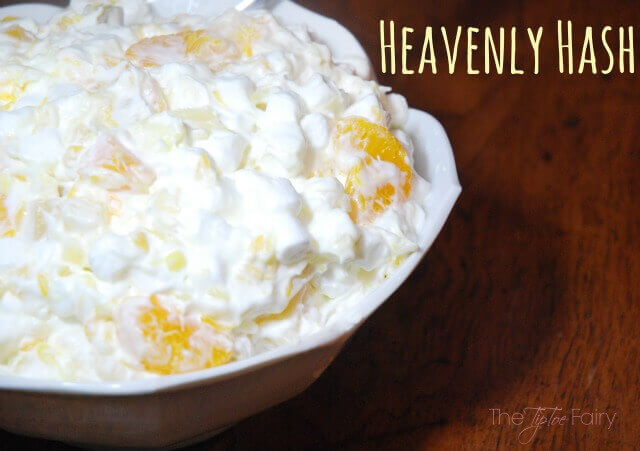 Yield:

10-12
Holiday Recipes: Heavenly Hash
An easy holiday fruit salad that comes from an old family recipes
Ingredients
2 cups whipping cream
1 can crushed pineapple or pineapple tidbits
2 large cans mandarin oranges
1 can fruit cocktail
1 bag of mini marshmallows
Instructions
Freeze the mixing bowl for 20 minutes before whipping the cream.
Add 1 tablespoon of pineapple juice from the can to the whipping cream as you whip it.
Stop when soft peaks form.
Drain the juice for all the cans of fruit and combine in a large bowl.
Add the bag of marshmallows.
Then, fold in the whipped cream.
Cover and put in the fridge until ready to serve.