Is there a recipe you just must make for your holiday meals, or it just doesn't feel right? My kids swear it isn't Thanksgiving if we don't have pumpkin pie — not that it has ever happened. We always have pumpkin pie for Thanksgiving and Christmas dinners, but every year they always ask to make sure there will be pumpkin pie.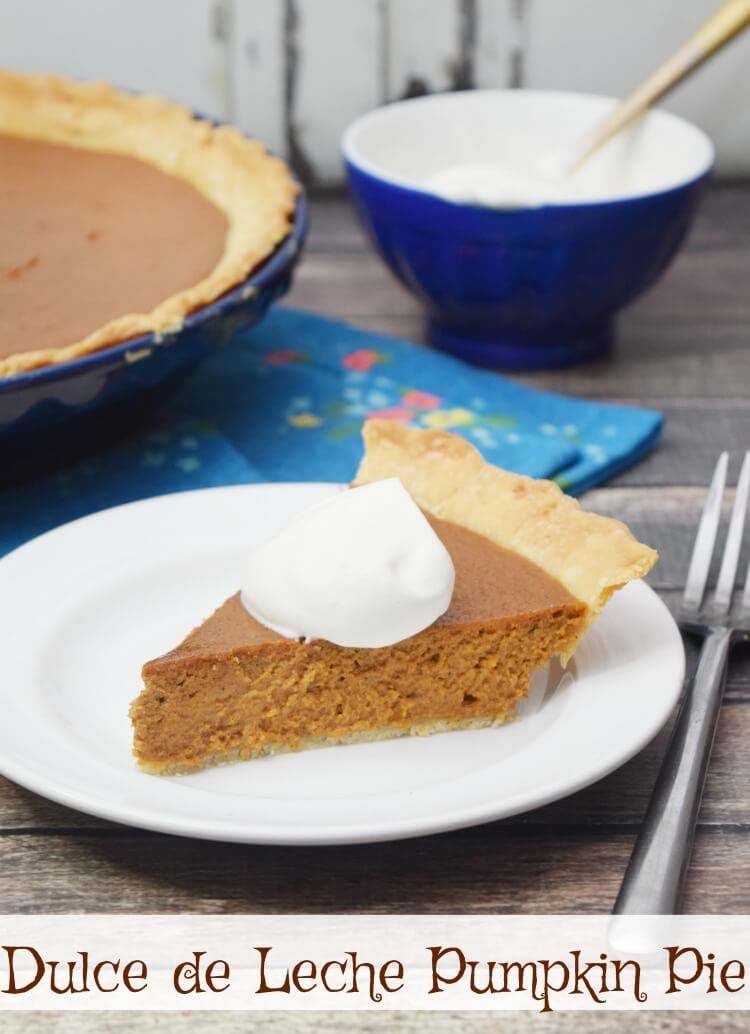 I'm a bit of a snob about it because it cannot be store bought pumpkin pie. I don't know why, but store bought pumpkin pies just gross me out.
Because of this, I've become the pie maker in our family. When we head to grandma's house, I'm the one to always bring the pie. Usually I follow the Libby's pumpkin pie recipe, but one year I switched it up and instead of using evaporated milk and sugar, I just used sweetened condensed milk. It's one less ingredient, and I could not tell the difference in taste.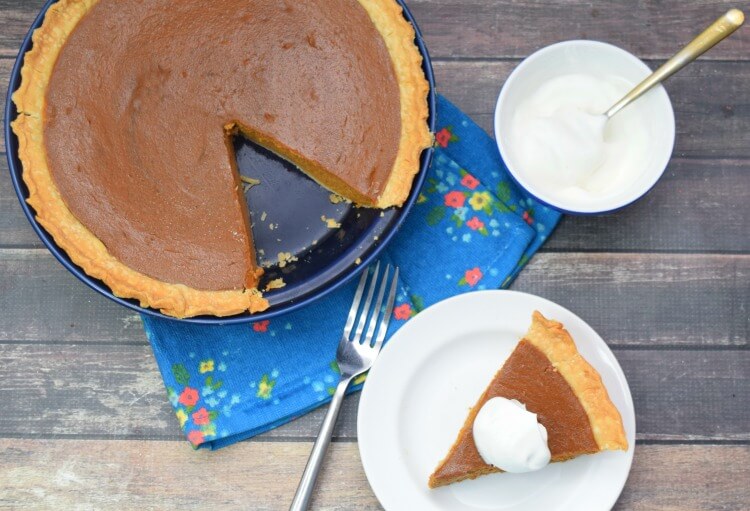 This year I decided to do something a little different. Instead of using sweetened condensed milk, I switched it up and used dulce de leche. You can find cans of it as Nestle's Le Lechera in the Mexican food aisle.
Why haven't I thought of this before? I love using dulce de leche in desserts. It's magical, and it definitely worked it's magic in this pumpkin pie. The first time I made this pie, I made a double batch and sent one to work with my husband. It was devoured he said. And, my kids absolutely loved the pie I kept for home. I bet your family will love it, too.
More Pumpkin Recipes
Dulce de Leche Pumpkin Pie
Ingredients
1 refrigerated pie crust
2 large eggs
1 10 oz can Le Lechera dulce de leche
1 15 oz can pumpkin puree
1 tablespoon pumpkin pie spice
Instructions
Preheat oven to 425 F degrees.
Prepare the pie crust in the pie pan.
Beat the eggs.
Add the dulce de leche, pumpkin, and pumpkin pie spice.
Pour it into the pie shell.
Add some foil around the outer crust edge to prevent burning.
Bake for 10 minutes at 425 F degrees.
Then, turn the oven down to 350 F degrees, and bake for 30-35 additional minutes.
Insert a toothpick in the center of the pie, if it comes out clean, it's done.
Cool in the fridge overnight.
Come Join Us!
Liked this article and want more? Follow along on Instagram, Facebook, Twitter, Pinterest, TikTok, and YouTube!
Come over and join us on Facebook in the group Recipes, Crafts, and more with TipToe Fairy or Sewing and Crafting with The TipToe Fairy!
Visit Our Other Blogs!