If there is a way I can incorporate dulce de leche sauce into a dessert, I totally do it. It adds a richness and flavor that I just love. Stay tuned for an upcoming recipe for Dulce de Leche Pumpkin Pie! It sort of sounds intimidating, but it's really not.
Now this is a wonderful little dessert is perfect to bring to the potluck or serve for the holidays.
You'll need a mini muffin to make this one. And, then the crust is made with refrigerated sugar cookie dough that you roll into balls. You'll cook the sugar cookies this way, and as soon as they come out of the oven, push a shot glass into each one to form the cookie cup.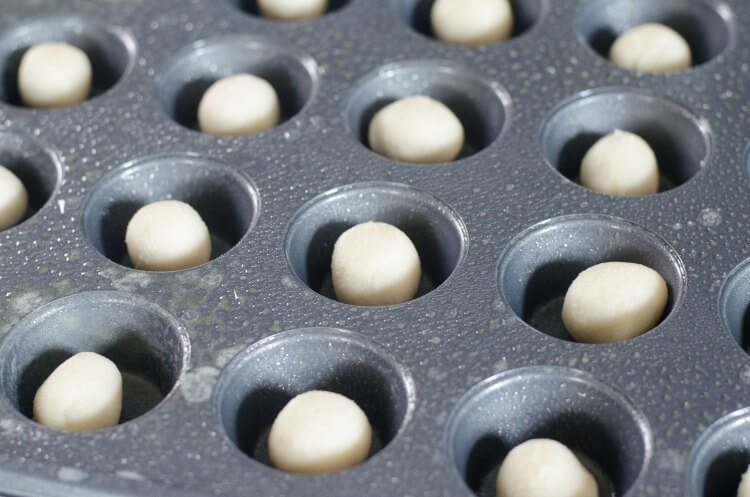 Now you can do one of two things with the canned pumpkin. I tend to like that "pumpkin pie flavor," so I add 1 1/2 teaspoons of pumpkin pie spice to the canned pumpkin, but you can also just leave the spice out.
Now if I were you and taking this to a potluck, I'd bring a can of Reddi-wip and add the whipped cream when you're ready to serve.
That's all there is to it! Easy peasy!
More Pumpkin Recipes
Dulce de Leche Pumpkin Cookie Cups
These Dulce de Leche Pumpkin Cookie Cups are perfect for your Thanksgiving dessert table!
Ingredients
1 package sugar cookie dough
Cooking spray
1 can pumpkin puree (canned)
1 1/2 teaspoons pumpkin pie spice
whipped topping
3 tablespoons caramel syrup (or dulce de leche syrup found in the Mexican food aisle)
Instructions
Preheat oven 375 degrees. Lightly spray a 12-24 mini muffin pan with cooking spray. Follow the instructions on the sugar cookie package for drop cookies.
Roll dough into small balls. Place into muffin pan. We used dough that was cut into each cookie size and just rolled each cookie size into a ball.
Bake for 10 minutes. Immediately remove from oven and press a shot glass into the cookie to make the opening. We sprayed the shot glass with cooking oil every few cups.
Place cookie cups on a cooling rack and let cool.
Mix the canned pumpkin with pumpkin pie spice.
Fill the cups with pumpkin puree and top with whipped topping and dulce de leche syrup.