I've never really had any barbecue outside of Texas, so I'm not sure what's different abut it elsewhere. Here in Texas if you say you want some barbecue, you're talking about beef brisket.
Gosh, I love a good BBQ brisket. My favorite way to eat it is chopped up on a bun and smothered in BBQ sauce. Yum!
I don't have a huge roasting pan or a smoker, so I never buy the giant briskets that are upwards of $50 or more. I like to buy the point cut or the flat cut brisket. They're smaller and much, much cheaper.
The difference is these two cuts is that the flat cut is leaner while the point cut has fat on it which makes it more flavorful. If I have a choice of cut, I like to buy the point cut and then slice off the fat after it's done cooking.
The way I make brisket is pretty much the easiest way possible. I don't add anything to it. I set the oven to 300, pull out the roasting pan, and throw the brisket in (usually fat side down), and cook it for 4-5 hours. I don't even wait for the oven to preheat before I throw it in. When I pull it out, it's heaven. The top of the brisket is caramelized, and the meat just falls apart, it's so tender.
It really is easy to prepare. We are super busy during the week. I put the brisket in before I pick the kids up from school. Then, we come home, get ready for swim team practice and leave.
The brisket cooks the entire time we're gone. About 4 1/2 hours later, we get home, and all I have to do is shred it — which at this point it's so tender, it pretty much shreds itself. While I'm shredding the meat, I make baked potatoes in the microwave, and then I cut up a watermelon. Dinner is on the table in about 20 minutes tops.
My family raves about this meal every single time. Even my 3 year old, who doesn't usually like beef, gobbles it up.
Print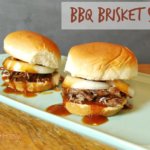 BBQ Brisket Sliders
---
A point cut or flat cut brisket
slider buns
onion slices
bbq sauce
---
Preheat oven to 300. Place brisket in roasting pan, and bake for 4-5 hours.
Remove from oven and let sit in the roasting pan for 15 minutes.
Remove brisket from roasting pan, and using 2 forks, shred the entire brisket.
Pile about 1/4 cup of brisket onto a slider bun, top with onion slice, and drizzle with BBQ sauce.
Serve.
Recipe Card powered by
Enjoy!!