Turn your pudding cups into Little Chickie Nest Pudding Cups for Easter! This is a sponsored post.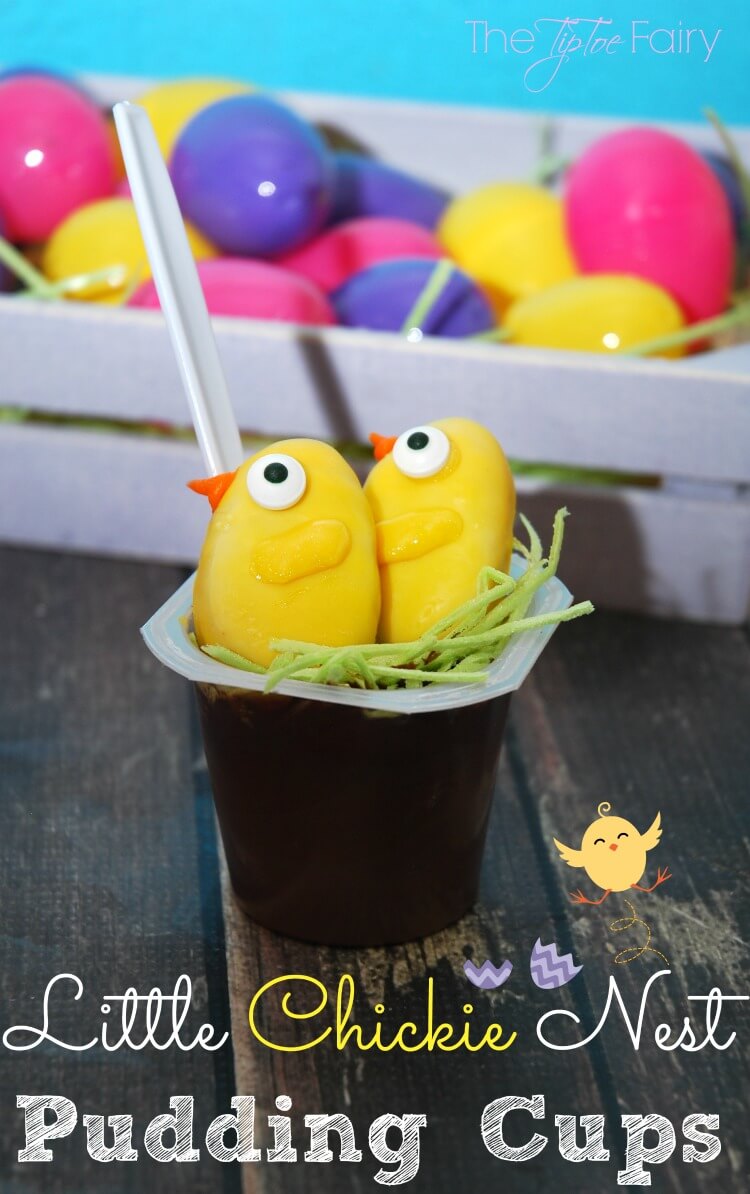 Can you believe it's almost Spring? The grass is getting greener, and the weather is getting warmer. I always forget how much I look forward to warm spring days after the cold winter.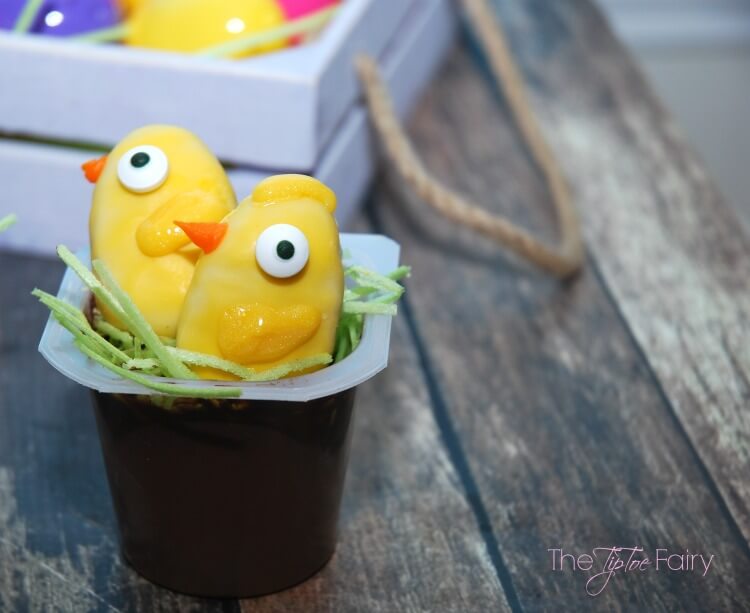 During the winter we made a snowman taking a bubble bath in a pudding cup. The kids and I wanted to come up with something equally fun for springtime. We whipped up Little Chickie Nest Pudding Cups with Snack Pack® pudding.
These little chicks are so simple to make. The yellow peanut butter cups were perfect to turn into little chicks. My 5 year old helped me turn them into the chicks.
What do you need to make Little Chickie Pudding Cups?
yellow peanut butter cups
candy eyes
yellow glitter gel icing
orange frosting in a tube
edible Easter grass
Snack Pack® pudding
If you can't find the yellow peanut butter cups, you can use the white ones and use candy melts and dip them.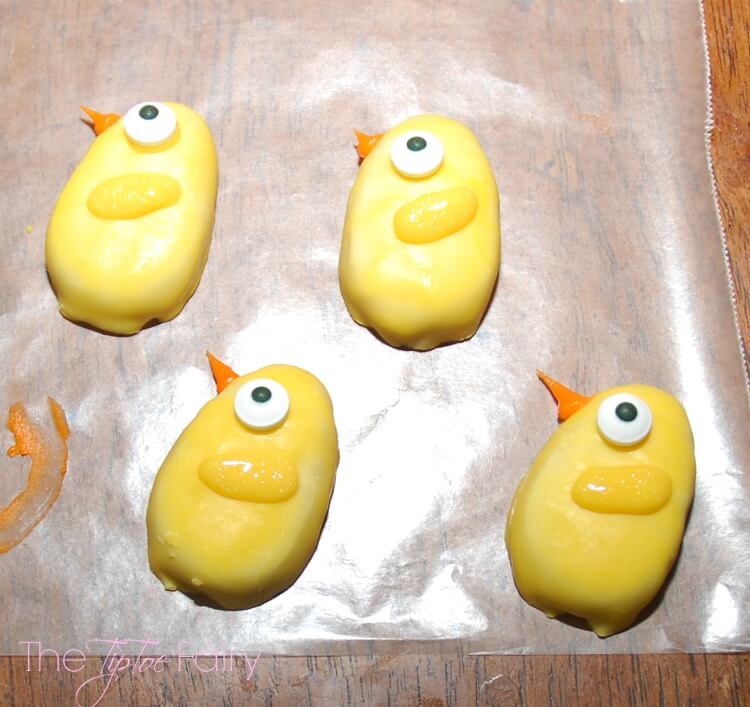 The wings are made with yellow glitter gel icing, and then we added the eyeballs. Molly watched me make the beaks by adding a dollop of orange frosting on the side. Before long she was making beaks, too. Some of them we topped off with a little yellow glitter gel icing mohawk hairdo.
Then, it was time to assemble our nests. You can use any Snack Pack® pudding flavor. We created the nests with chocolate since that's our favorite.
Simply roll up a few strands of edible Easter grass to create a little nest and place it on top of the pudding. We added two chicks per pudding cup to finish.
Here's a quick little video to show the whole process:
I just think these are the cutest things. I just love how they came out!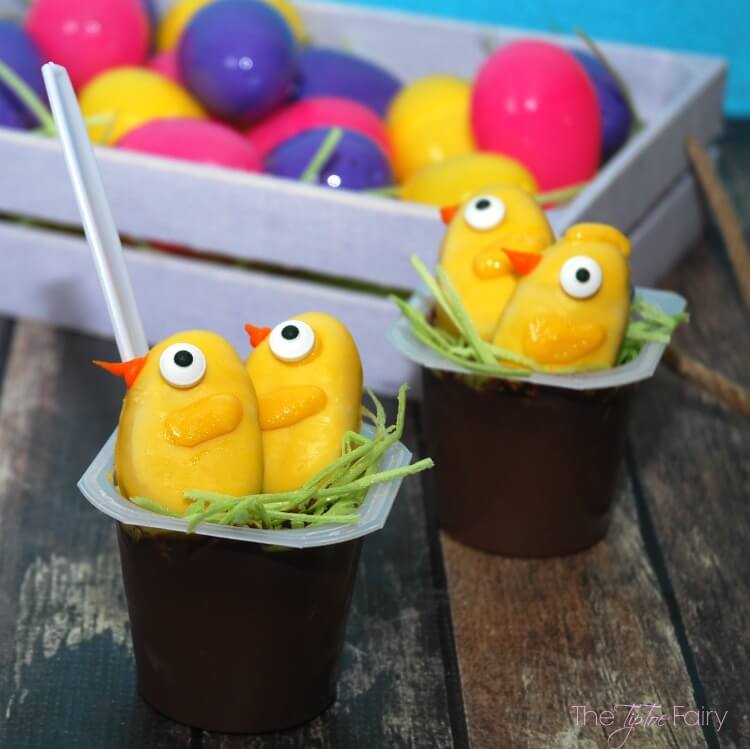 We will be making these again for the class Easter party later this month. I think they will be a big hit with Molly's friends.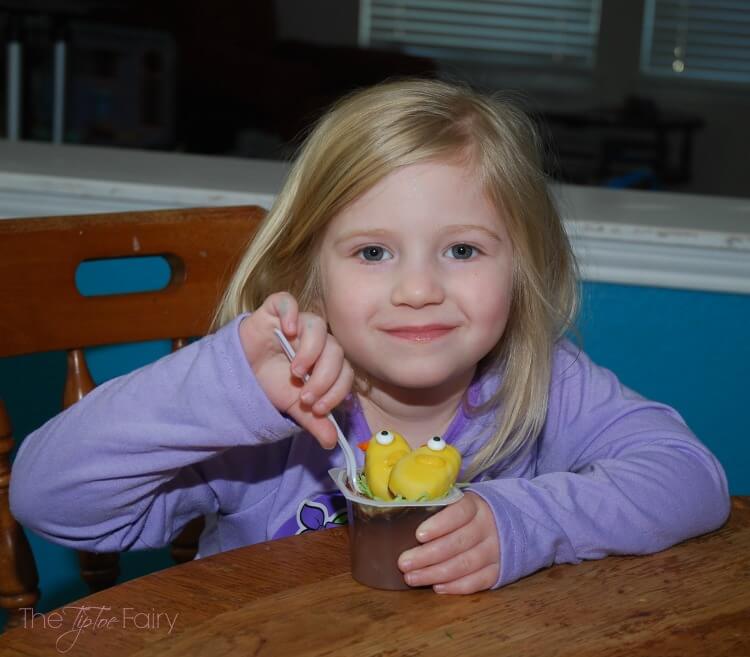 More Easter Treats
More Easter Activities
Come Join Us!
Liked this article and want more? Follow along on Instagram, Facebook, Twitter, Pinterest, TikTok, and YouTube!
Come over and join us on Facebook in the group Recipes, Crafts, and more with TipToe Fairy or Sewing and Crafting with The TipToe Fairy!
Visit Our Other Blogs!