Guess what time it is?? It's time for the PEEPS Blog Hop! We've got a great group of bloggers together for all things PEEPS! For my part of the hop, I'm bringing you PEEPS Bunny Brownies. These are just so easy and so festive — perfect for Easter or Spring. This post contains affiliate links.
I was shopping at Target and found the cutest little sugar icing carrot decorations for cupcake decorating. Then, I found PEEPS Bunnies on sale, and I thought it would look adorable to glue the little carrot to the bunnies and put them on top of brownies with some grass like they just pulled a carrot out of the garden. So cute!
How do you make PEEPs Bunny Brownies?
For this little project, you don't need any kind of fancy brownies, just a regular brownie mix at the store will do (make sure you one for a 13 x 9 pan). I made brownie cups and got about 15 brownies from 1 box of mix. Make sure to let the brownies cool completely before adding the bunnies. You don't want melted bunnies!
Next, you'll need to melt a little bit of white chocolate chips or wafers. I used 2 pieces of white almond bark, which was more than enough. Then, I dipped my finger in the chocolate and ran it across the back of the carrot and placed it on the bunny. The carrots were stuck to the bunnies like glue in just seconds.
I tried a few different methods for putting the bunnies on the brownies. This was the best method that kept them from falling over. I used a cupcake corer to remove the top. Then, I filled the hole with melted chocolate and stuck a PEEPS® Bunny on top.
The chocolate dries pretty fast, but keep an eye on them in case the bunnies start to fall over. I only had that happen once. You can easily make these assembly line style. That's what I did with 6 bunnies at a time.
Next, you can add some green grass here and there. I used a grass frosting tip with a freezer bag. I happened to have canned green watermelon flavored icing which was perfect. But, in a pinch, you can easily dye some canned white frosting with food coloring.
More Easter Recipes
Easter Fun Activities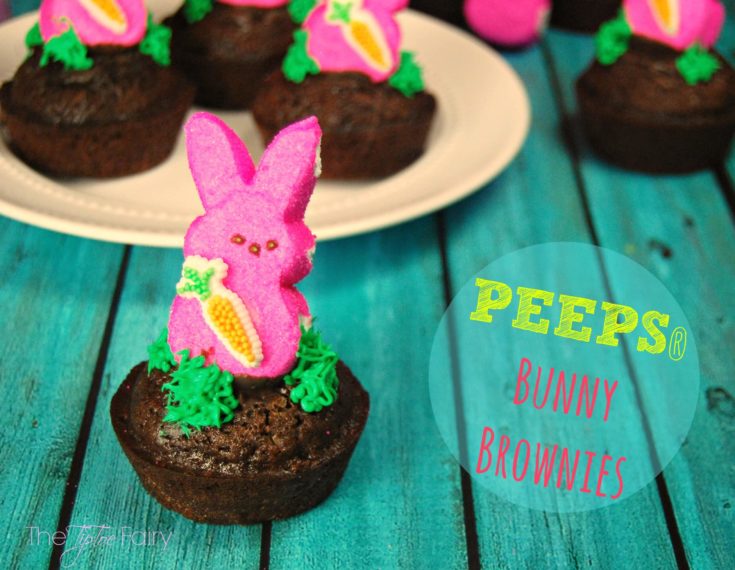 Yield:

15
PEEPS Bunny Brownies
Little bunnies with carrots on top of brownies
Ingredients
1 box of brownies (makes 13 x9 pan)
1-2 packages of PEEPS® Bunnies
chocolate melting wafers
white chocolate melting wafers or chips
1 package of carrot decorations for cupcake
green icing
Instructions
Make the brownies according to directions. I like to make them with the "cake like" instructions, which usually adds an extra egg.
Spray a cupcake tin with non stick spray (I use canola spray).
Spoon each cupcake tin to fill about 2/3 full.
Bake for about 15-16 minutes.
Allow to completely cool.
Melt chocolate melting wafers in the microwave, follow directions.
Melt white chocolate wafers in microwave, follow directions
Then attach the little carrots to the bunnies with a little bit of white chocolate. Allow to dry.
Now use a cupcake corer or knife to cut out the center top of the brownie.
Add about a teaspoon of melted chocolate (brown, not white) to the top of each brownie and attach the bunny.
Allow to dry.
Then, using green icing pipe some "grass" around each bunny.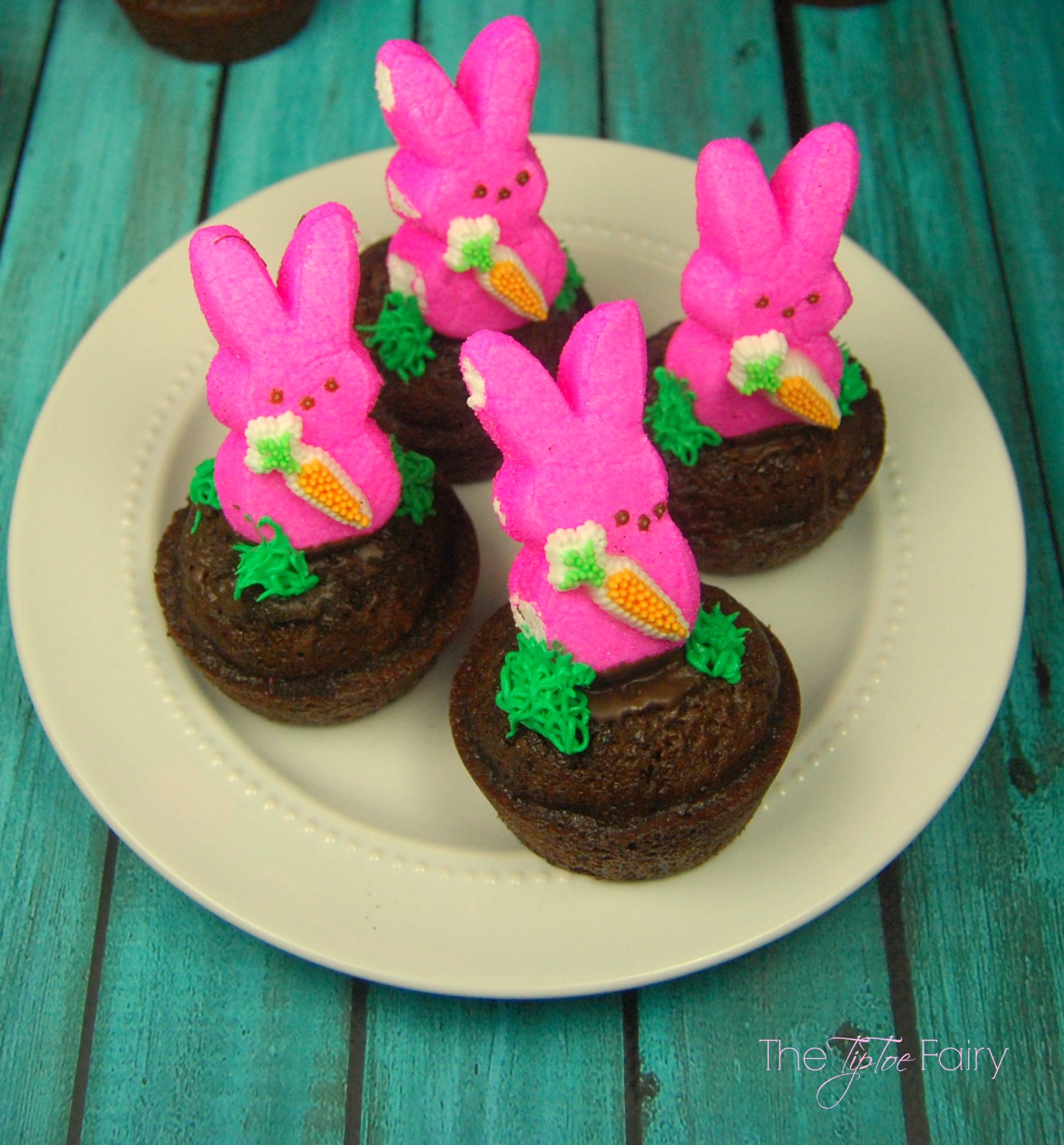 Make sure you let chocolate dry before serving. This way if somebody knocks over one, like my kids, the bunny stays perfectly attached to the brownie.
My family got such a kick out of these, and so did I. I just get such a thrill when something comes out exactly like I imagined it. I think they are going to be a great little Easter gift for my daughter's preschool party, so I'm going to package them up in little cellophane bags.