I love making comfort food casseroles like my Baked Spaghetti Casserole and my Chicken and Stuffing Casserole. Today I'm sharing a family favorite that I like to call my million dollar chicken casserole – Creamy Chicken Pasta Bake. It is just the perfect comfort food to hit the spot.
When it's cold outside and you want something to fill your belly or you've had a bad day and want something comforting or you just want an easy peasy meal on the table, this chicken casserole is the dish. It's also the perfect comfort casserole dish to bring to a friend who has been sick, just had a baby, or a loved one passed away.
I've made this casserole with all kinds of things from tuna to leftover Thanksgiving turkey to leftover rotisserie chicken. I've also switched out the orzo pasta for elbow pasta and egg noodles.
It's the perfect dinner when you don't know what to make for dinner. Because of that, I always keep a few cans of chicken and cream of chicken soup in the pantry just so I can whip up this creamy chicken casserole in a jiffy.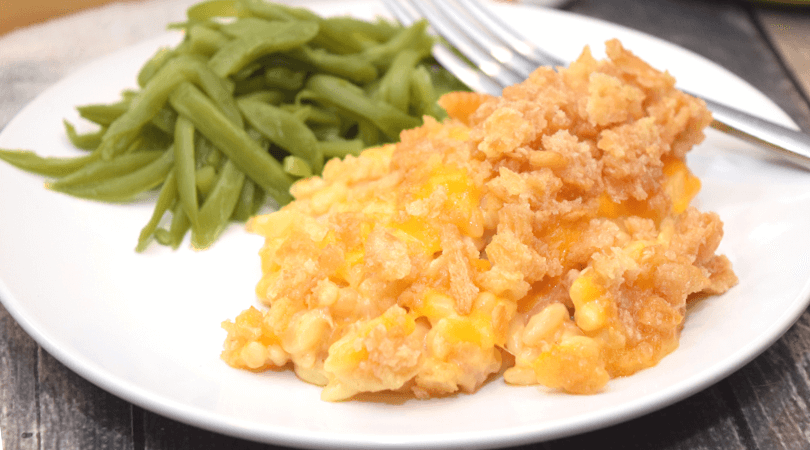 What kind of substitutions can I make with this Creamy Chicken Pasta Casserole Bake?
This is one of those dishes you can do so much with. You can totally turn this casserole into something different with all kinds of substitutions from mixins, different meat, and different pastas.
Cream of mushroom soup in place of cream of mushroom.
Sour cream or plain yogurt in place of half and half or milk.
Smaller pastas like mini farfalle, orecchiette, or penne in place of the orzo pasta.
Rice in place of the orzo pasta.
Add some veggies like peas or broccoli to the dish for some added flavor.
More Easy Casserole Recipes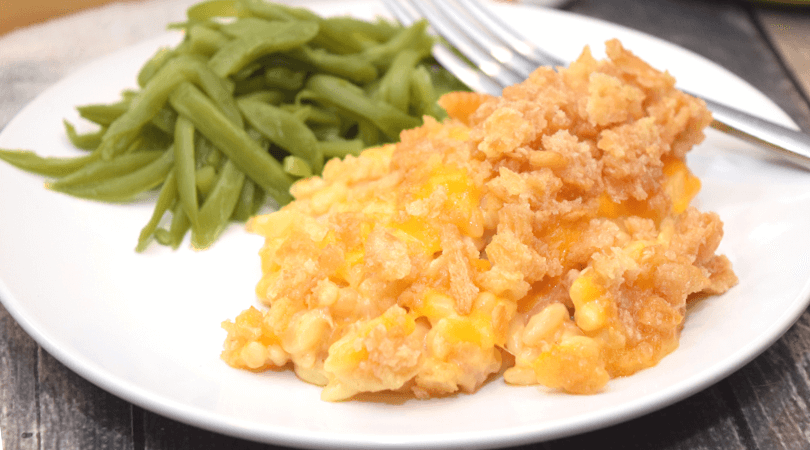 Yield:

15 servings
Creamy Chicken Pasta Bake
This Creamy Chicken Pasta Bake is the ultimate comfort food. When one of my kids has a bad day, they ask for this casserole for dinner. It's just like getting a hug from mama.
Ingredients
2 12 oz cans chicken, drained and rinsed
1 can cream of chicken
1/2 can water
1 can half and half (or milk or whipping cream)
2 cups cheddar cheese
1 package of orzo pasta
1 stick of butter, melted
1 sleeve of Ritz crackers
Instructions
Preheat oven to 350 F degrees.
Spray a 9 x 13 casserole dish with olive oil or nonstick spray.
Prepare the orzo pasta according to the package.
When the pasta is done, don't drain it just yet. Just let it sit while you mix up the other ingredients.
Drain and rinse the chicken and break it up with your hands into small pieces.
Combine the chicken and cream of chicken soup in a large bowl.
Take the can of soup and fill it halfway with water and toss that in with the chicken and soup.
Take the can and fill it completely full with half and half or milk or whipping cream and add that to the mixture.
Add the cheese to the mixture.
Stir it up.
Now drain the pasta of it's excess water and toss it in the mixture. Mix it up really good.
Pour the pasta into the dish.
Melt the stick of butter.
While the butter is melting, crush a sleeve of Ritz crackers.
Add the Ritz crackers to the butter and mix until the cracker crumbs are coated.
Sprinkle the cracker mixture over the whole casserole.
Bake for 35 minutes, until bubbly.
Let it sit for about 10 minutes before serving.
Notes
This casserole can be made ahead of time and refrigerated. I have not frozen it, but I'm sure it would work fine frozen, too.
The leftovers heat up wonderfully.
It's perfect to make ahead and portion out for lunches.
Come Join Us!
Liked this article and want more? Follow along on Instagram, Facebook, Twitter, Pinterest, TikTok, and YouTube!
Come over and join us on Facebook in the group Recipes, Crafts, and more with TipToe Fairy or Sewing and Crafting with The TipToe Fairy!
Visit Our Other Blogs!