If you're anything like me, you're baking up a storm to get through this crazy time in all our lives. Baking is one of my guilty pleasures, and it's a great way to use up fruit when it's getting too ripe. So today, I'm bringing you a delicious dessert with a weird name — a Plum Clafoutis.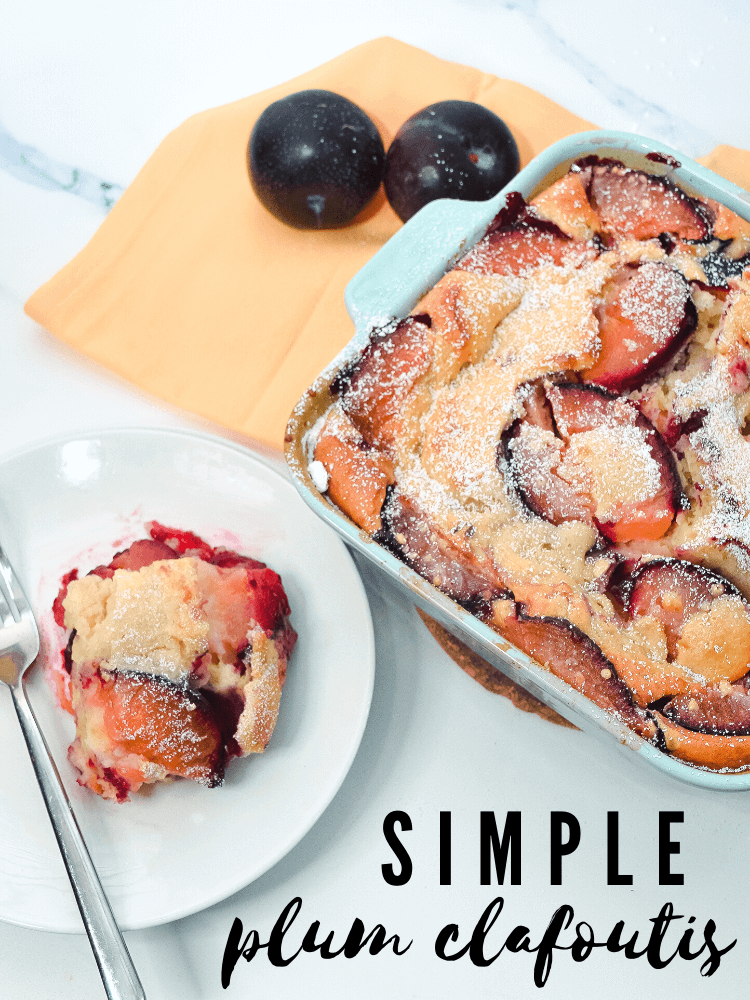 What is a clafoutis?
I'm sure you're probably wondering what the heck is a "Clafoutis?" It's pronounced Cla-foo-tee, and it's heavenly! A clafoutis is a French dessert that is typically made with cherries, plums, peaches, apricots, or berries. It's like a bit like a custard cake or maybe even a gooey cobbler.
Originally, it was a dessert made with cherries, and they didn't remove the pits! Even now when this dessert is made with cherries in the traditional way, they usually keep the pits in the cherries. Isn't that crazy? It seems like that would be a huge choking hazard or the perfect way to break a tooth.
How do you make a Simple Plum Clafoutis?
When I make a Plum Clafoutis, I slice the plums and lay them on the bottom of the pan and sprinkle with sugar, and then I pour a batter that's very similar to the batter I make for crepes. As it bakes, the fruit bubbles up to the top, and the batter bakes into a custard style cake.
I've seen this dessert made with fruit on the bottom, and I've seen it made where the berries are sprinkled on top of the batter. I don't think there's a wrong way to put the fruit.
This is a great way to use up fruit that's about to go bad. My plums were getting overripe, so I chose this wonderful treat to use them up while stuck at home. If you have berries or stone fruit or even pears, it's a great dessert that your family will love. You can even use canned fruits like peaches, pears, or apricots.
How to serve a Clafoutis?
It takes about 45-55 minutes to cook, so you can pop it in the oven when dinner is getting on the table. Then, it's ready when dinner is done!
I usually don't wait long to serve it after baking. I pull it out of the oven, give it a sprinkle of sifted powdered sugar, and then dish it up piping hot. Hot and fresh out of the oven is best. It can also be served cold out of the fridge or warmed up a little after coming out of the fridge, too.
My husband loves a clafoutis with vanilla ice cream. It's also really good with freshly made whipped cream. You could even drizzle a little heavy cream over the top. My favorite way to eat it is right out of the oven with nothing on it.
Keep the leftovers in the fridge since it contains eggs. And, it's best to eat it all within about 24 hours or so.
More Simple Fruit Desserts
Yield:

6 servings
Simple Plum Clafoutis
Ingredients
3 large plums (or 4-5 small plums)
1 cup self rising flour
1/2 cup + 2 tablespoons of white sugar
1 teaspoon vanilla
3 eggs
2 cups of whole milk or 1 cup milk + 1 cup half and half
Instructions
Preheat oven to 375 F degrees.
Slice the fruit (with skin still on) and place in bottom of an 8 x 8 pan.
Sprinkle fruit with 2 tablespoons white sugar.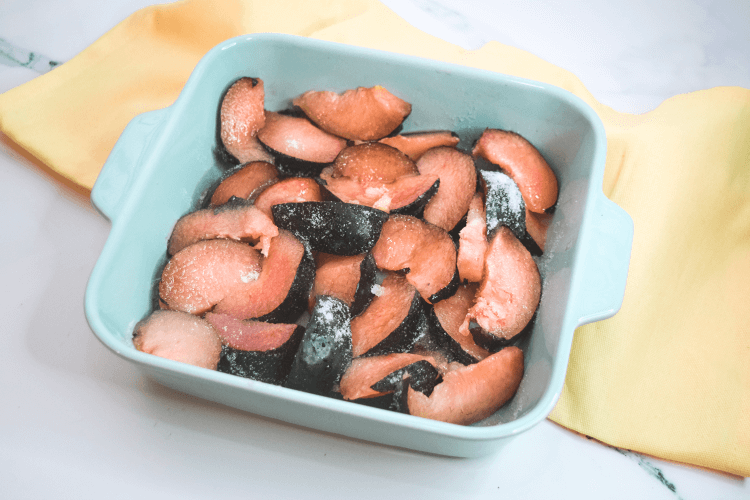 Combine flour, sugar, milk, vanilla, and eggs until completely combined.
Pour batter over the top of the fruit.
Bake for 45-55 minutes, until the top is golden brown.
Sprinkle sifted powdered sugar over the top.
Best served warm, but you can also serve it cold.
Store in the fridge for up to 24 hours.
Nutrition Information:
Yield:
6
Serving Size:
1
Amount Per Serving:
Calories:

263
Total Fat:

10g
Saturated Fat:

6g
Trans Fat:

0g
Unsaturated Fat:

4g
Cholesterol:

119mg
Sodium:

365mg
Carbohydrates:

32g
Fiber:

1g
Sugar:

13g
Protein:

11g
Any nutritional information on thetiptoefairy.com should only be used as a general guideline. This information is provided as a courtesy and there is no guarantee that the information will be completely accurate.