This past week one of my daughter's assignments was to watch video where a teacher read the book Going on a Bear Hunt by Michael Rosen and then do an assignment. It was around that same time that I saw everyone start talking about doing a Neighborhood Bear Scavenger Hunt.
I discovered the Bear Hunts all started with Crystal over at Kreative In Life. It was such a cute idea, that I had to do this with my own family. We've been playing outside at our own house with scooters and bubbles and sidewalk chalk, but I thought this would be a fun thing to do rather than just take our usual boring walk around the block.
How to do a Neighborhood Bear Scavenger Hunt
This is a great way to feel a connection even when we all have to remain isolated. It's simple to participate. Ask your neighbors via the local online groups where you are connected to join you in the Neighborhood Bear Scavenger Hunt. Your neighbors just have to place a teddy bear in the window of their house for everyone to find.
Grab the free printables below for your kids to record the color and number of bears they find. Then, take a walk around the neighborhood and hunt for teddy bears!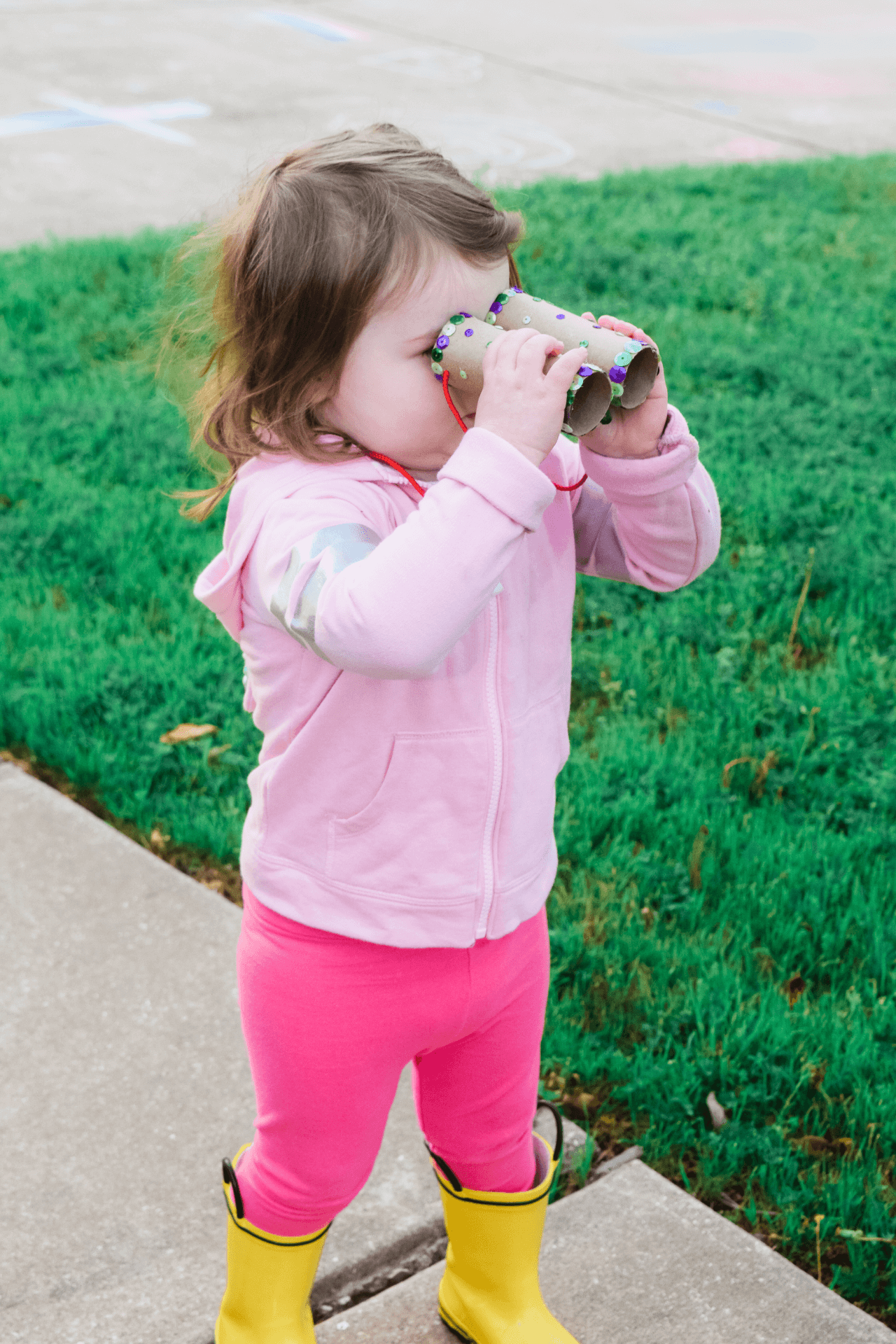 For a little art class have your kids make Toilet Paper Roll Binoculars. Get the easy instructions below:
Get the Free Printables
Yield:

1 pair of binoculars
Toilet Paper Binoculars
Materials
3 toilet paper rolls or 1 paper towel roll
hot glue
1 to 1 1/2 yd yarn, ribbon, or cording
Decorations
Instructions
Cut a 1/2-inch ring from the toilet paper roll (or paper towel roll).
If you're using a paper towel, cut the rest of it in half to make two tubes.
Press the ring in half so the toilet paper roll is flat.
Use the hot glue gun to attach the flattened ring to a toilet paper tube in the middle of the tube, but a bit closer to the front. Do the same thing for the second toilet paper tube, so it forms a pair of binoculars.
Now it's time to decorate. You can paint them, add stickers, washi tape, whatever! We glued sequins.
When the binoculars are dry from the decorations, use a hole punch to make a hole on each outside of each toilet paper roll near the front about 1/2 inch below the edge.
Measure yarn or ribbon or cording on your child. We measured around the neck and to right above their belly button for the length of cording.
Insert the string from the outside and knot it inside the tube. Do this for both sides.
Now you're ready to wear those binoculars for the bear hunt.
More Bear Activities
More Scavenger Hunts