Hash Browns are a favorite ingredients around here like in my Hash Brown Nests. Aren't cheesy casseroles such a comfort food? With the world the way it is right now, comfort food feels good. This Cheesy Hash Brown Casserole is a simple Southern recipe that will give you a hug. It's perfect for breakfast, lunch, or dinner.
If you have an egg allergy, click here for a recipe for an egg-free version of this casserole!
I serve this recipe as a side dish so many ways such as along with a pancake breakfast for as the main meal for lunch, and even with pork chops or fried chicken as a side dish.
The husband loves it. The teens love it, and even the little kids love it. My toddler usually asks for seconds when I give her this Cheesy Hash Brown Casserole.
How do you make Cheesy Hash Brown Casserole?
I would definitely recommend moving the hash browns to the fridge from the freezer the night before. This recipe is much easier to put together with defrosted hash browns.
It's a quick dish to put together. I just reserve 1/2 the cheese, and then throw everything else together. It probably takes me a couple minutes to mix it all up and transfer it into the pan, and then I throw it in the oven for 30 minutes.
After 30 minutes, I pull it out, sprinkle the last bit of cheese, and bake for five more minutes. See how simple?
The cheese will melt and be a little crispy when you cut into the casserole. I found if you put the cheese on the top at the beginning instead of the end, it gets a bit too crispy for our liking, so that's why I wait until the end.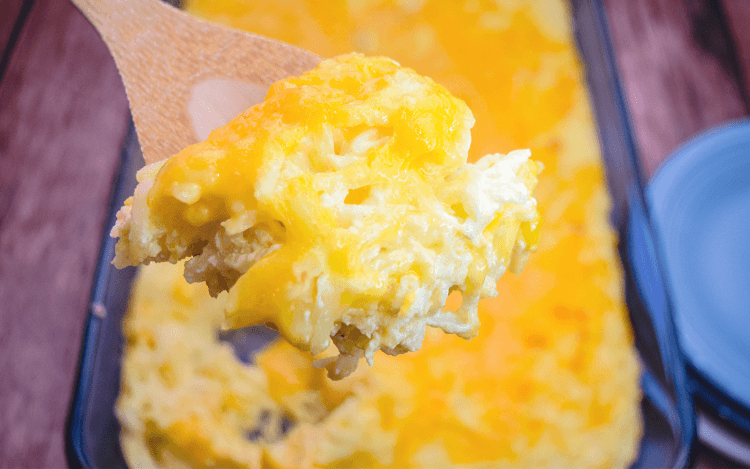 Can you use fresh potatoes?
Absolutely! You could switch out frozen hash browns and just shred your own potatoes yourself. You'll need about 2 pounds worth.
Could you use tater tots instead of hash browns?
I haven't tried it this way, yet. But, honestly, I think it should be fine. I would totally do it if I couldn't find shredded hash browns.
Could you use diced hash browns instead of shredded?
My family prefers the shredded hash browns, but I would totally use the diced hash browns in this recipe without batting an eye.
More Potato Recipes
More Easy Breakfast Recipes
Yield:

15 servings
Cheesy Hashbrown Casseroles
Ingredients
1 30 oz bag shredded hash browns
2 eggs
1 cup Colby jack cheese
1 teaspoon seasoning salt
1/4 tsp pepper
1 cup sour cream
1 cup half and half
Instructions
Preheat oven to 375 F degrees.
Leave 1/2 cup of cheese for topping.
Then, combine all the rest of the ingredients and mix together.
Spray a 9 x 13 pan with non-stick oil spray.
Pour ingredients into the pan.
Bake for 30 minutes.
Sprinkle the last 1/2 cup cheese over the top and bake for an additional 5 minutes.
Top with chives if desired.