Sponsored post written by me on behalf of Tyson Foods, Inc. All opinions are entirely my own.
What do you like to do on Father's Day for your dad or husband? My husband is an awesome dad and works so hard for all of us. The kids and I love to make their daddy something special to eat. Two of his favorite foods are omelets and bacon, so we combine the two!
These Bacon Omelet Cups are a great way to get the kids helping in the kitchen. It's an all-in-one breakfast and so easy to make.
Years ago I discovered Wright® Brand Bacon, and it quickly become our favorite. It's thick slices and high quality cuts of premium meat make it just right, especially for these Bacon Omelet Cups. It's just the perfect ingredient to add to your Father's Day breakfast spread. Plus, we love it because it's made in Texas and is Texas proud.
Here's how to make this delicious breakfast for Dad, and it's so easy to serve wherever he is – bed, garage, and even at the computer if he's a big gamer like my husband.
Before you start, make sure to spray the muffin tin with olive oil spray or a non-stick spray.
Crack 8 eggs. Combine the eggs and cheese and beat until well mixed.
Take 12 full slices of bacon and wrap each one around the muffin tin.
Add some torn up pieces of baby spinach to each bacon cup.
Fill each bacon cup about 3/4 full of the egg-cheese mixture.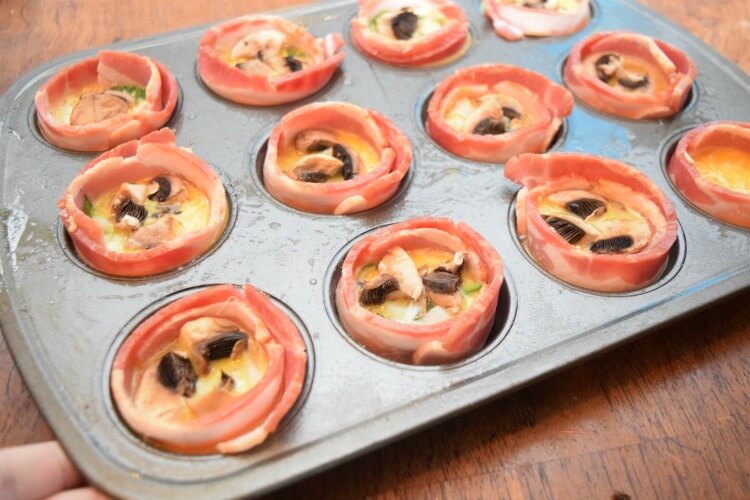 Add chopped veggies such as mushrooms and onions to each bacon cup.
Bake until the eggs puff up and the bacon is done, usually about 25-30 minutes.
Print
Bacon Omelet Cups
---
12

slices Wright Brand Bacon

8

eggs

1 cup

shredded cheese
shredded baby spinach
slice mushrooms
chopped onions
salt and pepper
---
Preheat oven to 350 F degrees.
Spray each muffin tin with non stick spray.
Wrap one slice of Wright Brand Bacon around each muffin tin.
Crack 8 eggs and add cheese. Beat until combined.
Add spinach to the bottom of each muffin tin
Fill each muffin tin 3/4 full with the egg cheese mixture.
Top each egg mixture with some onions and mushrooms.
Add a dash of salt and pepper to each muffin tin.
Bake for 25-30 minutes until bacon is done and eggs are puffed up.
Allow to cool before serving
For crispier bacon, precook the bacon for 8-10 minutes on a skillet or in the oven before wrapping it around the muffin tins.
Recipe Card powered by
I prefer my bacon to be not so crispy, but if you like yours crispier, you can precook it for just a few minutes in a skillet or oven for 8-10 minutes. You want it to still be pliable to wrap around the muffin tins, and then while it's cooking with the egg mixture, it will crisp up.
Allow the Bacon Omelet Cups to cool a few minutes before serving to Dad as they can be very hot.
Sundays are usually the day that my husband gets to relax and kick back and play his favorite flight simulator games. He meets a group of friends online and they participate in war games while flying helicopters and planes. I know that's where we'll find him on Father's Day, so we can surprise him with a delicious Father's Day breakfast while he's enjoying a game.