This shop has been compensated by Collective Bias, Inc. and its advertiser. All opinions are mine alone. #MazolaHeartHealth #CollectiveBias
Did you know February is National Hearth Health Month? I stay on top of cardiovascular disease by getting my cholesterol checked every three months. One way to help reduce cholesterol is swapping out your cooking oil for a better choice. A clinical study showed Mazola® Corn Oil​ reduces cholesterol 2x more than extra virgin olive oil. To learn more about this claim, visit Mazola.com.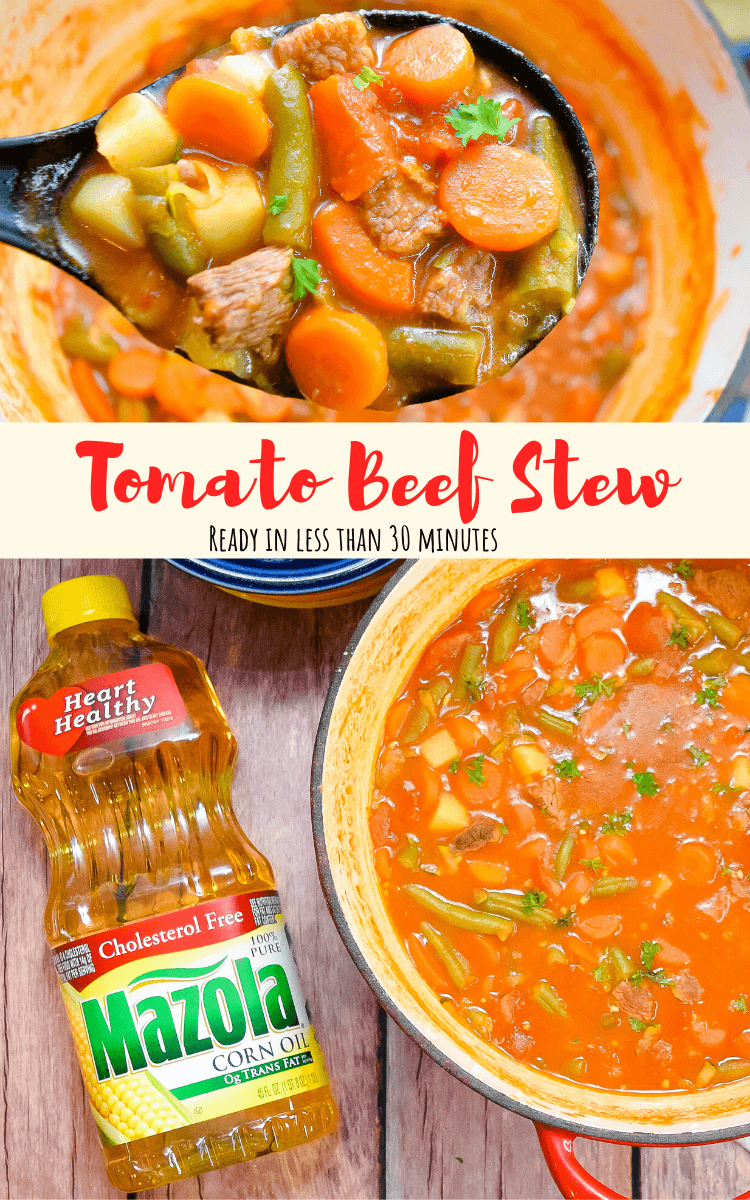 Several months ago I made the switch to corn oil from olive oil. It's now what I use when I make my delicious Tomato Beef Stew.
Tomato Beef Stew
There is just nothing like a good hearty stew full of veggies and goodness for dinner on a cold night to warm your belly, especially after a long day of school and work when everyone is tired. When the kids and my husband walk through the door and smell this stew simmering on the stove, they immediately perk up and cannot wait for dinner.
Everyone loves when we have Tomato Beef Stew for dinner. I love knowing my kids are eating their veggies, and they love the taste.
This stew is also perfect for leftovers. My 16 year old son loves having the leftovers for an after school snack. And, usually I send my husband with a bowl of it to work for lunch the next day.
It's full of veggies like zucchini, carrots, tomatoes, and green beans, and it's the perfect meal to get your kids to eat vegetables. I like to make my beef stew with tomato-based vegetable juice instead of beef broth or water. I think it just makes the flavor irresistible.
Mazola Corn Oil
Mazola Corn Oil is an all-purpose, cholesterol free cooking oil that is a smart heart-healthy* choice for your family. *See Mazola.com for more information on the relationship between corn oil and heart health. It has a variety of uses include baking, grilling, sautéing, stir frying, or mixing up a marinade or dressing. It has more cholesterol-blocking plant sterols than other cooking oils with four times more than olive oil and one and a half times more than canola oil. Clinical studies indicate that when consumed as part of a diet low in saturated fat and cholesterol, plant sterols can help reduce the absorption of cholesterol in the gut. A clinical study showed Mazola Corn Oil reduces cholesterol 2x more than extra virgin olive oil. To learn more about this claim, visit Mazola.com.
How to make Tomato Beef Stew
What I love most about this stew is that it takes no time at all, so it's great for weeknight dinners. You can have it ready on the table in less than 30 minutes by using canned vegetables.
The most time-consuming thing is cutting the meat up. I like to use scissors and cut the meat up fairly small as I have little ones, but you can totally skip that step if you like big hearty stew meat.
I love zucchini, but it's not always a favorite with my kids. If you grate the zucchini and add it to the pot with some of the vegetable juice right after searing the meat, it allows the zucchini to cook down and practically melt into the stew. Then, the kids have no idea there's zucchini in it.
Once I've added everything, I give it a stir and just let it simmer for 15-20 minutes to let everything come together. Then, I make a batch of corn muffins while it's simmering or just slice up some crusty bread, and dinner is ready.
Yield:

about 8 servings
Tomato Beef Stew
Ingredients
1 tablespoon Mazola Corn Oil
16 oz lean steak, cubed
2 tablespoons flour
1 zucchini, shredded
2 - 12 oz cans of vegetable juice (or tomato juice)
1 can sliced carrots
1 can diced potatoes
1 can cut green beans
1 can stewed tomatoes
1/2 teaspoon seasoning salt
1/4 teaspoon salt
1 tablespoon minced garlic
2 teaspoons Worcestershire sauce
Instructions
Shred 1 zucchini and set aside.
Cut the steak or stew meat into small bite-size pieces and then toss in flour.
In a dutch oven add a tablespoon of Mazola Corn Oil on medium high.
When the oil is hot add the meat and sear.
When the meat is almost completely cooked, add the shredded zucchini and 1 can of vegetable juice.
Add the seasoning salt and regular salt and stir.
Add a teaspoon of Worcestershire sauce and the tablespoon of garlic and give it a few more stirs.
When the zucchini has softened, add the cans of carrots, potatoes, green beans, and stewed tomatoes. Add the entire can of each veggie, including the juice.
Add the second can of vegetable juice.
Stir it up and let it reach a boil.
Add the second teaspoon of Worcestershire sauce and stir it up again.
Let it boil for 15 minutes or so and then serve immediately.
Notes
I recommend using a can of "regular" stewed tomatoes and not Italian. The one time I accidentally bought Italian, my family did not like the flavor it added to the stew.