I've been making Cheesy Meat Lasagna for probably 20+ years. It's a true family favorite. My kids often ask for third helpings, and everyone who has come for dinner on lasagna night usually also has seconds and thirds.

One time my son's best friend was over waiting for his mom to get him, and I was making lasagna for dinner. She still hadn't picked him up when dinner was ready, so he ate dinner with us. I have never seen a kid get so excited for lasagna before. My kids love it, but he devoured it. He made his mom wait while he ate another helping. This recipe is THAT good!
The SECRET to AMAZING Meat Lasagna
I love this recipe because it's a wonderful hearty meal, and dinner is ready in less than hour. It does have more than one secret that I think make it amazing, and I'm finally going to share them with you:
I always use 85/15 ground beef.
I start with olive oil and minced garlic and when it becomes aromatic, I add in the ground beef.
As soon as the ground beef is completely browned, I mix parmesan cheese into it before adding the sauce. (Everyone I have taught to make this recipe tells me they think this is the key secret to making it amazing.)
After the meat sauce begins to boil, I mix in a combination of 1 cup whole milk ricotta cheese and 1 cup sour cream directly into the sauce and stir until it's completely incorporated.
While I do use low moisture mozzarella cheese between the layers of the lasagna, I top the lasagna with fresh mozzarella cheese slices. <– This is my favorite part!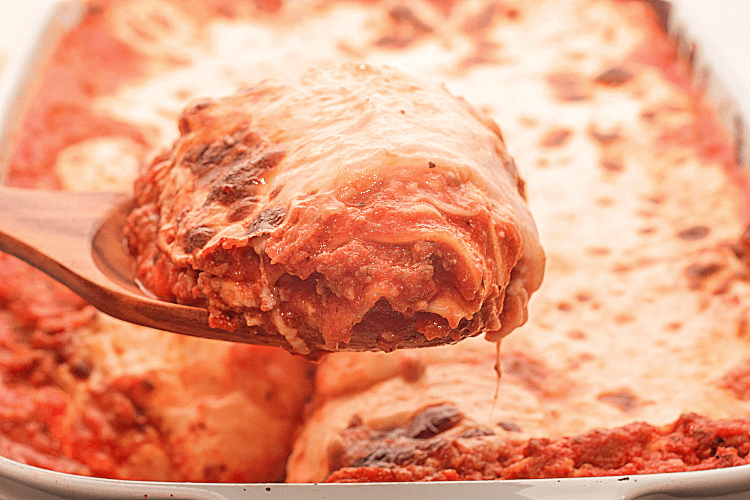 How do you make an AMAZING Meat Lasagna?
I often hear that lasagna seems intimidating. I think people are a little scared about making the layers. But, it takes just 5 minutes when you use Oven Ready Lasagna Noodles.
I think the best ones are Barilla brand. I have had other brands come out tough and chewy, but I have never ever had a problem with Barilla Oven Ready Lasagna Noodles. They are my go-to brand every time I make this lasagna.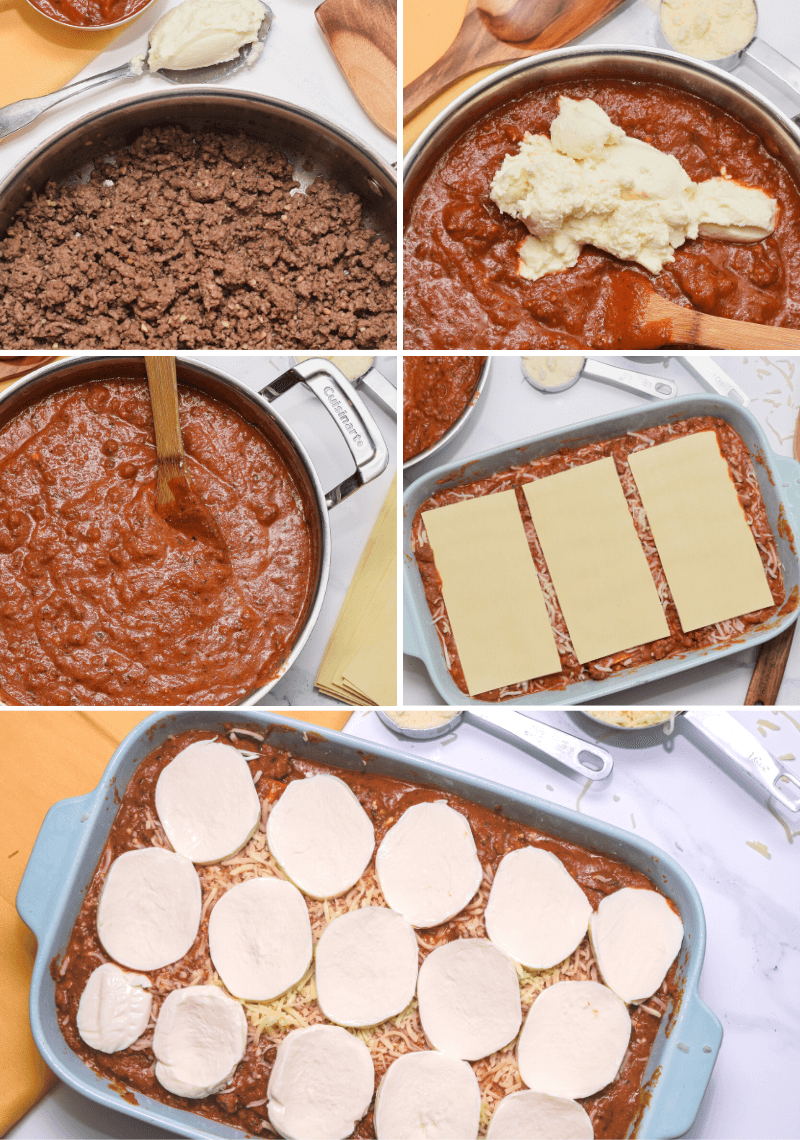 It should take you about 10 minutes from browning the meat to incorporating the ricotta/sour cream into the sauce. When it's ready, then it's just a matter of layering. My layers are:
Oven Ready Lasagna Noodles
Using the oven ready noodles, I only use 3 noodles per layer. I see people overlap and use 4 or 5 and even break up noodles for each noodle layer so the noodle layer is completely covered. But, you don't need to do that. The Barilla noodles expand beautifully and will cover an entire 9 x 13 pan with 3 noodles per layer.
I will warn you that it's best to use a deeper casserole dish because as the noodles expand, the sauce will rise up around the edges. I recently got this lovely casserole dish (and it comes with an 8 x 8 dish, too), and I just love it for lasagna. It's very deep and there is never any overflow of sauce with it.
Save about 1 cup of sauce after the last noodle layer. If you are running low on sauce, add 1/2 cup of water to make it go further. Then, spread it over that top layer of noodles and cover it in shredded mozzarella. The final layer is the fresh mozzarella slices. This is my favorite one. You can get it in a double pack at Sam's Club for the same price of a single one at Walmart or other grocery stores.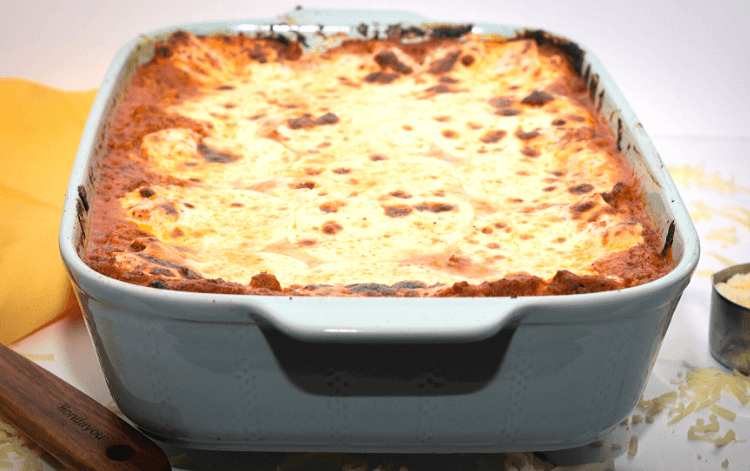 For the last five minutes of baking the lasagna, I put it on broil to bubble and brown the fresh mozzarella. Make sure to watch it carefully because it can go from browning to burning in a hot minute.
Sometimes when I pull the lasagna out of the oven, there is a bit of water on the top from the fresh mozzarella. I just take a paper towel and gently dab it to soak it up.
Perfect for leftovers
This meat lasagna is perfect for leftovers. It keeps in the fridge for about five days, but in our house it's usually gone by day 2. It reheats beautifully in about a minute and makes for a delicious meal for lunch the next day.
My husband loves when he has leftover lasagna for his work lunches. I just divide up what's left of the lasagna into separate containers, so I can easily slip one in his lunch bag each morning.
More Italian Food Recipes
More Easy Casserole Dinners
Yield:

15 servings
The SECRET to Amazing Meat Lasagna
Ingredients
1 tablespoon olive oil
1 tablespoon minced garlic
1 lb ground beef, browned
32 oz spaghetti sauce
2 tablespoons parmesan cheese
8 oz low moisture shredded mozzarella cheese
1 cup sour cream
1 cup ricotta cheese
1 package Barilla oven ready lasagna noodles (9 oz package)
16 oz sliced fresh mozzarella cheese
Instructions
Preheat oven to 350 F degrees.
Spray a 9 x 13 casserole dish with nonstick oil spray.
Add the olive oil to a large skillet on medium high heat.
Add the garlic.
Saute until the garlic is aromatic.
Add the ground beef and saute until browned and completely cooked through.
Add the parmesan cheese to the ground beef and saute it until it's well incorporated.
Add the spaghetti sauce and turn the heat down to medium.
Stir the meat into the sauce until it's well incorporated and the sauce is bubbling.
Add the ricotta and sour cream to the sauce mixture.
Stir continually until the cheese and sour cream are completely incorporated into the sauce mixture.
As soon as it starts boiling, turn off the heat.
Begin layering the casserole dish starting with sauce, then cheese, then 3 oven ready lasagna noodles.
Continue layering until there are no more noodles.
Pour the last 1 cup of sauce over the top and add shredded cheese.
Lay out the slices of fresh mozzarella cheese over the top of the lasagna.
Bake for 30 minutes.
Turn temperature to High Broil and bake for an additional 3-5 minutes to bubble and brown the cheese just a bit.
Watch closely and check often as the cheese can burn quickly on broil.
Allow to cool for 5-10 minutes before serving.
Nutrition Information:
Yield:

15
Serving Size:

1
Amount Per Serving:
Calories:

325
Total Fat:

22g
Saturated Fat:

10g
Trans Fat:

0g
Unsaturated Fat:

8g
Cholesterol:

77mg
Sodium:

663mg
Carbohydrates:

10g
Fiber:

1g
Sugar:

5g
Protein:

22g
Any nutritional information on thetiptoefairy.com should only be used as a general guideline. This information is provided as a courtesy and there is no guarantee that the information will be completely accurate.