This recipe is called Creamy CHICKEN Alfredo Tortellini Soup. But, it's just one of the best things to make with leftover turkey from Thanksgiving. My other favorite for leftover turkey is this Leftover Turkey Casserole. Both of these meals are such a great comfort food on a warm night.
This soup is a totally different kind of meal when you're sick of turkey and dressing. It goes perfect with warm crusty bread and a salad. And, the best part is that it takes no time to make and is ready in 20 minutes tops.
I like to pick up a loaf of take n bake roasted garlic bread and bake it while the soup is simmering. This whole meal just makes you feel all warm and good inside.
What's so great about Creamy Chicken Alfredo Tortellini Soup?
I love making this meal. The name is a mouthful, but it cooks up fast. It's perfect when:
you're in a rush to get dinner on the table.
it's too cold, and you don't want to cook.
you just need to eat dealing with the rush of the holidays.
This is one of those throw-it-all-together meals. It's made with super quick ingredients like canned veggies, frozen tortellini, and a jar of alfredo sauce. You can use
leftover rotisserie chicken
leftover turkey from Thanksgiving
canned chicken (rinsed really, really well)
cooked and shredded chicken breasts
There are a few additional ingredients, but they are all probably right in your kitchen — like olive oil and chicken broth.
I do prefer to throw in some fresh baby spinach for added nutrition in this soup (but do so about five minutes before taking it off the fire). But, there is nothing wrong with adding frozen spinach or completely leaving it out if you don't have any.
How do you make Creamy Chicken Alfredo Tortellini Soup?
I saute some garlic in a big pot, then throw in the canned veggies without draining, add the chicken stock, and let it reach a boil before I toss in the tortellini. When the tortellini is ready, I add the alfredo sauce and some half and half, and then spinach at the very end. That's it!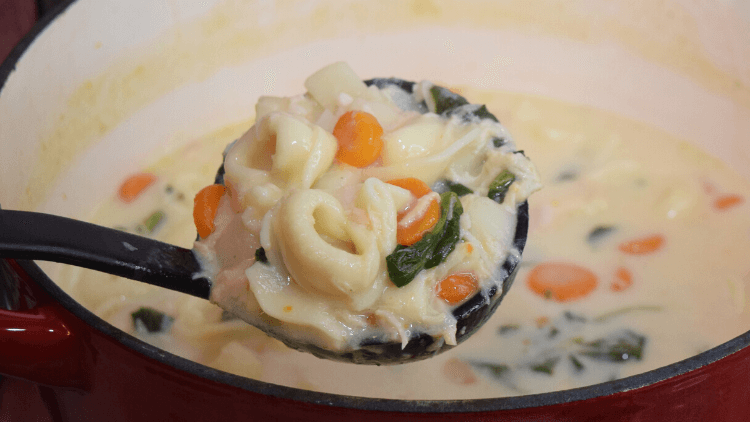 Is this soup good for kids?
I have four kids ages 2 to 20, and some of them are super picky eaters. I can proudly say every single kid devoured this soup. They ate their first bowl and had at least another bowl. My toddler ate 3 bowls of this soup, and then asked for it for lunch the very next day.
My 9 year old has sensory issues with food textures, so she frequently has issues with foods. But, she loved this one. She even tried the spinach and liked it, which made me very proud of her.
Is this soup good as leftover?
It reheats beautifully for leftovers and is perfect for lunch the next day. My kids love taking this in their thermos the next day to school.
Looking for more Easy Meals?
Yield:

8-10 servings
Creamy Chicken Alfredo Tortellini Soup
I love Creamy Chicken Alfredo Tortellini Soup on a cold night. It's ready in just 20 minutes.
Ingredients
1 tablespoon minced garlic
1 tablespoon olive oil
1 can carrots
1 can potatoes
32 oz chicken broth
1 jar Alfredo sauce
2 cups shredded chicken - rotisserie, frozen diced, canned
1/4 cup half and half or milk
1 bag frozen cheese tortellini
1 cup fresh baby spinach
Instructions
Sauté the olive oil and garlic on high.
As soon as the garlic is fragrant add the potatoes and carrots. Don't drain the veggies.
Add the jar of Alfredo, half and half, and the chicken broth.
Add the chicken. If using canned chicken, drain and rinse it thoroughly.
Let it reach a boil.
As soon as it reaches a boil add the tortellini.
Let it reach a boil again.
aDd the baby spinach and let it simmer for a few minutes.
Remove from heat. Serve immediately.
Nutrition Information:
Yield:

8
Serving Size:

1
Amount Per Serving:
Calories:

193
Total Fat:

10g
Saturated Fat:

4g
Trans Fat:

0g
Unsaturated Fat:

5g
Cholesterol:

46mg
Sodium:

633mg
Carbohydrates:

13g
Fiber:

1g
Sugar:

2g
Protein:

14g
Any nutritional information on thetiptoefairy.com should only be used as a general guideline. This information is provided as a courtesy and there is no guarantee that the information will be completely accurate.