This is a sponsored post on behalf of Market Street and Albertsons Companies. All opinions are my own.
While I love the cold weather that comes with Fall and Winter, I don't like that it's also the cold and flu season. With kids, it can be so hard to avoid getting sick. But, this year with a preemie baby, I am hyper vigilant about what my kids or husband bring home to her.
These are my top 6 tips for keeping the cold and flu away.
#1 Wash Your Hands – Often
Washing your hands is truly the #1 thing you can do to prevent illnesses like the cold and flu. We touch so many things, especially kids at school, and remembering to wash your hands really can help get those germs away.
The best way to do it is to sing the ABCs or Happy Birthday to yourself as you scrub with soap and water.
#2 Get a Flu Shot
I used to not get the flu shot, but after having three kids get the flu during a time when there was a shortage for the anti-viral medicine that shortens it, I decided we were all getting flu shots from then on. Now, I make sure all of us get it every year. Last year, my oldest teenager was the only one who didn't get the flu shot and guess who was the only one who came down with the flu? Yep, that would be her, and it hit her hard. Now that she's at college, she's also making sure she gets the flu shot.
#3 Hand Sanitizer
Or as my kids like to call it — Handitizer. Each of my kids keep a little hand sanitizer on their backpack, and I keep it in the diaper bag. When we can't wash our hands, we all use hand sanitizer. My 2nd grader hops in the car after school and squirts a bit on her hands and cleans them before she even thinks about touching her baby sister.
#4 Stay Away from Sick People
If my kids have a respiratory illness, I keep them home to avoid spreading it to other people. If we have something planned with someone like grandma and she is sick, we cancel. If my husband gets to work and someone nearby is sick, he will stay away from them. It's really just common sense because both cold and flu viruses are airborne and easily caught from droplets from someone nearby sneezing or coughing.
#5 Stay Healthy
I easily get sick if my allergies get out of control. My husband is the same way if he starts developing a cough. Controlling these symptoms help you stay healthy so your body can fight off the cold or flu. This is why we buy Signature Care™ products, available in Flower Mound, TX exclusively at Market Street and United Supermarkets. You can also find them at all Albertsons Companies family of stores, including Albertsons, Safeway, ACME Markets, Jewel-Osco, Vons, Pavilions, Randalls, Tom Thumb, Shaw's, Star Market, Albertsons Market and Carrs/Safeway.
Signature Care products are pharmacist recommended and provide the same quality and relief that national name brands do, but at a better value. They also contain the same active ingredients & are subject to the same manufacturing standards mandated by the FDA as national brands. Plus, they come with a 100% satisfaction guarantee or your money back!
My husband keeps a bag of Signature Care Honey Lemon Cough Drops in his desk at work so if his allergies make him start coughing, he can stop it. I also always keep Signature Care Nasal Decongestant Tablets and Signature Care Cold/Flu Relief Daytime Softgels. Both of these are a great way to help you control symptoms and stay healthy.
#6 Good Nutrition
Making sure you eat right is also a great way to stay healthy and avoid the cold and flu. I do this by purchasing O Organics® products from Market Street. They have so many different products available from pasta to frozen berries.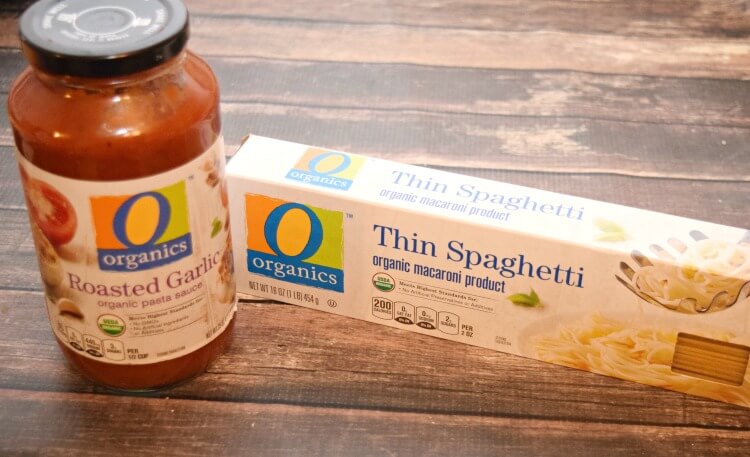 When someone in our family is feeling rundown and possibly getting sick I like to make comfort food from the O Organics line. One of my family's favorites is my One Pot Creamy Spaghetti. It's simple to make and so hearty.
Brown the hamburger with some olive oil and garlic. Add the parmesan cheese as you brown it.
Next, add the sauce and water and bring it to a boil. Then, add the spaghetti. Let it cook until it's tender and the sauce has reduced.
When the spaghetti is tender, add the sour cream and mix until combined. Then it's time to eat!
Ingredients
16 oz O Organic Thin Spaghetti
2 25 oz jars O Organic Roasted Garlic Pasta Sauce
25 oz water
1 cup sour cream
1/4 cup parmesan cheese
1 teaspoon minced garlic
1 tablespoon olive oil
1 lb 90/10 ground beef
a drizzle of Worcestershire sauce
Instructions
Turn the fire to Medium High and add the olive oil and minced garlic.
When the garlic becomes aromatic add the ground beef and brown.
Add the parmesan cheese and Worcestershire sauce to the ground beef and brown until there is no more pink.
Add the two jars of pasta sauce and fill one jar up with water and add it to the pot.
Turn the fire up to High.
When it reaches a boil, add the spaghetti.
Every once in awhile stir the spaghetti so it doesn't stick together and let it cook down.
When the sauce is thickened up, turn the fire down to medium and continue cooking until the pasta is al dente.
Add the sour cream and stir it up until is combined.
Remove from fire and serve immediately.
What tips do you have to avoid the cold and flu?
A big thank you to Market Street and Albertson's Companies for sponsoring this post.