On week nights it can be hard to come up with quick and easy dinner ideas that are both flavorful and short on time. Today I've got a casserole that is one of my family's favorites – Cowboy Brisket Casserole! It tastes amazing, and it's ready in about 30 minutes. This is a sponsored post.
updated 7/26/2022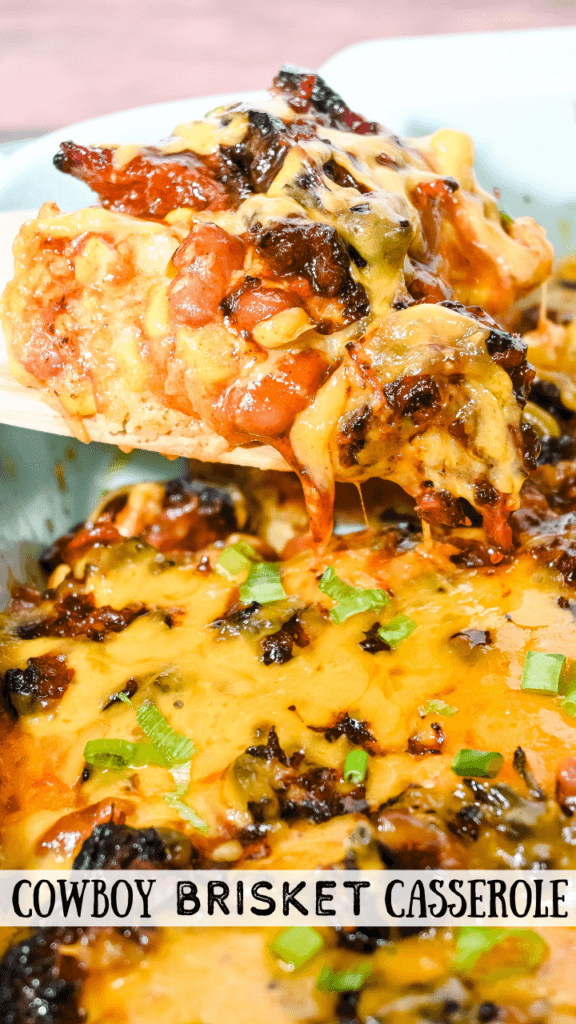 Do you have to use brisket in Cowboy Brisket Casserole?
Nope — You don't have to use brisket. You can use any BBQ meat.
When I first started making this casserole, I would use Farm Rich Smokehouse pulled brisket. It's precooked and you could find it in the freezer aisle, but I can't find it anymore. You can usually find something similar in the freezer section. I've bought store brands of almost the same thing. You can also use:
leftover chopped brisket
pulled pork
shredded bbq chicken
If you love barbecue, this is perfect for quick week night meals.
How do you make Cowboy Brisket Casserole?
This casserole is so easy to put together, and the flavors are just amazing! It's one of my husband's favorites.
Make this casserole in a 9 x 13 pan and start off by spraying it with non-stick oil spray.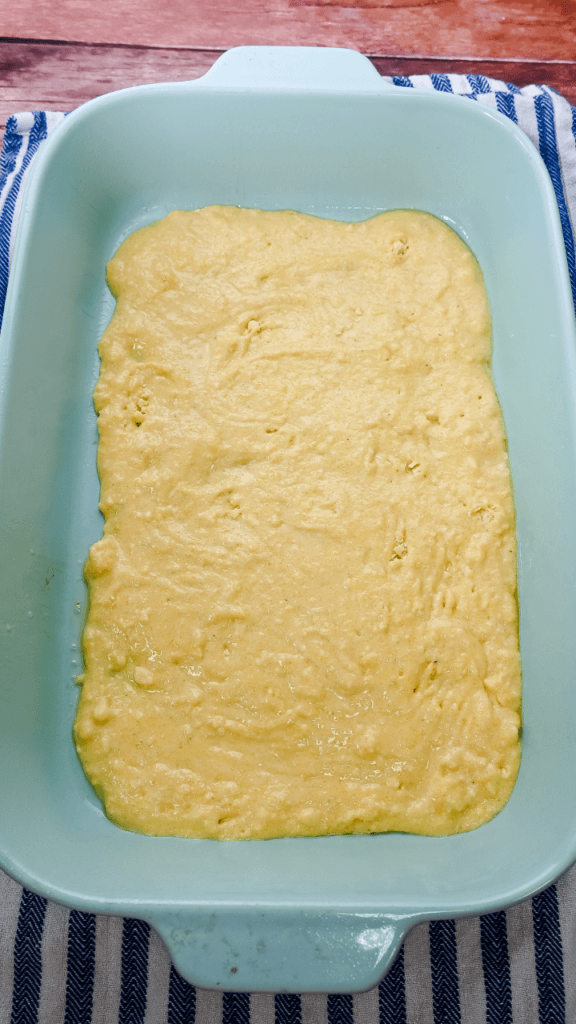 This is almost like making a poke cake, except we're using savory ingredients. Start off with a cheap box of cornbread – like Jiffy Corn Muffin mix, it's the 8.5 oz size. Make it just like the package and mix in cheddar cheese. Spread it in the bottom of the casserole.
What kind of corn do you use in a Cowboy Brisket Casserole?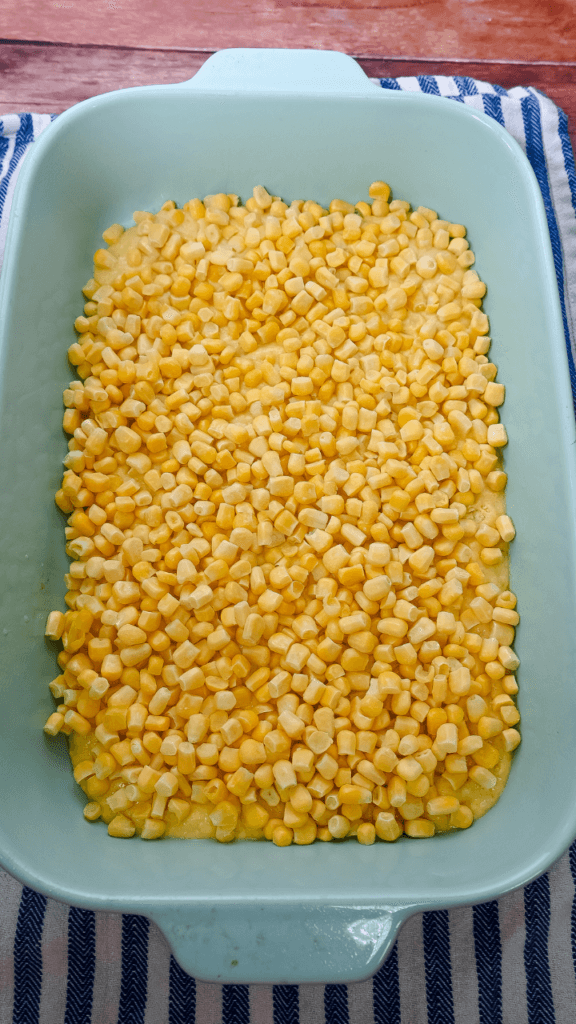 For the next layer, you can use a bag of frozen corn or a can of corn that has been drained. In the past, Birds Eye had a frozen bag of corn that was BBQ flavored that really added to the flavor. But, regular sweet corn is just fine. I use it all the time.
If you're using frozen corn, heat it up in the microwave for about 5 minutes before pouring it over the top of the cornbread mix. If you're using canned corn, just drain it, and pour over the cornbread mix.
Pop it in the oven for 15 minutes. When you pull it out, poke holes with the end of a wooden spoon about 1 inch apart, just like you would do with a poke cake.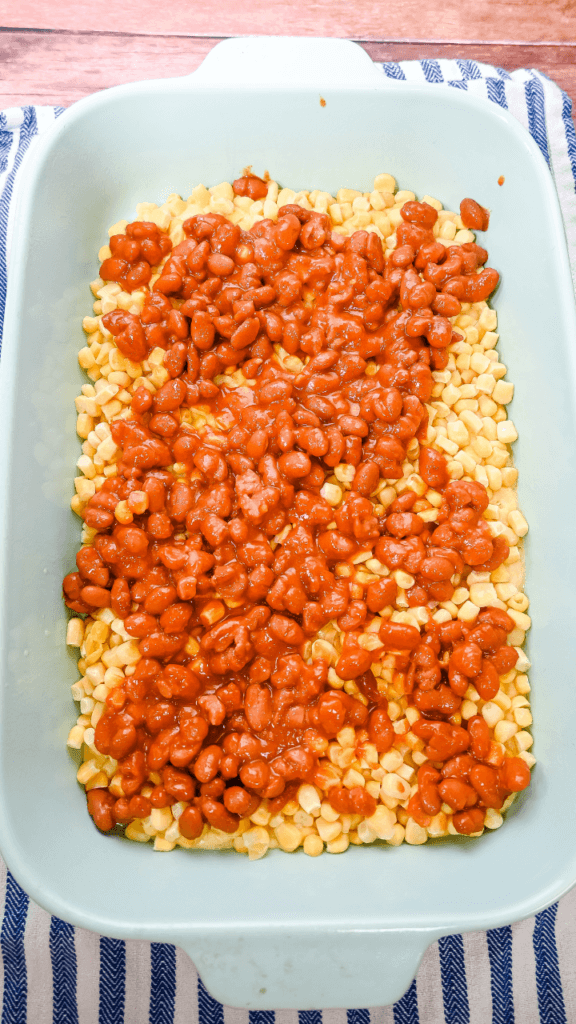 Next, drain a can of ranch style beans and pour them on top of the corn. These beans are very popular in Texas, but I've seen them called Chili Beans or Chili Hot Beans.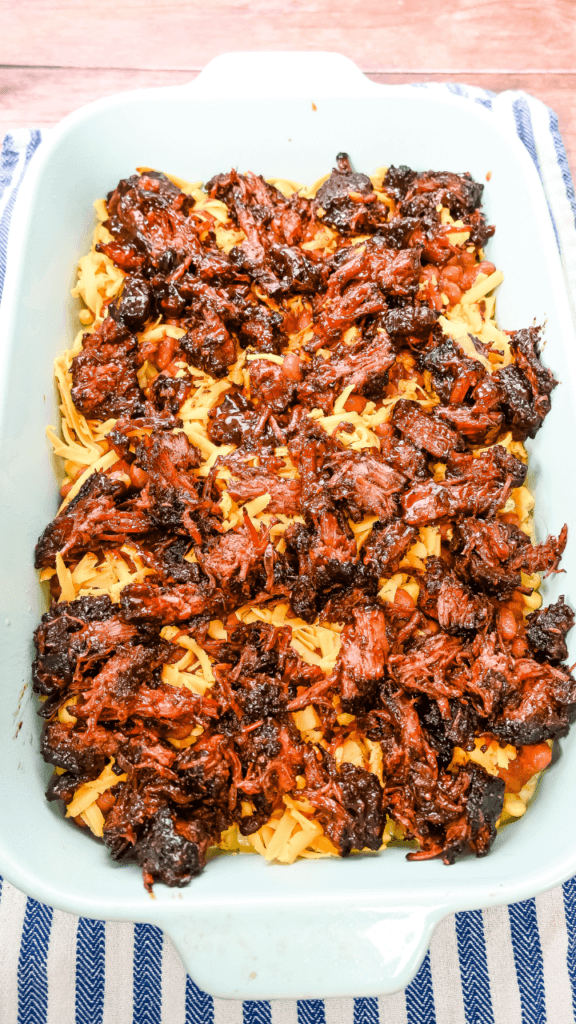 While the cornbread part of the casserole is cooking go ahead and get your brisket ready (or whatever BBQ meat you're using). Shred it or chop it if you need to, or use Lloyd's which already has sauce mixed in.
My preference currently is to combine 1 lb of chopped brisket with 1/4 cup of barbecue sauce and then layer it on top of the beans. Then, bake it for about 10-15 minutes.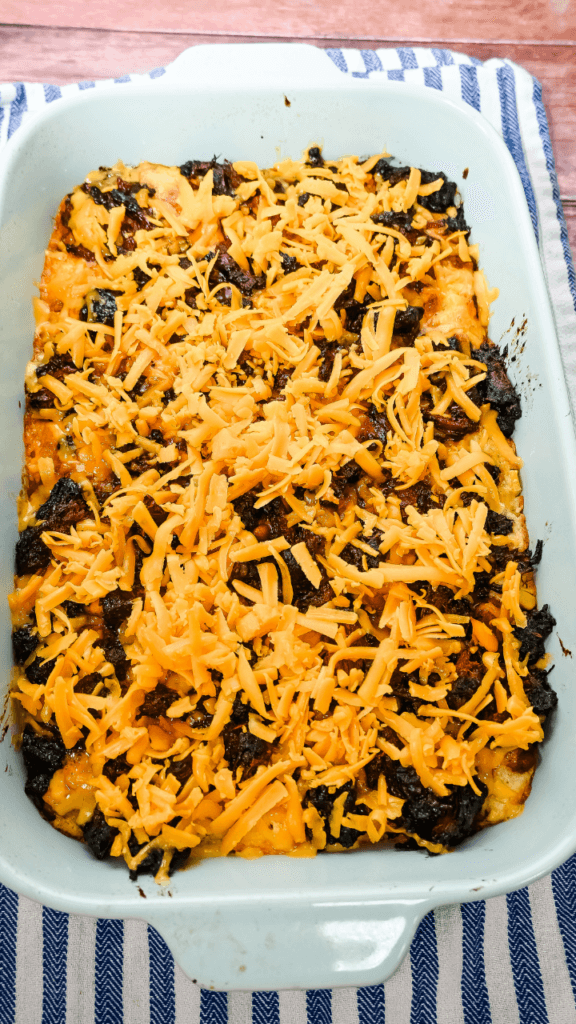 As soon as you pull it out, top it with the other 1/2 cup of cheese and pop it back in the oven for a couple minutes to melt it.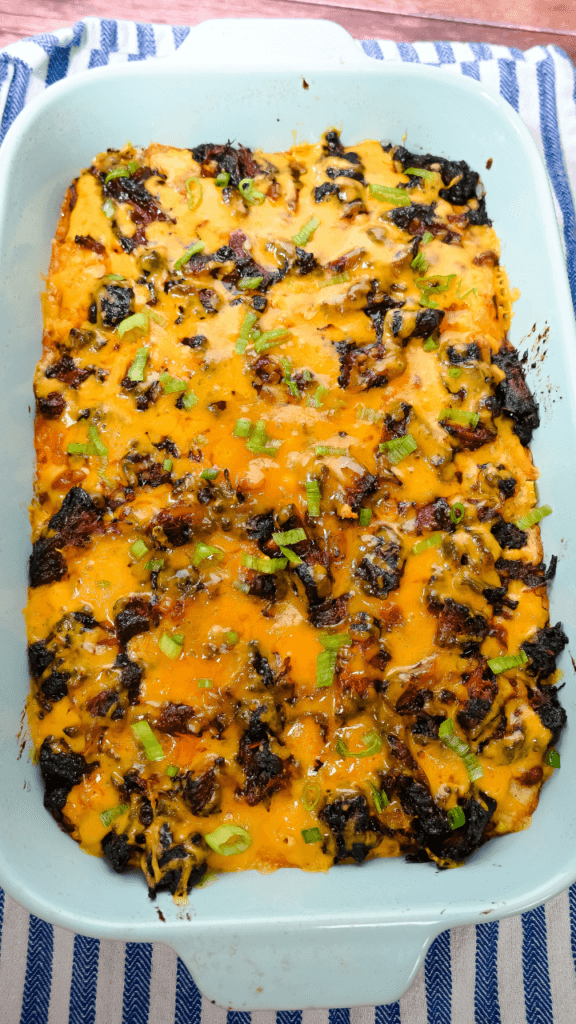 Then, pull it out, add green onions and serve! Your family is gong to love this cheesy and hearty meal!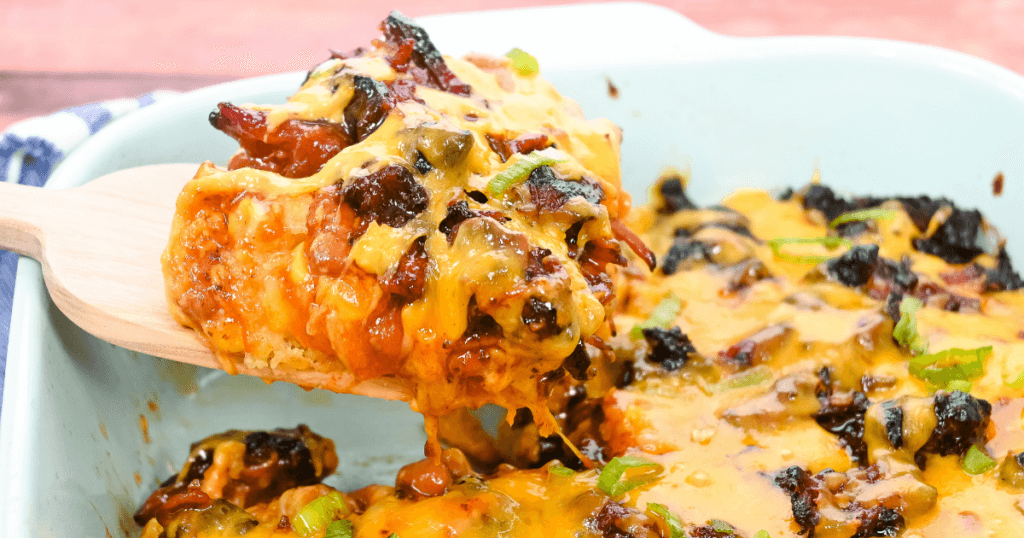 Can you cook the cornbread at the same as the rest of the casserole?
I've done this a couple times where I just layered everything on top of the uncooked cornbread.
I found it adds about 10 extra minutes to the baking time, so instead of about 30 minutes of baking (15 for cornbread/corn and 15 for the rest of the layers), it took my casserole about 40-45 minutes longer and for the cornbread to fully cook.
So you can do it, but I find the 15/15 min method works best for me, personally.
What to Serve with Cowboy Brisket Casserole?
More Barbecue Style Meals
More Easy Casserole Ideas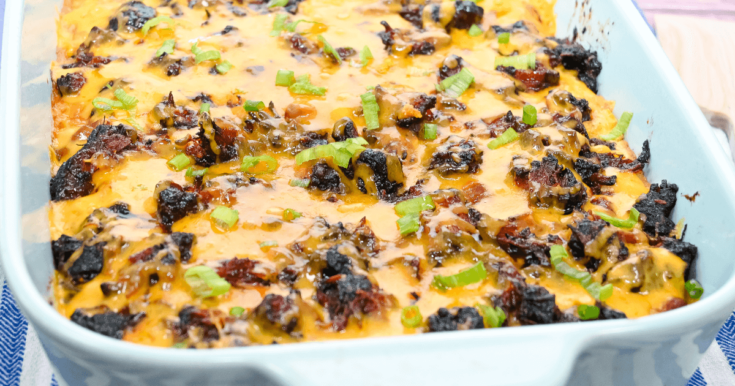 Yield:

6-8
Cowboy Brisket Casserole
Love barbecue? Then you might just love this hearty casserole with brisket and sweet barbecue corn!
Ingredients
1 8.5 oz box corn bread
1 egg
1/3 cup milk
1 cup of cheddar cheese - divided in half
1 lb of chopped or pulled brisket (or pulled pork or bbq chicken)
1/4 cup barbecue sauce
1 12 oz bag of frozen sweet corn or 1 15 oz can corn, drained
1 15 oz can of ranch style beans (chili beans), drained
Instructions
Preheat oven to 400 degrees.
Spray a 9 x 13 casserole dish with nonstick spray.
Make corn bread according to package with milk and egg, and then add 1/2 cup of cheddar cheese.
Spread it on the bottom of the casserole dish.
Heat up the package of frozen corn for 5-6 minutes OR Drain a can of corn.
Then, top the cornbread with the corn.
Bake for 15 minutes.
Poke holes 1 inch apart throughout the cornbread when it comes out of the oven.
While the casserole is baking, shred or chop the brisket and mix it with barbecue sauce.
Drain the can of ranch style beans and pour over the top of the cornbread.
Then, top it with the brisket.
Bake for an additional 10-15 minutes to get that cornbread to a golden brown color.
Top with green onions and 1/2 cup of cheddar cheese.
Serve immediately.
Nutrition Information:
Yield:

10
Serving Size:

1
Amount Per Serving:
Calories:

378
Total Fat:

16g
Saturated Fat:

7g
Trans Fat:

0g
Unsaturated Fat:

8g
Cholesterol:

90mg
Sodium:

758mg
Carbohydrates:

36g
Fiber:

4g
Sugar:

9g
Protein:

23g
Any nutritional information on thetiptoefairy.com should only be used as a general guideline. This information is provided as a courtesy and there is no guarantee that the information will be completely accurate.
Come Join Us!
Liked this article and want more? Follow along on Instagram, Facebook, Twitter, Pinterest, TikTok, and YouTube!
Come over and join us on Facebook in the group Recipes, Crafts, and more with TipToe Fairy or Sewing and Crafting with The TipToe Fairy!
Visit Our Other Blogs!