[disclaim] This post is part of a social shopper marketing insight campaign with Pollinate Media Group®, Birds Eye®, and Farm Rich® but all my opinions are my own. #pmedia #FullnRichFlavor http://my-disclosur.es/OBsstV [/disclaim]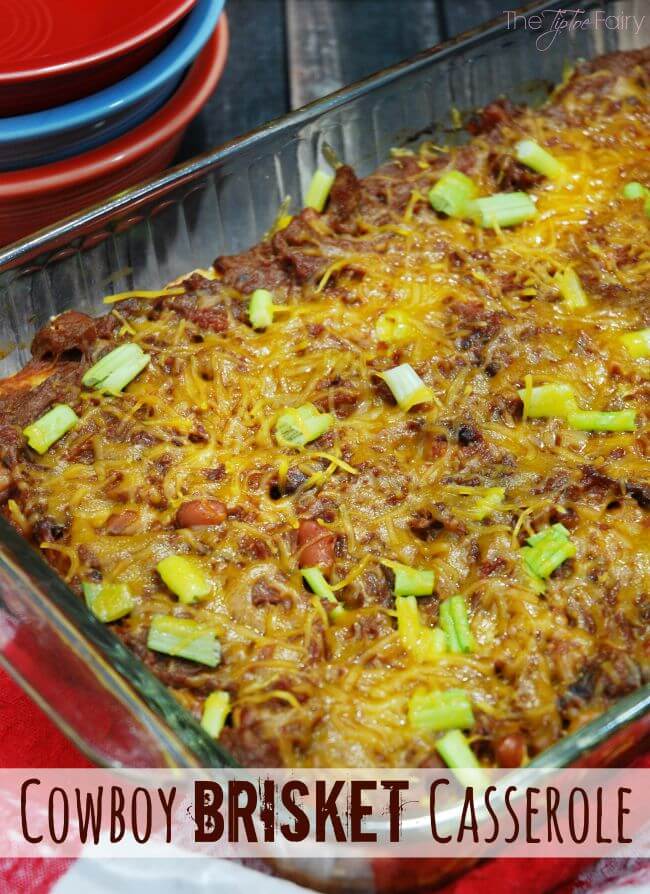 On week nights it can be hard to come up with quick and easy dinner ideas that are both flavorful and short on time. Today I've got a casserole that is one of my family's favorites – Cowboy Brisket Casserole!  It tastes amazing, and it's ready in about 30 minutes. It features two of my favorites – Birds Eye Flavor Full vegetables and Farm Rich® Smokehouse.
Have you ever tried Farm Rich® Smokehouse?  If you love barbecue, it's perfect for quick week night meals.  They have a variety to choose from pulled pork and dry rubbed chicken to brisket.  The brisket is my absolute favorite.  Farm Rich® Smokehouse meats are flavorful and quality cuts of meat that are smoked for hours.  You can find them in the freezer section at Walmart.
The perfect pairings for Farm Rich® Smokehouse are Birds Eye Flavor Full vegetables. They are not just full of flavor, but also low in fat, low in cholesterol, and have 0 grams of trans fat.  Plus, they have some great flavor combinations such as Buffalo Cauliflower, Ranch Broccoli, Sour Cream & Onion Potatoes, Teriyaki Broccoli and Barbecue Sweet Corn.  You can find these at Walmart, too.
If you're looking for a hearty one-dish-meal, then you might just love this Cowboy Brisket Casserole that combines both Farm Rich® Smokehouse and Birds Eye Flavor Full vegetables into one amazing dish.  It's so easy to put together, and the flavors are just amazing!  It's one of my husband's favorites.
This is a little like a poke cake, except we're using savory ingredients.  Start off with a cheap box of cornbead – like the ones that are just 50 cents at the store.  Make it just like the package and then throw in some cheddar cheese.  Then after some nonstick spray, spread the cornbread on the bottom of the pan.
Next, layer on some Birds Eye Barbecue Sweet Corn.  Then, pop it in the oven for 15 minutes. When you pull it out, poke holes with the end of a wooden spoon about 1 inch apart.
Next, drain a can of ranch style beans and pour them on top of the barbecue sweet corn.  These beans are very popular in Texas, but I think they are called chili beans in other parts of the country.
When you pop the cornbread into the oven, go ahead and heat up the Farm Rich® Smokehouse brisket in the microwave.  It heats up in just minutes, and tastes just amazing.  Once it's done and the casserole is out of the oven, layer it on top of the beans.  Then, pop it back in the oven for about 10-15 minutes.
As soon as you pull it out, top it with some green onions and the other 1/2 cup of cheese, and serve! Your family is gong to love this cheesy and hearty meal!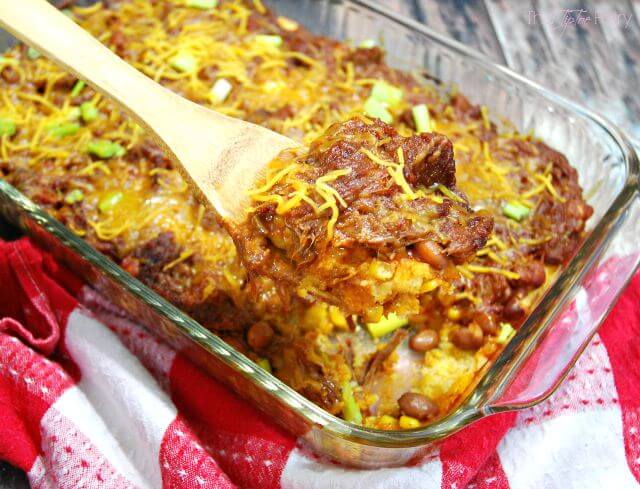 Cowboy Brisket Casserole
---
Stephanie Pass
Yields 6-8
Love barbecue? Then you might just love this hearty casserole with brisket and sweet barbecue corn!
5 minPrep Time
25 minCook Time
30 minTotal Time
Ingredients
1 box corn bread
1 egg
1/3 cup milk
1 cup of cheddar cheese - divided in half
1 package of Farm Rich® Smokehouse brisket
1 bag of Birds Eye Flavorful vegetables - Barbecue Sweet Corn
1 can of ranch style beans (chili beans), drained
Instructions
Preheat oven to 400 degrees.
Spray a 9 x 13 casserole dish with nonstick spray.
Make corn bread according to package with milk and egg, and then add 1/2 cup of cheddar cheese.
Spread it on the bottom of the casserole dish.
Follow the instructions to heat up the Birds Eye Barbecue Sweet Corn
Then, top the cornbread with the corn.
Bake for 15 minutes.
While the casserole is baking, heat up the Farm Rich® Smokehouse brisket according to directions.
Pull the casserole out of the oven and add the ranch style beans.
Then, top with the brisket.
Bake for an additional 10-15 minutes to get that cornbread to a golden brown color.
Top with green onions and 1/2 cup of cheddar cheese.
Serve immediately.
7.6.8
263
https://thetiptoefairy.com/cowboy-brisket-casserole-a-quick-flavorful-dinner/
With Birds Eye and Farm Rich®, making a healthy, balanced meal does not have to be difficult.  You can create amazing flavor-packed recipes for an easy week night i!
For a limited time, earn $0.75 on Birds Eye Vegetables and unlock $1.00 off one Farm Rich® Smokehouse product with Ibotta while supplies last. If you haven't used Ibotta, you have to download the app available on iOs and Android. Before you shop, be sure to unlock the rebates for both Birds Eye Vegetables and Farm Rich® Smokehouse. Then, shop! Buy the products that you've unlocked at major retailers. Finally, verify your purchase by scanning your barcodes and submitting a photo of your receipt!
What's your favorite hearty weeknight meal?
Looking for more great barbecue style meals with Farm Rich® Smokehouse, check these out:
BBQ Brisket Enchiladas with TexMex Gravy