Planning a mermaid birthday party? These Mermaid Ice Cream Cone Cupcakes are perfect for the celebration and a great way to keep little hands clean! This post contains affiliate links.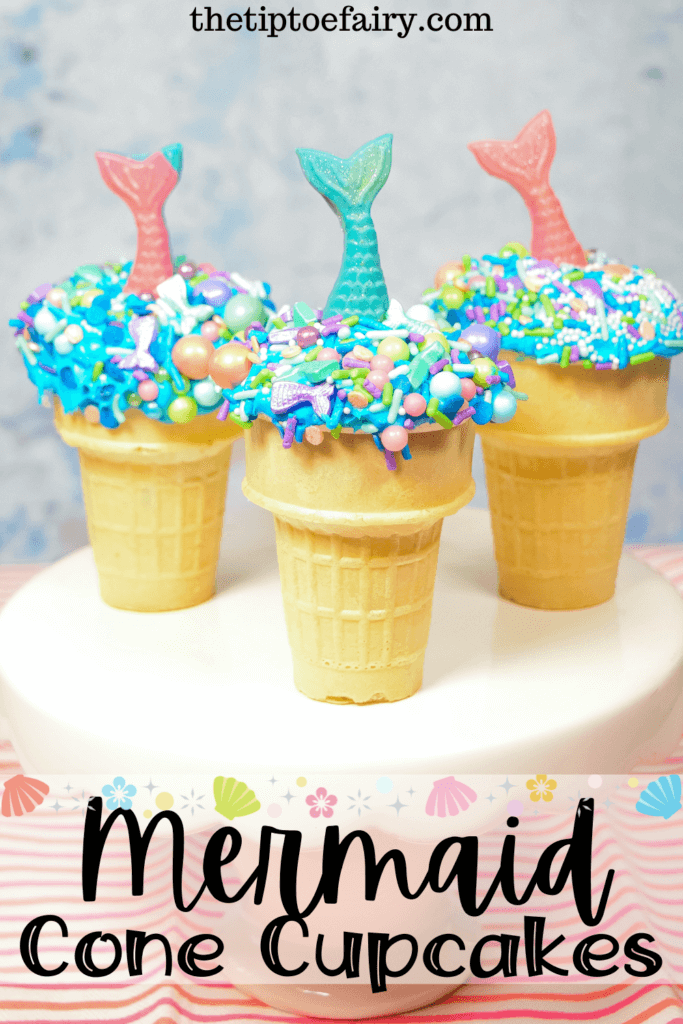 Over the years I have made a ton of cupcakes for parties, selling at bake sales, and even in auctions! People go crazy for them.
But, nothing gets a better reaction than ice cream cone cupcakes! I don't know what it is, but everybody gets so excited!
What are ice cream cone cupcakes?
These are such a fun treat for a kid's birthday! They'd be great for a class party, too.
It's basically just an ice cream cone baked with cake inside, and topped with frosting. You can pipe the frosting to look like soft serve ice cream.
It's the perfect cupcake for kids. The cone helps keeps little hands clean, and then they can eat the entire thing, no paper liner leftover!
How do you bake ice cream cone cupcakes?
The first time you go to make them you might wonder how to get them to stay standing up as they bake. So, here's a hack you can use:
Cover a muffin tin with foil.
Then, poke a hole in the center of each muffin well.
Insert the ice cream cone in that hole and it stands up!
Doing this method, you can easily add cake batter to each cone and then bake it without worrying about them falling over.
Also, if you don't have a muffin tin, this same method works well with a regular cake pan, too.
You can use any kind of rectangular pan you happen to have on hand.
I like to use heavy duty foil because it's stronger, but you can also use regular foil as well.
Use the tip of a sharp knife to cut an "X" into the foil. When you push the ice cream cones in, they open up the X to just the right size, so the cones stay put.
Fill the cones halfway with batter. It will definitely rise to the top and you don't want overflow.
Bake for about 15 minutes. Use a toothpick to check to make sure they are done.
Allow the cones to cool completely before frosting.
What kind of cake can you use for ice cream cone cupcakes?
You can fill the ice cream cones with any kind of cake batter!
You can use box cake mix or make it from scratch. It's totally up to you. here are TONS of cupcake recipes on this site, but here is just a sampling of my very favorites:
What frosting do you use on ice cream cone cupcakes?
Any kind of frosting will work! You can even use store bought canned frosting. While I do love homemade buttercream, for these pictures I used blue Funfetti frosting from a can.
How do you create the mermaid tails decorations?
Use candy melts and melt each color in a bowl in 30-second increments in the microwave. Stirring after each time, until the candy melts are completely smooth.
If you want gold flecks on your mermaid tails, use this Wilton edible glitter spray.
Spray the molds liberally.
Use a mermaid tail mold and spoon candy melts into each one. You can do solid colors or gently mix two colors.
Pop the mold into the freezer. Make sure it stays flat.
Remove the tails carefully from the mold.
How do you decorate Mermaid Ice Cream Cone Cupcakes?
Ice cream cone cupcakes look best when topped with a generous swirl of buttercream!
I piped frosting on these cones and then gently rolled them in mermaid sprinkles.
Then, added a chocolate mermaid tail by sinking it down right in the middle.
How to transport ice cream cone cupcakes?
You can use the same pan/foil setup to transport the cupcakes as well. This way, you don't have to worry about the ice cream cone cupcakes tipping over, and the beautiful frosting getting messed up.
You could also use a disposable foil pan. Just cover the pan with foil and cut Xs in the foil and transport just like you put the cones for baking.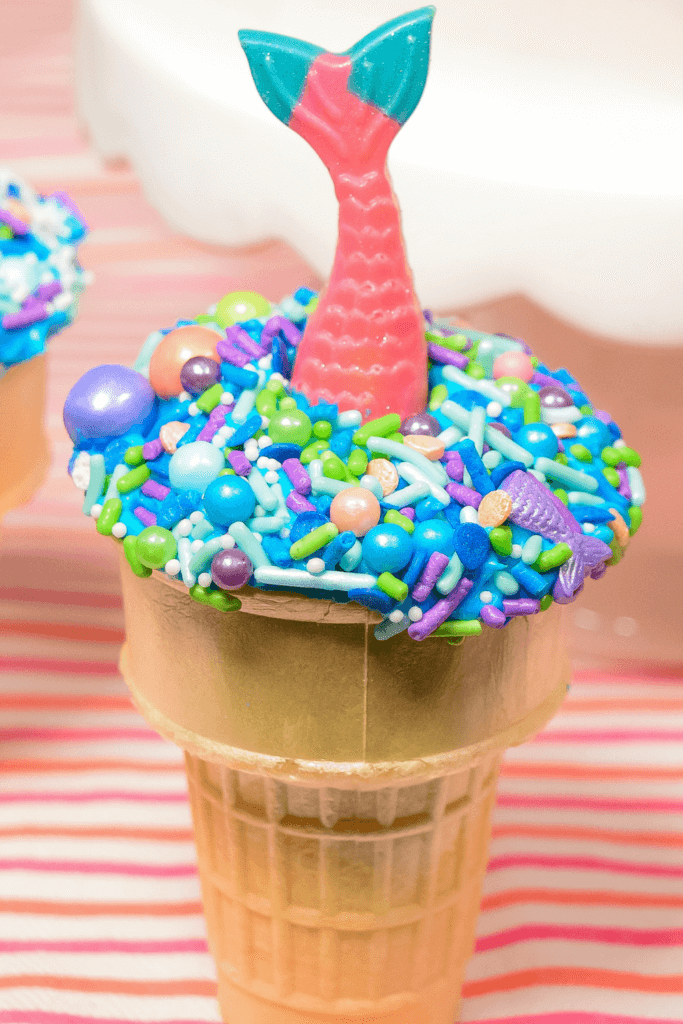 More Mermaid Fun
Need more ideas for your Mermaid Party? Check out these:

Yield:

18 cupcakes
Mermaid Ice Cream Cone Cupcakes
Additional Time:
10 minutes
Ingredients
heavy duty foil
baking pan or cupcake pan
ice cream cones
cake batter of your choice
frosting of your choice
mermaid sprinkles
candy melts
edible glitter spray
mermaid tail molds
Instructions
Cover the baking pan tightly with foil.
Preheat the oven to 350 F degrees.
Use the tip of a sharp paring knife to cut little x's in the foil.
Push the ice cream cones into the openings.
Fill the cones halfway with cake batter.
Bake according to the recipe directions. (about 15-18 minutes)
While baking, make the mermaid tails. Melt the candy melts in 30-sec increments, stirring after each time, until the candy melts are smooth.
Spray the edible glitter spray in the mermaid tail molds liberally.
Spoon candy melts into the molds. Wipe off excess.
Place the mold in the freezer for 10 minutes.
Carefully remove the mermaid tails after they are hard.
Cool the cupcakes completely.
Pipe icing on each cupcake.
Gently roll the top of the cupcake into mermaid sprinkles.
Push a mermaid tail chocolate into the center of each cupcake.
Nutrition Information:
Yield:

18
Serving Size:

1
Amount Per Serving:
Calories:

45
Total Fat:

2g
Saturated Fat:

1g
Trans Fat:

0g
Unsaturated Fat:

1g
Cholesterol:

4mg
Sodium:

29mg
Carbohydrates:

6g
Fiber:

0g
Sugar:

5g
Protein:

0g
Any nutritional information on thetiptoefairy.com should only be used as a general guideline. This information is provided as a courtesy and there is no guarantee that the information will be completely accurate.
Come Join Us!
Liked this article and want more? Follow along on Instagram, Facebook, Twitter, Pinterest, TikTok, and YouTube!
Come over and join us on Facebook in the group Recipes, Crafts, and more with TipToe Fairy or Sewing and Crafting with The TipToe Fairy!
Visit Our Other Blogs!