Have you ever heard of a chocolate cake made with 6 melted full size Hershey's Chocolate Bars? I found this amazing recipe for a Hershey Bar Chocolate Cake in my grandma's old square dancing cookbook with this recipe, and I had to make it. This post contains affiliate links.
One of my favorite things to do is read through my vintage cookbooks. I just love those old spiral bound church cookbooks. One of my grandma's was big into square dancing and was in a square dancing club. My mom saved their cookbook and gave it to me a few years ago. It's a gold mine of weird recipes.
But, it also had several recipes for a Hershey Bar Chocolate Cake that included melting 6 full size bars. So, I had to try making this.
What do you need to make a Hershey Bar Chocolate Cake?
butter
sugar
eggs
6 Hershey's Milk Chocolate Bars
flour
salt
baking soda
buttermilk
Hershey's syrup
vanilla extract
How do you make a Hershey Bar Chocolate Cake?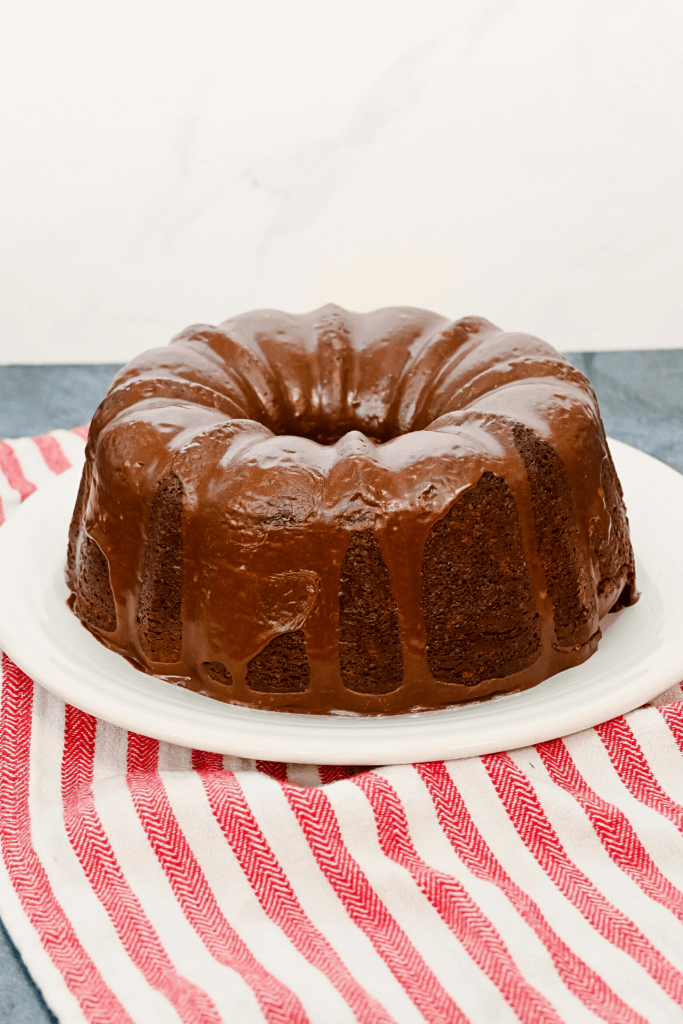 I used a bundt pan as this is a pretty dense cake, but you can use a regular cake pan as well.
You can grease and flour the pan or use Baker's Joy, or I found non-stick oil spray works just fine, too.
Begin by beating the butter until it's creamy, and then add the sugar until fluffy.
Next, add the eggs one a time.
Break the Hershey's chocolate bars into squares in a microwave-safe bowl and microwave for 30 seconds at a time, stirring after each time. Do this until the chocolate is smooth and completely melted.
Stir the flour, baking soda, and salt together in another bowl.
Take turns adding the flour mixture and the buttermilk, mixing each time until completely blended.
Next, add the Hershey's chocolate syrup and vanilla.
If you want to add nuts, fold in pecans before transferring the batter into the pan.
The original vintage recipe I found has you bake the cake for 1 hour and 15 minutes on 350 F degrees. But, I found that baking it at 325 for 1 hour works wonderful, so that's how I bake it.
If you used a bundt pan, let it cool for about 10 minutes before transferring it to a wire rack.
You can eat it plain, or you can cover it with sifted powdered sugar.
Melted Canned Frosting
OR, my favorite method is melting Hershey's Chocolate Frosting in a can and mixing it up really well. Then, pour it over the top of the cake.
Heat the frosting in 15 to 30 second increments, stirring after each time, until the frosting is completely smooth and melted.
If you are using a regular cake pan, I just pour it over the whole thing and spread it very quickly before it hardens.
Let it cool for a bit longer before serving.
Can you use other chocolate bars instead of full size Hershey Chocolate Bars?
Yes, you can!
If you use King Size Hershey Chocolate Bars, you'll need about 3 1/2 bars.
If you use fun size Hershey Bars, you'll need about 30 fun size bars to equal 6 full size candy bars.
Each Hershey Bar is 1.55 oz, so if you use a different brand, you'll need
You could also swap out full size bars of Hershey's Dark as well for an even darker cake.
Can you substitute the Buttermilk in this chocolate cake?
Yes you can!
If you don't have buttermilk, you can make it yourself with white vinegar or lemon juice.
Just add 1 tablespoon of lemon juice or 1 tablespoon of white vinegar to a cup of milk and let it curdle for a few minutes before using.
Hershey's Chocolate Syrup versus Hershey's Dark Chocolate Syrup
If you want a darker cake, you'll want to buy Hershey's Dark Chocolate syrup to use. If you use regular Hershey's Chocolate syrup, the cake will be a lighter chocolate color.
I use Hershey's Dark Chocolate syrup for the pretty color effect.
How do you store leftover Hershey Bar Chocolate Cake?
I just keep it in a sealed container on the counter for up to 3-4 days. It tastes amazing!
Can you make Hershey Bar Chocolate Cake ahead of time?
Absolutely! You can make this cake a day or two ahead of time and keep it wrapped up in the fridge or freezer. Make sure to let it sit out a few hours to thaw or warm to room temperature. Then add the frosting the day of the event.
More Cake Recipes
Yield:

1 cake
Hershey Bar Chocolate Cake
Ingredients
1 cup butter, softened
1 1/4 cups white sugar
4 eggs
6 HERSHEY'S Milk Chocolate Bar, melted
2 1/2 cups all-purpose flour
1/4 tsp baking soda
a dash of salt
1 cup buttermilk
1/2 cup HERSHEY'S Syrup
2 tsps vanilla
Instructions
Preheat oven to 325 F.

Spray a 12-cup bundt pan with non-stick oil spray.

Beat butter in large bowl until creamy

Gradually add white sugar, beating on medium speed until well blended.

Add eggs, one at a time, beating well after each addition.

Break chocolate bars into squares. Melt chocolate in the microwave in 30 second increments stirring after each time until chocolate is smooth.

Add melted chocolate and beat until blended.

Stir together flour, baking soda and salt in another bowl.

Add the flour mixture to the chocolate mixture alternately with the buttermilk, beating until blended.

Add chocolate syrup and vanilla and beat until blended.

Optional: Stir in pecans.

Pour batter into prepared pan.

Bake 1 hour, until toothpick inserted in center of cake comes out clean.

Cool 10 minutes; remove from pan to wire rack.

Cool completely.

Serve as is plain OR:

- Heat a can of Hershey's chocolate frosting for 30 seconds, stir, and then pour over the cake.

OR

- Sift powdered sugar over top and drizzle with chocolate syrup, if desired.
Notes
Substitute buttermilk with 1 cup of milk + 1 tablespoon white vinegar mixed together. Allow it to sit for 5 minutes before using.
Come Join Us!
Liked this article and want more? Follow along on Instagram, Facebook, Twitter, Pinterest, TikTok, and YouTube!
Come over and join us on Facebook in the group Recipes, Crafts, and more with TipToe Fairy or Sewing and Crafting with The TipToe Fairy!
Visit Our Other Blogs!