Have you ever made an upside down cake? They are some of my favorites. This Strawberry Upside Down Cake is incredibly easy to make, and it's perfect to serve at a party. It looks so fancy, but it's so easy to make!
Topped with whipped cream, it's delicious and just like a strawberry shortcake! This post contains affiliate links.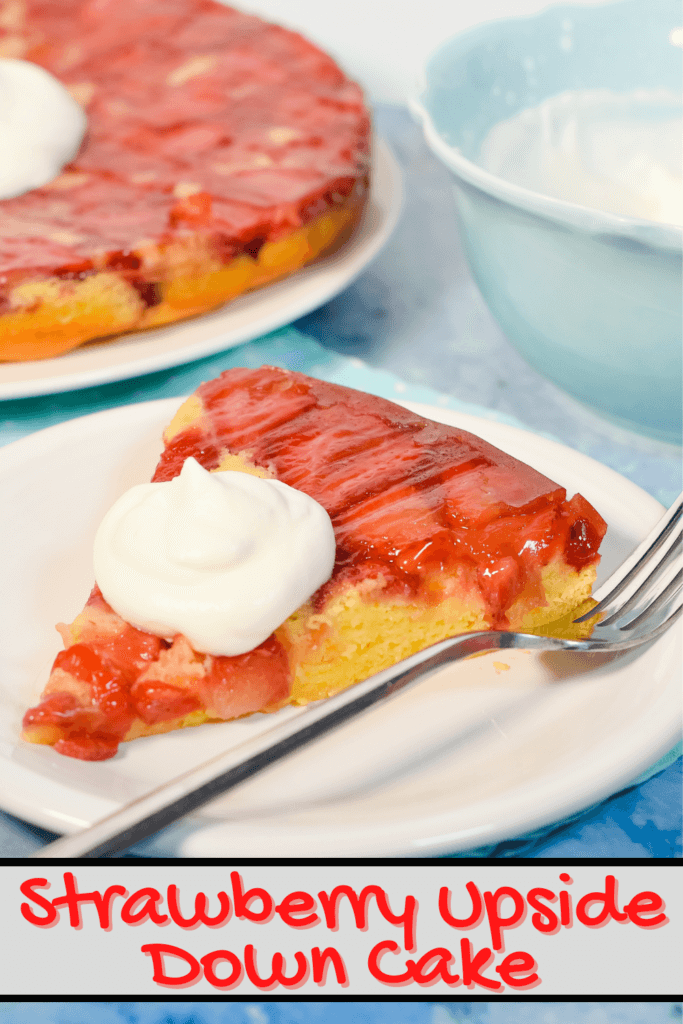 This particular cake is totally kid approved. I've made many upside down cakes with different fruit many times, and it's always a favorite. My family loves it, and it's always promptly devoured soon after dinner.
What do you need to make this Microwave Strawberry Upside Down Cake?
You'll need a pound of fresh strawberries, brown sugar, and corn starch. Since this is a single layer cake, I find the Jiffy Golden Cake mix best to use for this one.
You will also need some oil spray, a 9-inch springform pan or a regular cake pan as well as a piece of parchment paper to fit the bottom of the baking dish or cake pan.
This cake is good all by itself and doesn't really need a topping or frosting, but if you'd like to top it with whipped cream (which is pretty dang delicious with this cake), then you'll also need heavy whipping cream and white sugar.
How do you make an Strawberry Upside Down Cake?
This cake looks totally fancy when it's served, but it is so easy to do.
Cut a piece of parchment paper to fit the bottom of your cake pan. I prefer to use a springform pan for this type of cake as it makes it easier to remove the cake from the pan.
Spray the entire pan with oil spray. Then, lay the parchment paper down and spray the parchment paper with oil spray.
Wash and slice the strawberries into 1/4-inch thick slices. You can slice them anyway which way you want, lengthwise, widthwise, whatever.
Combine the strawberry slices with brown sugar and corn starch.
Transfer the strawberries to the pan and spread them out in a thin layer so that they cover the entire bottom of the baking dish.
Combine the egg, pudding mix, and water with the Jiffy Golden Cake Mix and mix until smooth. Let it sit for about five minutes before pouring into the pan. The leavening in the batter activates, and the batter will rise a bit.
Pour the batter over the strawberries.
Bake for about 20-25 minutes in the oven, until it's golden brown.
Check with a toothpick inserted into the middle to make sure it comes out clean.
Once it's ready, place the baking dish in the fridge for 30 minutes to an hour to chill the strawberries and cake.
When it no longer feels hot, remove it from the fridge. The cake should easily pull away from the sides of the pan at this point. If it does not, let it sit for 15-20 more minutes in the fridge.
Remove it carefully from the sides of the springform pan. Then, place your cake plate upside down over the top of the cake and flip it over. The bottom of the cake should easily come off the pan bottom and you can remove the parchment paper.
Make the whipped cream, if you desire. You can slather it on the top like a frosting or you can just add a dollop to each piece as you serve it.
Can I skip the pudding mix in the cake batter?
Yes you can. The pudding mix helps the cake be really moist. But, I've made it without the pudding mix, and it still tastes pretty darn good and moist.
How do you store leftovers?
You can store the leftovers of this cake in a sealed container in the fridge for 2-3 days.
Can you use other fruits instead of strawberries for this microwave cake?
Yes! I would recommend using other berries like blackberries or raspberries or even blueberries. I would also recommend other fruits thinly sliced such as plums, apricots, or peaches with the peel removed. (You don't need to remove the peel of apricots).
I wouldn't recommend apples unless they are sliced extremely thin as they won't be very tender.
More Fruit Desserts You'll Love
Yield:

10 servings
Strawberry Upside Down Cake