This is a sponsored post on behalf of California Walnuts. All opinions are 100% my own.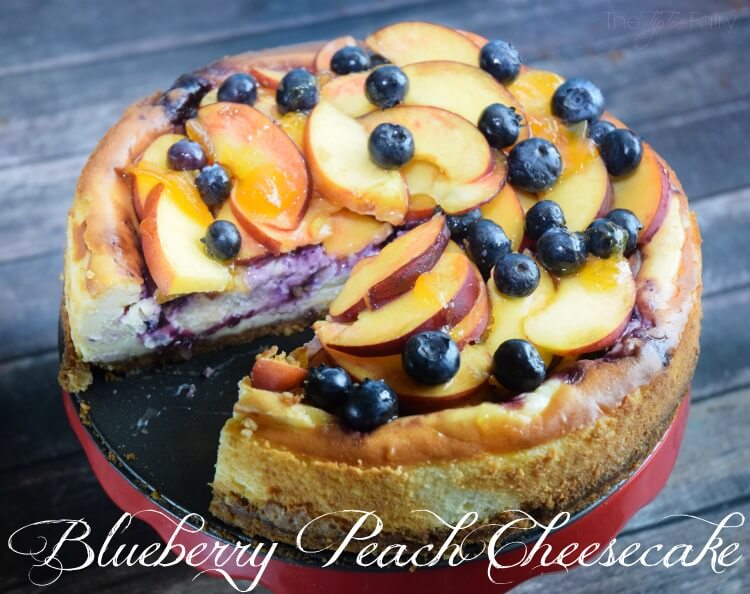 Did you know that 99% of the walnuts grown in the U.S. and two thirds of the walnuts in the whole world are from California? I had no idea! Walnuts are a favorite in my family. They are such a great way to add some extra protein, fiber, and even omega-3s to your diet! Did you know? They have 4 grams of protein and 2 grams of fiber per ounce! Plus, walnuts also have five times more ALA, an essential plant-based omega-3 fatty acid, in one ounce than is found in any other nut.
Walnuts are delicious and such a versatile ingredient. They can complement many other whole foods for a nutritious and tasty meals. You can add them to a savory stir fry or a favorite cookie recipe. Lately, I've been looking for ways to add more nuts into my family's diets, especially for the added protein.
Two of my favorite fruits are peaches and blueberries. I had this idea to make a cheesecake with them, and I was checking out Pinterest to see if anyone had ever done that before. I found this amazing recipe, and it inspired me.
A Word about using Walnuts in Cheesecake Crust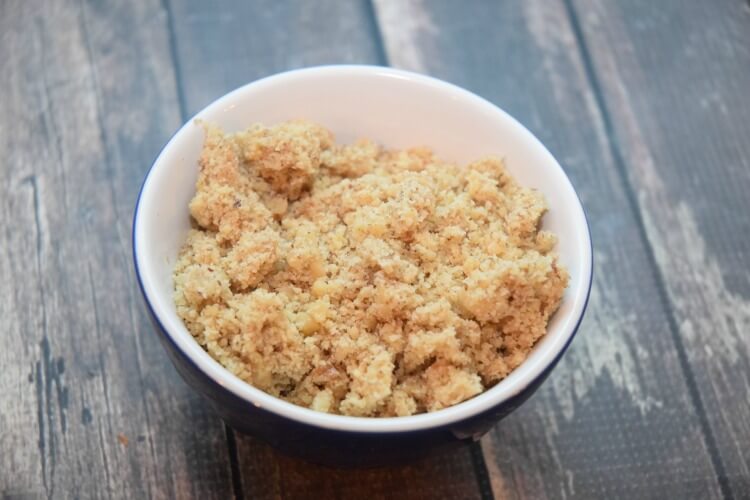 When I made this Blueberry Peach Cheesecake, I decided to make the crust with mostly walnuts instead of a typical graham cracker crust. It's very easy to grind up the walnuts. Just use a food processor or blender and pulse them just a few times. They grind up very quickly, and if you process them too much, you'll end up with a nut butter. While walnut butter sounds heavenly, it doesn't work well with a cheesecake crust.
If you have someone in your life with a gluten sensitivity, you can leave out the graham cracker crumbs and use walnuts for the entire crust. I'll post both versions in the recipe.
How do you make Blueberry Peach Cheesecake?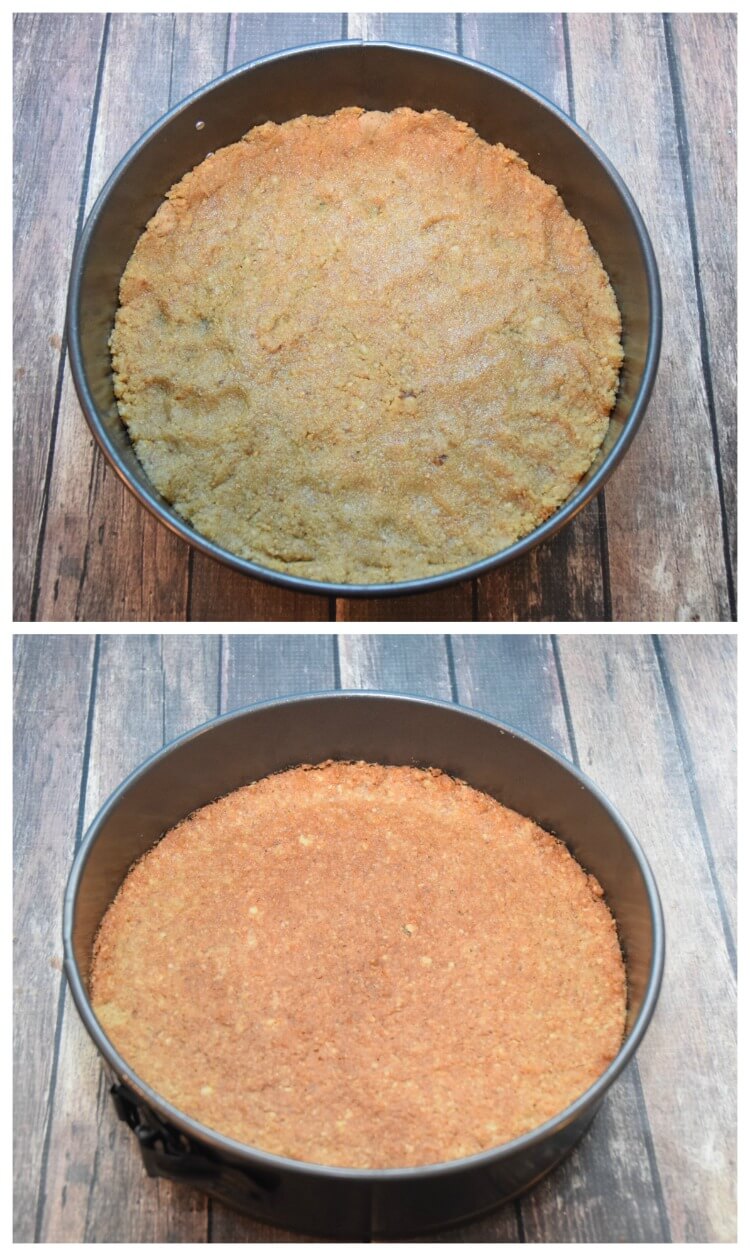 I baked the walnut crust for 10 minutes, and then let it cool while preparing the cheesecake batter.
While the crust was baking, I made a fresh blueberry compote. I thought it sounded wonderful as opposed to just adding fresh blueberries to the cheesecake batter. It's very easy to make. I combine blueberries, lemon juice, sugar, water, and cornstarch and occasionally stirred until it boiled and thickened. It took abot 3 minutes. Then, right at the end I added a second cup of blueberries and turned off the heat, so it could cool. This way there was a few whole berries in there when I added it to the cheesecake batter.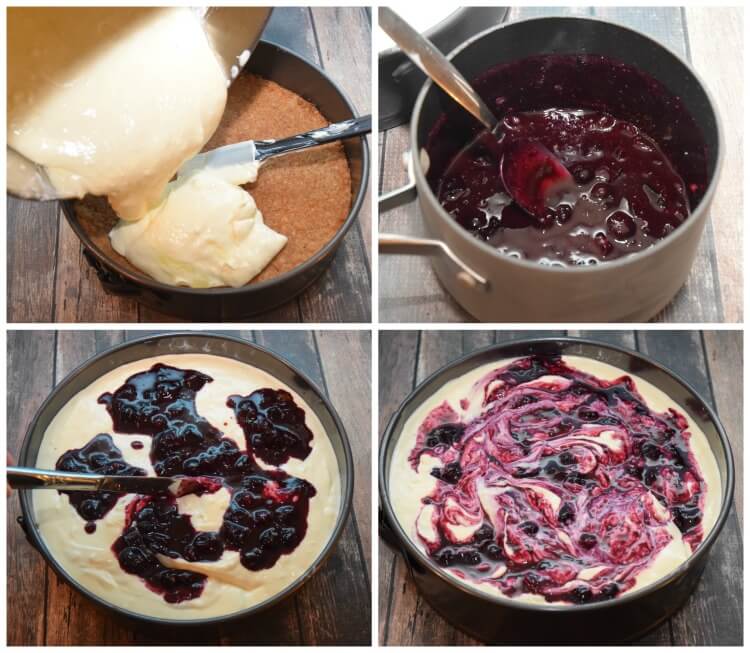 For the cheesecake batter, if you are baking this for someone with a gluten allergy, you can add cornstarch as a binding agent instead of flour. Another swap I like to make is Greek yogurt for the sour cream as it's lower calories.
When the batter was ready and both the blueberry compote and the walnut crust were cool, I poured the batter on top of the crust and then added spoonfuls blueberry compote on top. Then, I took a nice and swirled it all around. Then, it was time too bake.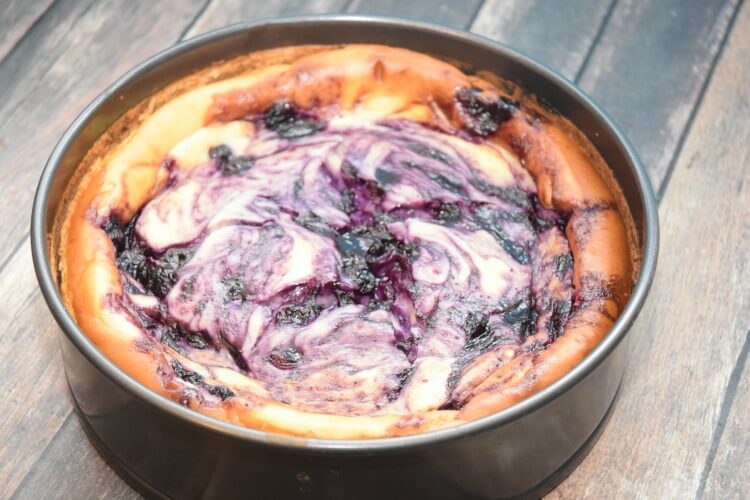 I usually cook a cheesecake for about an hour. When it's ready the outer edges are firm, but the inside is still a bit jiggly. Then, I let it sit to cool for about an hour before popping it in the fridge overnight.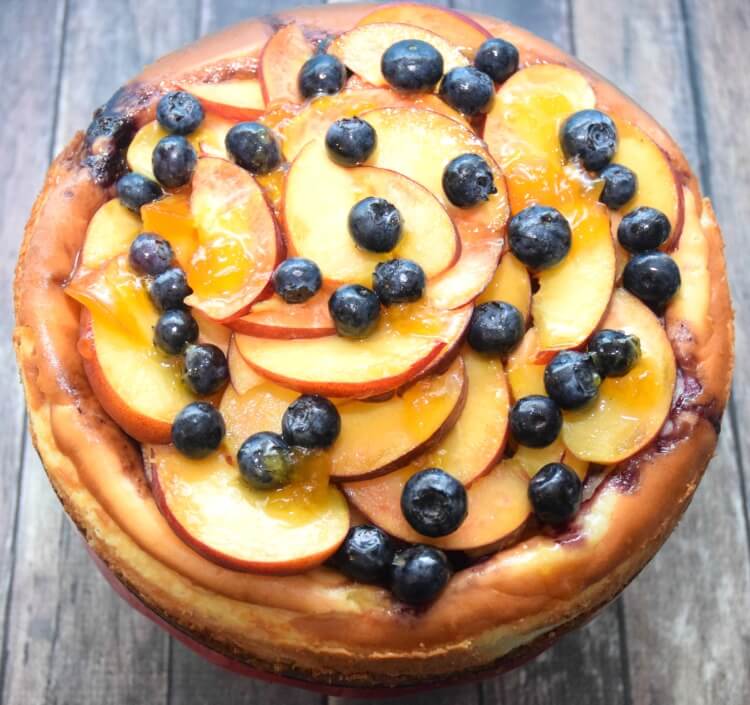 Once it's chilled, I thinly slice up 2-3 just ripen peaches. You want peaches that are ripe, but not overly ripe so you can slice them thin. Then, I added a cup of fresh blueberries to the peaches and topped the cheesecake. Lastly, I heated up about two tablespoons of peach jam and drizzled it over the blueberries and peaches.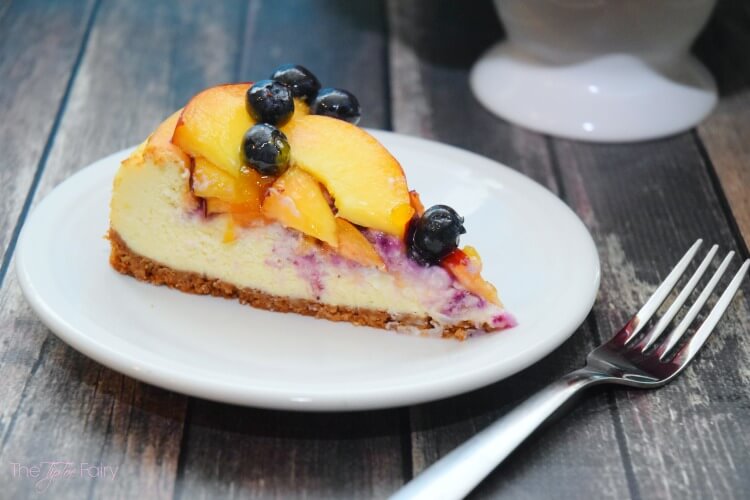 This cheesecake is absolutely heavenly! The walnut crust was the perfect buttery complement to the blueberry cheesecake and peaches. Everyone who had a slice just loved the combination of flavors. I think this is a new favorite in our house. I don't know if I'll ever make a regular graham cracker crust again after using walnuts.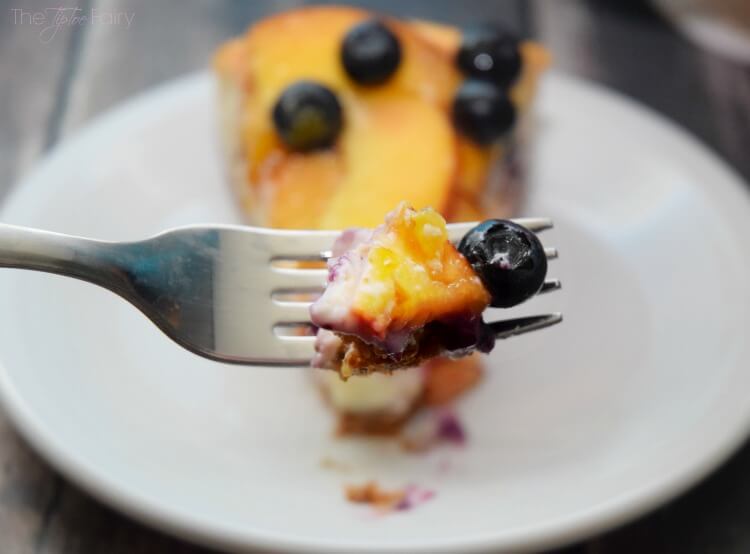 More Cheesecake Recipes
Blueberry Peach Cheesecake
Ingredients
Crust
2/3 cup California Walnuts, ground
2 tablespoons sugar
6 tablespoons butter, melted
1/3 cup graham cracker crumbs
(Use 1 cup walnuts and no graham cracker crumbs for gluten free)
Blueberry Compote
2 cups fresh blueberries
1 tablespoon cornstarch
1/4 cup sugar
1/4 cup water
1 tablespoon lemon juice
Cheesecake Filling
3 8-oz packages cream cheese, softened
1 cup Greek yogurt OR 1 cup sour cream
1 cup sugar
2 tablespoons flour (OR 1 tablespoon cornstarch for gluten free)
1 teaspoon vanilla extract
4 eggs, lightly beaten
2-3 peaches sliced thin
1 cup blueberries
2 tablespoon peach jam
Instructions
Crust
Preheat oven to 350 degrees.
Pulse walnuts in a blender or food processor just until ground.
Combine walnuts with graham cracker crumbs (or just walnuts for gluten free), melted butter, and sugar. Press into the bottom of the 9-inch spring form pan.
Bake for 10 minutes.
Remove from oven and cool completely
Blueberry Compote
Combine 1 cup of blueberries with lemon juice, water, and cornstarch over medium heat.
Stir occasionally for 2-3 minutes until thickened.
Add 1 cup of blueberries to the compote and turn the fire off.
Allow to cool completely.
Cheesecake filling
Allow the cream cheese to soften for at least 2 hours.
Beat the cream cheese in an electric mixer with a paddle attachment
Add sugar and yogurt (or sour cream), vanilla, and flour (or cornstarch for gluten free) and mix until combined.
Add one egg at a time until just combined.
Pour over crust.
Add spoonfuls of blueberry compote to the top and swirl with a knife.
Bake or 1 hour. Then, cool for an hour on the counter.
Run a knife around the edge of the pan to loosen gently.
Cool completely in the fridge for at least 6 hours or overnight.
When ready to serve, slice up 2-3 peaches thinly.
Mix the peach slices and 1 cup of blueberries.
Layer the fruit over the top of the cheesecake.
Warm up 2 tablespoons of peach jam and drizzle over the fruit.
Serve and enjoy!
More Cheesecake Recipes