[disclaim]This is a sponsored post on behalf of Blue Apron. All opinions are 100% my own. [/disclaim]
I am a podcast addict, and all my favorite podcasts have been talking about how awesome Blue Apron is. I have been dying to try out this meal service and see for myself, so you can imagine how thrilled I was when I got the chance.
My main concerns were if all the ingredients came with the meals and if they would deliver to where we live, which is very rural. I didn't have to worry about either! Shipping is free nationwide! And, all I needed from my kitchen was salt and pepper and olive oil.
The subscription is week to week, which the option to skip a week if needed. For each subscription you get 3 meals and can choose a plan for 2 people or a family of 4. Since we were trying it out, and I wasn't quite sure what it would be like, I chose 2 people.
When you order, you can choose what types of meats you prefer. One thing I liked was that you could change the meals even after you ordered. They have a small selection you could switch out. Another thing I liked was that it gave clear dates on when you needed to choose to skip a week, change meals, or even cancel if needed, and you can set your own delivery day. When I ordered I opted to keep the original meals.
I'll be honest — I wasn't sure what to think about the meals coming. I can be a picky eater, and they looked a little weird from our usual meals. Here's what we got:
Seared Pork Chop with Fig Compote
Spicy Miso Chicken Wings with Purple Rice & Zucchini Salad
Steakhouse Salmon with Thymed-Seasoned Potatoes, Green Beans, and Mushroom
We actually weren't home when the box arrived, which was a little worrisome here in the Texas heat. But, when I opened it, there were two huge ice packs keeping everything cool. The ingredients were all fresh and cool, and the ice packs were still frozen.
I loved that they each meal is full of fresh food and veggies. Plus, if you do order, you get different meals for an entire year, nothing is repeated. I felt good making these meals for my family. I knew they were getting healthy ingredients.
We are a family of 5, so I actually made all the meals for one dinner, and we had a tasting party. By itself, each meal took about 30-40 minutes from start to finish. This is not prepackaged food. You have to prepare the ingredients from chopping veggies to preparing fresh herbs.
The first meal I made was the Steakhouse Salmon and the veggies that went along with it. Salmon is one my son's favorite foods, but I've always been a little afraid of cooking it. This definitely gave me confidence to cook salmon at home because it came out so delicious. Everyone loved it – the kids, my husband, and even me! My favorite of that meal was the veggies that went along with it, which was fresh green beans, mushrooms, and diced gold potatoes that were mixed in a tangy mustard dijon vinaigrette that just popped in your mouth.
All of the kids LOVED the Spicy Miso Chicken Wings. In fact, there was enough chicken wings for 3 people to have their own entire serving. My personal favorite was the purple rice and zucchini salad. It was delicious. It was like a stir fry and so tasty. I think it was my favorite from all the meals.
I cook often for my family, but this was a good education. These were fairly complex meals, but with ingredients that went together easily. The directions are excellent with easy to follow steps and photos. I really feel like if you've never done much cooking before, this will give you confidence. This would be the perfect thing for a new millenial out on their own. You don't have to hunt around for ingredients because it's all there and pre-measured for you!
Two of my husband's favorite foods are figs and pork chops, so I saved the Seared Pork Chop and Fig Compote for him. He really liked the combination of the flavors. He said he was surprised by the kale. He likes kale but said he's never tasted it so delicious with a buttery flavor.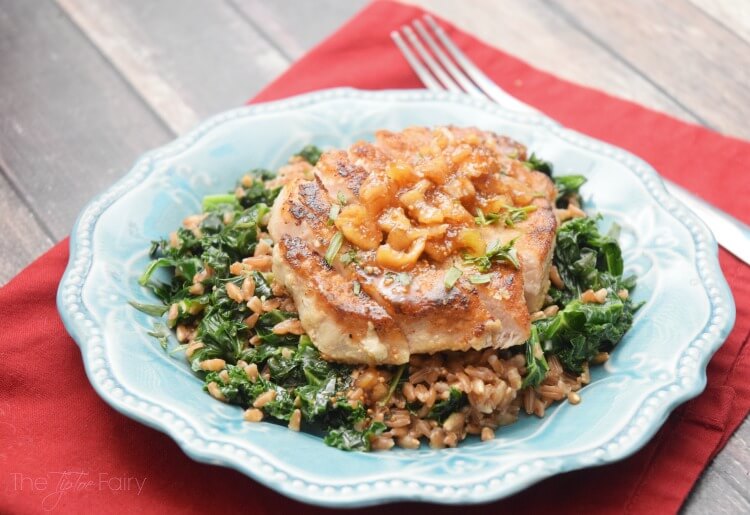 I was pleasantly surprised at how much everyone enjoyed these meals. They are really delicious, and I love that you don't get a repeat meal for an entire year. This would definitely cut down on our eating out.
One other thing I really liked was that all the packaging is either recyclable, biodegradable, or reusable. There were some cute little bottles with sauces and vinegar that I kept to use again.
Surprise! I've got a deal just for my readers! You can get 2 free meals with your order! Click HERE to order!
Try it out for a week! If you find it's not for you, it's super easy to cancel an order.