These cookies are made from an old recipe that's been around for decades. Rich with butter and sugar, Belgian Waffle Cookies are baked in a waffle iron to create a totally new take on dessert. They're a hit at get togethers and make great gifts too! This post contains affiliate links.
Right off the bat I need to tell you this recipe has nearly FOUR sticks of butter. Well, really 3 1/2 sticks of butter. That is a heck of a lot of BUTTER! Right? When you put the little balls of dough on the waffle iron, they immediately begin to sizzle from all that butter. But, man oh man, they are so good!
What do you need to make Belgian Waffle Cookies?
flour
butter (3 1/2 sticks!)
eggs (6 eggs!)
sugar
baking powder
vanilla extract
salt
How do you make Belgian Waffle Cookies?
First off, let me see that these cookies come out amazing. I have given them as gifts many times. They are perfect to dip in chocolate and add sprinkles and then package up into cute little bags.
First, melt the butter and set aside.
Then, mix all the dry ingredients together in a large bowl.
Using an electric mixer on low speed, add 1 egg at a time and incorporate it before adding the next egg.
When all the eggs are added, slowly add the butter, pouring a small amount at a time and incorporate it.
Then turn the electric mixer up to medium speed and beat for 1 minute.
Cover the bowl with plastic wrap and put it in the fridge for an hour.
One of the last steps is adding the butter, and the cookie dough really turns into goo at that point.
The first time I made them I was a bit worried I was doing something wrong. But, after chilling for an hour in the fridge, it turns into the typical consistency of cookie dough.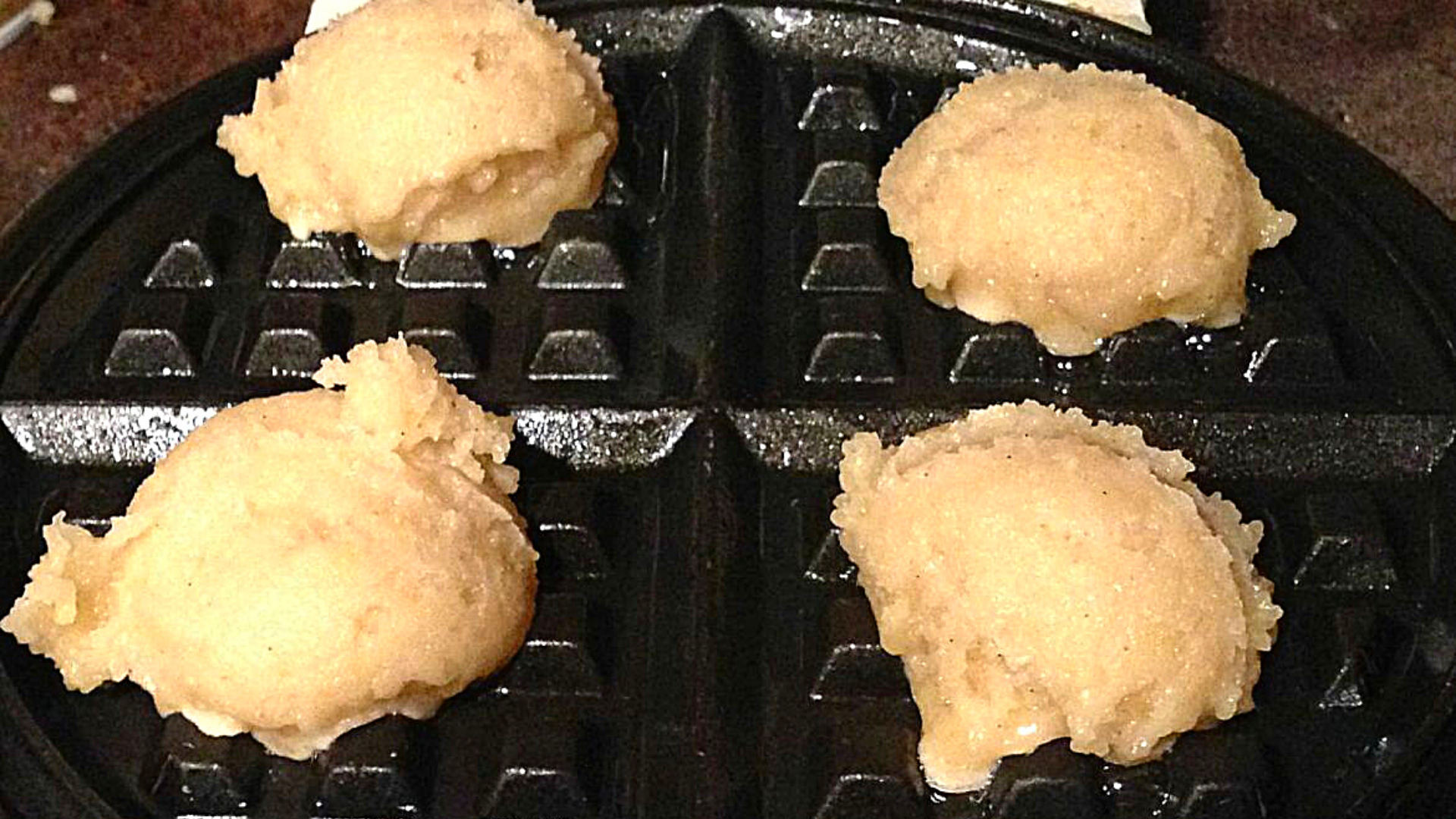 Use a medium-sized scoop for each cookie. Then place each one on a section of the waffle iron.
Cook until they are golden brown. Then, gently remove the cookies with a fork.
How do you decorate Belgian Waffle Cookies?
It's easy to turn these into fancy cookies by dipping them halfway into chocolate or candy melts.
But, you don't need to dip them. They are quite delicious all by themselves.
I like to use Ghirardelli melting wafers. They melt beautifully and are perfect to dip these cookies (or any cookies!) and then dip in some sanding sugar and nonpareils sprinkles.
Before you dip the cookies, make sure you pop them in the freezer for a minimum of 15 minutes But, you don't need to dip them. They are quite delicious all by themselves.
Ingredients
4 cups flour
1 3/4 cup (3 1/2 sticks) of butter
1 1/2 cups sugar
6 eggs, room temperature
1/2 tsp baking powder
1 vanilla bean or 1 tsp vanilla extract
pinch of salt
Instructions
Slowly melt butter on the stove top.
Add flour, sugar, baking powder, salt, and vanilla bean to mixing bowl and mix on low speed.
Turn mixer up to medium low and add 1 egg at a time.
Pour in butter slowly.
Mix on medium for 1 minute. '
Cover the dough and refrigerate for 1 hour.
Use a medium scoop and make 4 balls - 1 for each section of waffle maker.
Cook until golden brown. I removed them gently with a fork.
More Cookie Recipes
Looking for more delicious cookie recipes? These are a few of my absolute favorites: