This Snuggle Bunny Lovey Doll pattern is very similar to my Simple Lovey Doll sewing pattern, but this one turns into a rabbit with long ears (or it could be a puppy). This post contains affiliate links.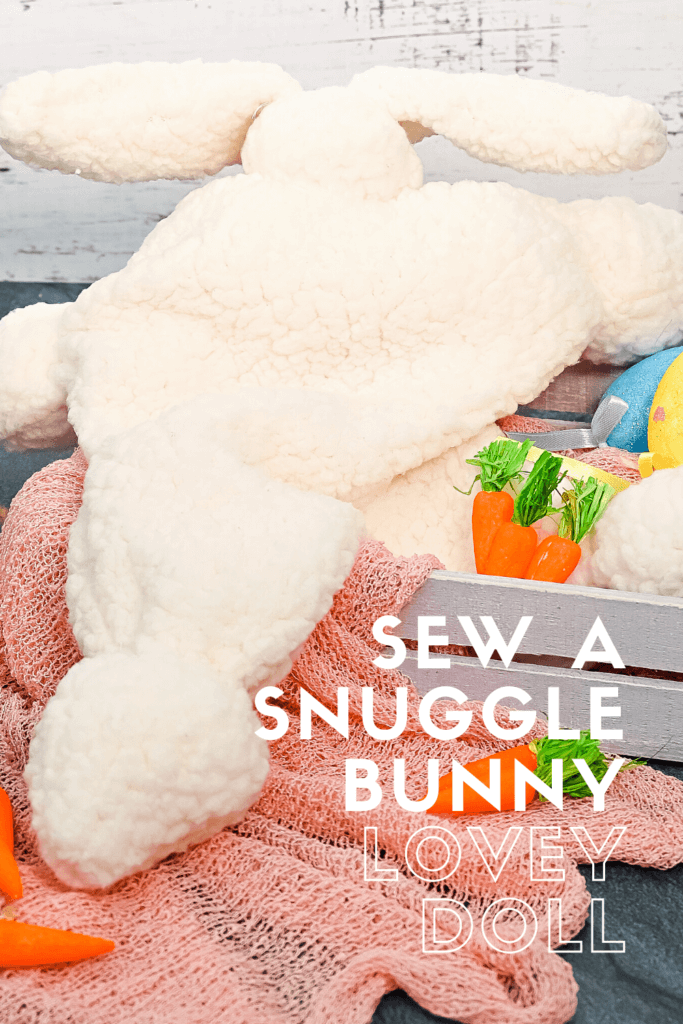 I have been making loveys for my kids and baby gifts since I become a mom 22 years ago.
What kind of fabric do you use to make a Snuggle Bunny Lovey Doll?
I've made these kinds of loveys from all kinds of organic knit like organic cotton, bamboo, hemp, etc.. I've also made them from regular thick knits like cotton fleece fabrics like sherpa and velour, synthetic fleece fabrics like polar fleece, but the most popular is a fabric I've seen called a variety of things – flurr, minkee or minky, and cuddle fleece fabric. It's a plush and incredibly soft microfiber fabric. It comes in so many bright and beautiful colors and you can find it at the local fabric store.
Personally, I like to stick with organic or natural fibers like cotton and hemp since my babies and toddler tend to suck on the dolls.
How long does it take to make a Snuggle Bunny Lovey Doll?
These are dolls you can make very quickly. The first time it might take you an hour, but after that you can whip one out in approximately 30 minutes. They are great for baby shower gifts. People will definitely ooh and aah over it.
They are easy to make from just scraps. I like to stuff them with wool stuffing or wool roving, but you can easily use cotton stuffing or polyfil. Wool stuffing is great for waldorf-doll making because it's a natural product. Plus, it holds your body heat and your scent when you need to lay baby down. The downside to wool stuffing is that if you wash the doll, it will felt and get smaller and won't be fluffed anymore.
When my babies are tiny, I will tuck the lovey under my neck for a couple minutes and then lay it near them, and they keep mommy's scent and warmth right by them. Then, I can get a few minutes to take a shower or get something done.
So, let's make one!
Download the Sewing Pattern
Snuggle Bunny Lovey Doll
Materials:
1/2 yd of knit material – fleece, hemp fleece, sherpa, velour, minkee, etc – any soft thick knit
6 x 6 inch piece of same knit material
a couple big handfuls of stuffing
needle and matching thread
6-inch piece of string or thread, or yarn
Cut out the pattern pieces.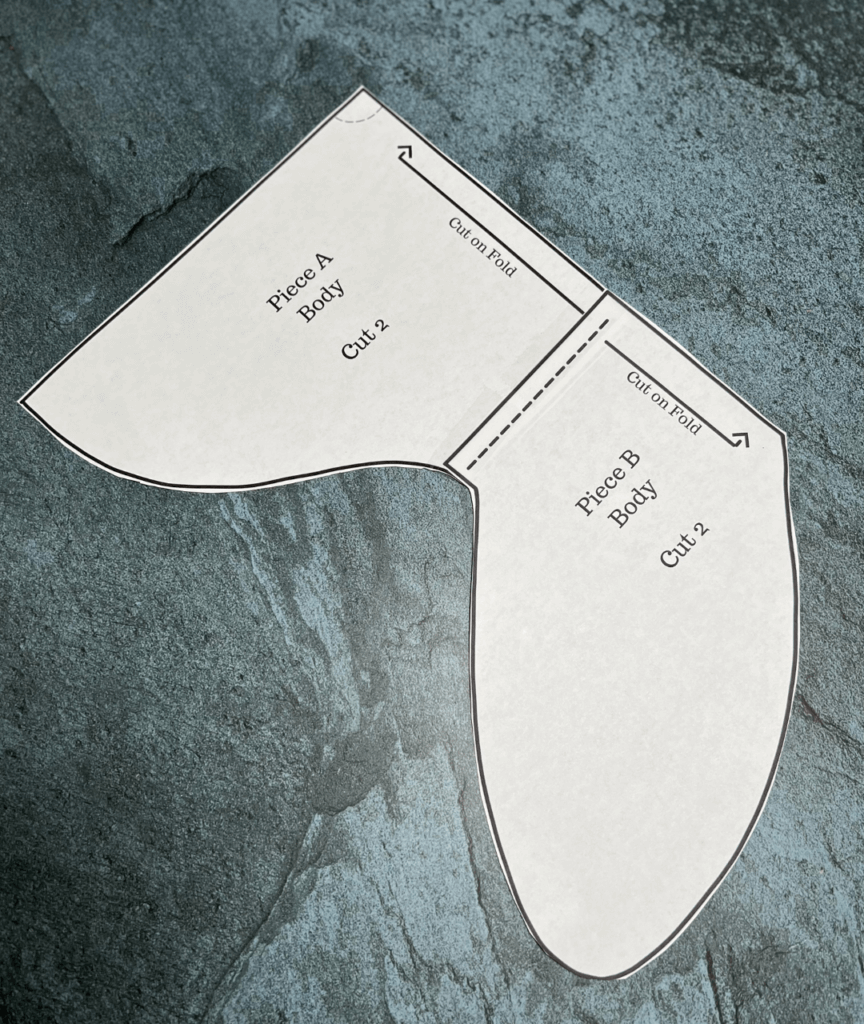 Make sure to tape the body pattern together after cutting the pieces out.
Cut 2 of the body pattern and 2 of the bunny ears.
For the head, cut a square of the same fabric 6 x 6 inches in size.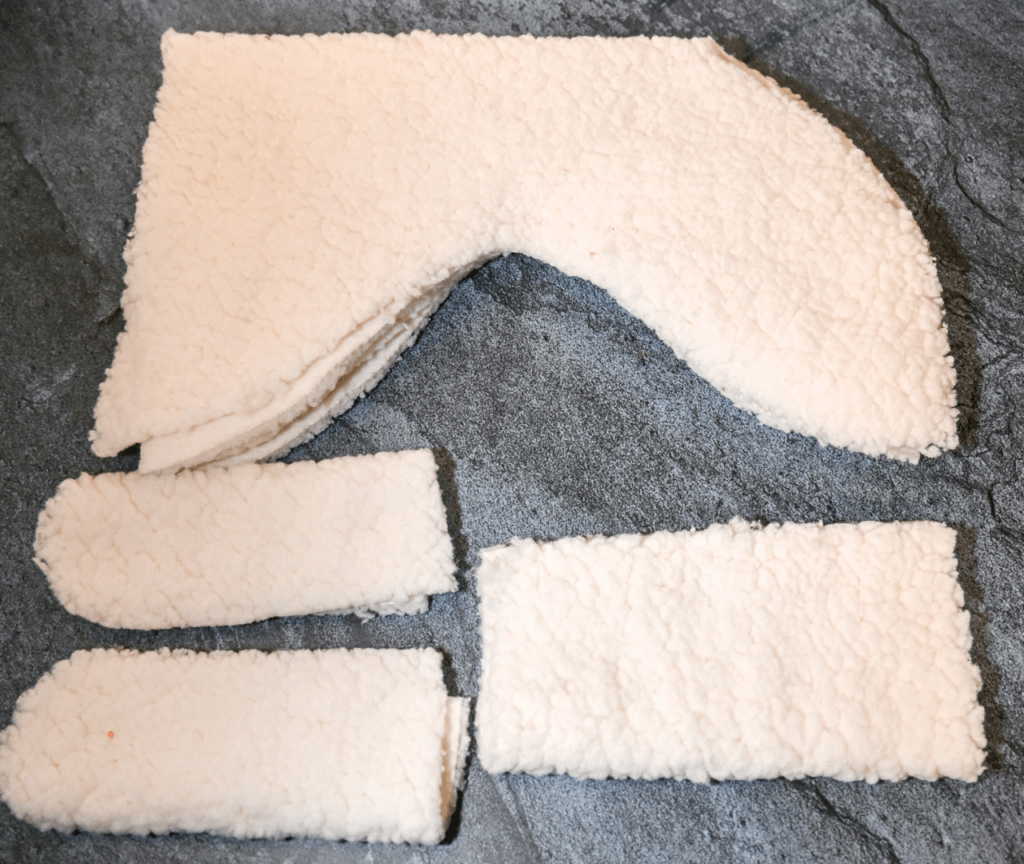 With right sides together, sew the body together except at the neck, where marked on the pattern. Flip the body right side out.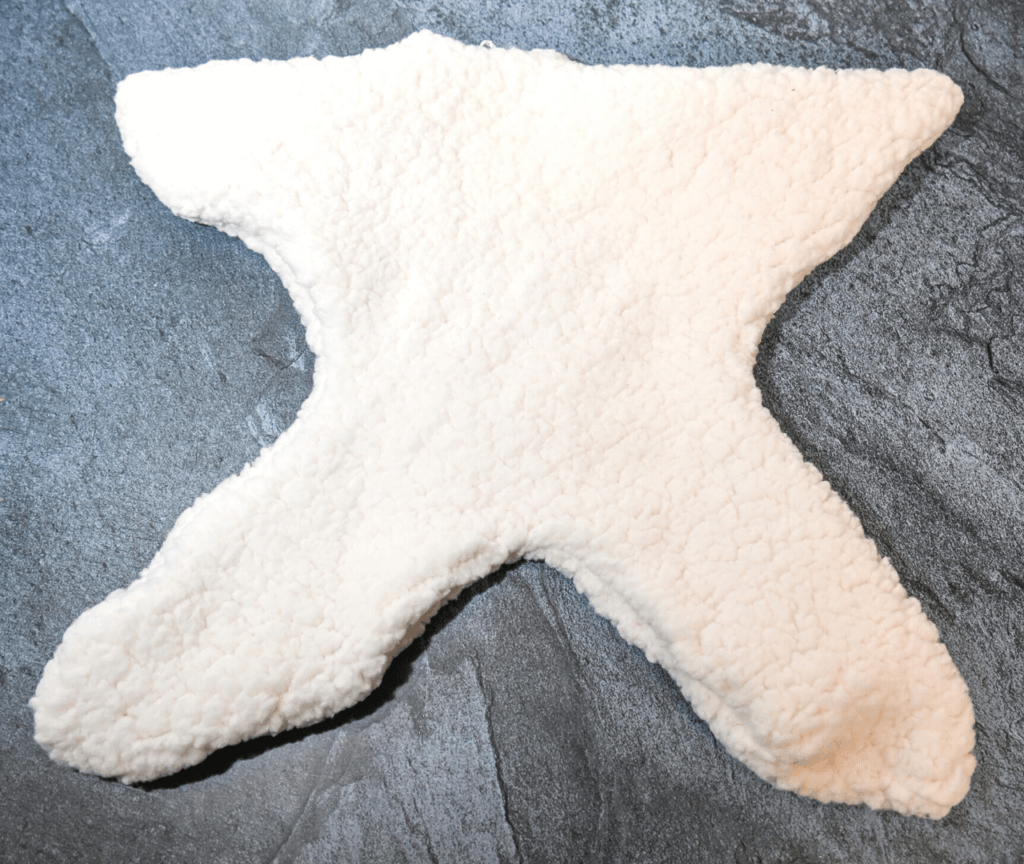 Fold the bunny ear with right sides together and sew, leaving the bottom open. Do this for both ears.
Then, flip the ears right side out.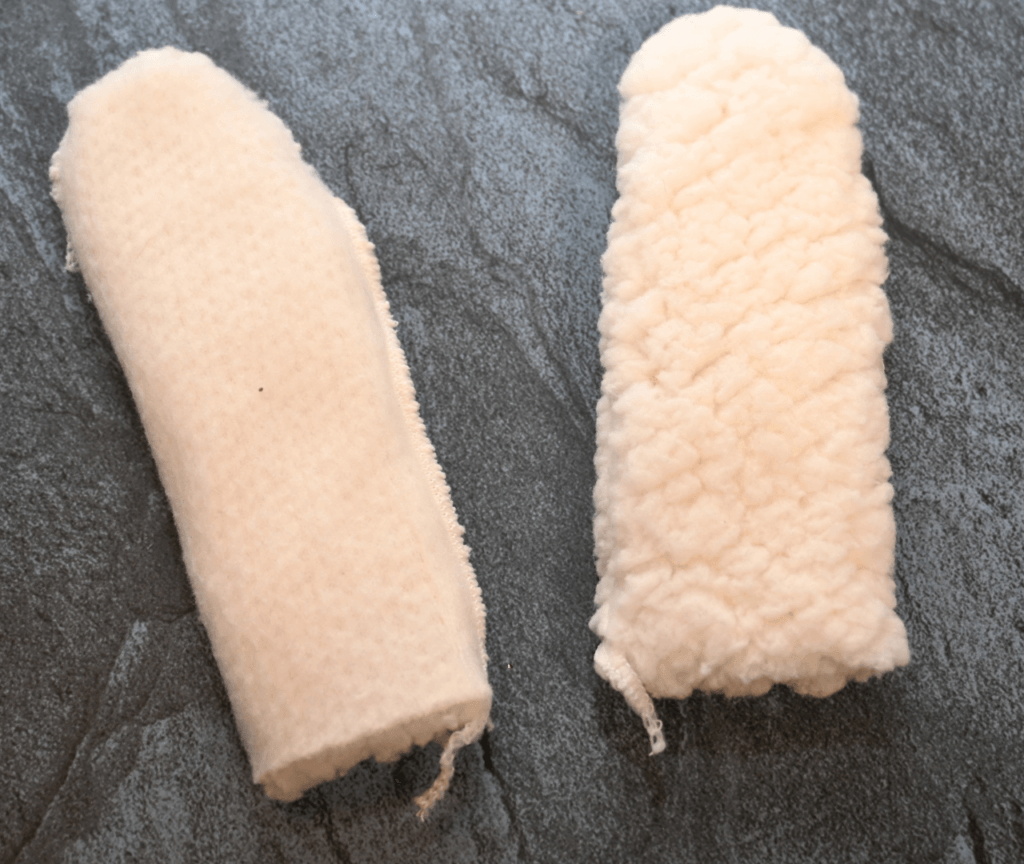 Lay the 6 x 6 inch square open flat and add a ball of stuffing in the middle.
Gather the square up around the ball and wrap the cotton string around it tightly and tie off. This forms the head.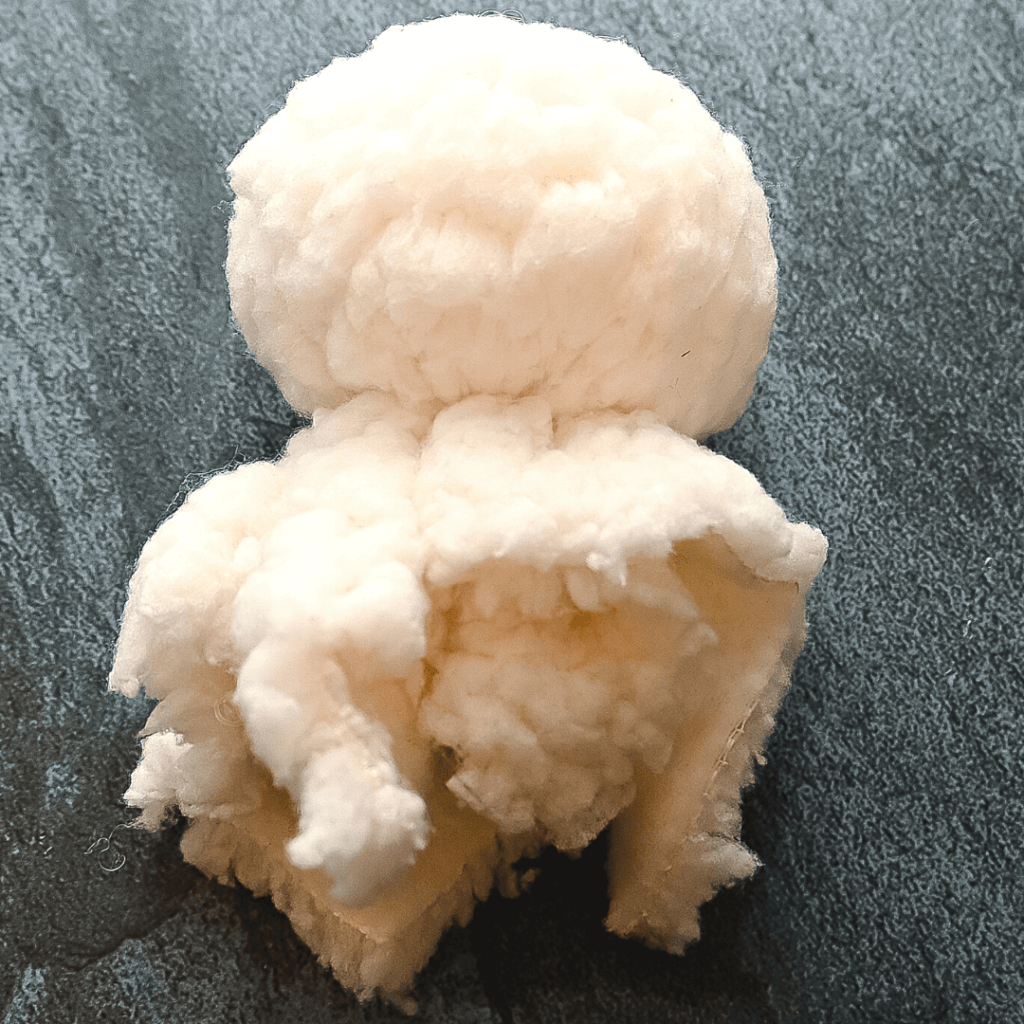 Fold the open bottom corners of the ear up and inward as shown. Pin in place. Do this for the second ear as well.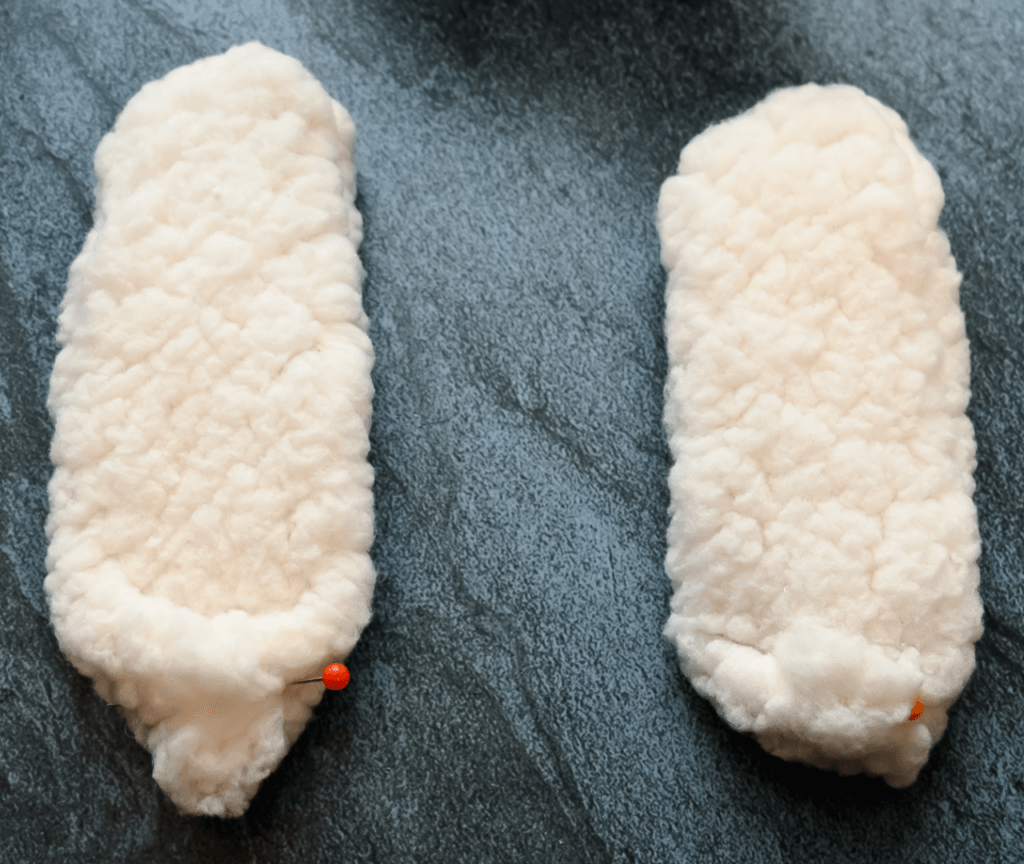 Sew along the raw open edges where the corners meet together. Do this for the second ear as well.
Pin the ears on top of the head where you would like them.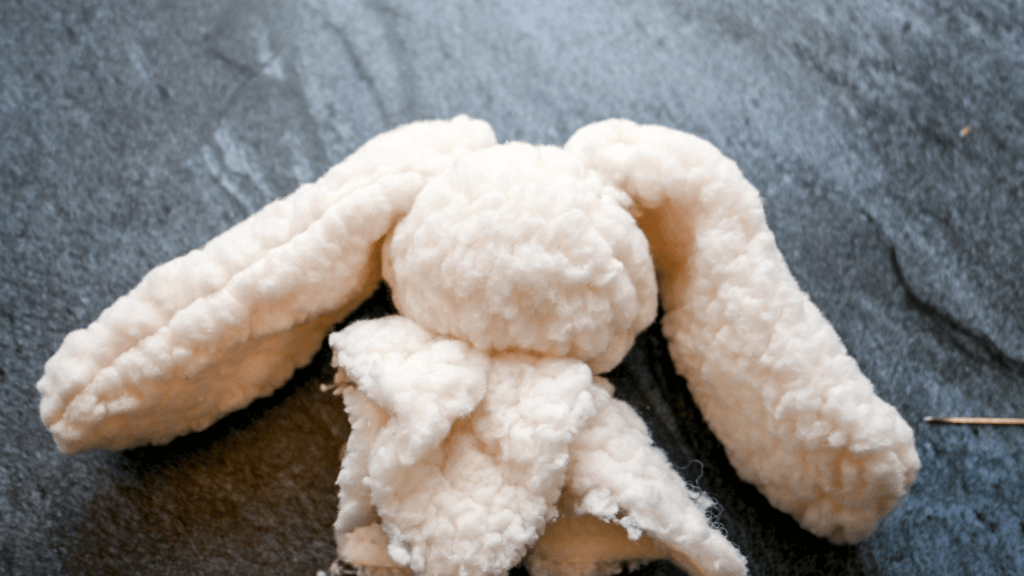 Keep the ear pinned in place and flip it upward and sew the raw edge underneath the ear to the head securely.
Then flip the ear down and sew it securely to the head.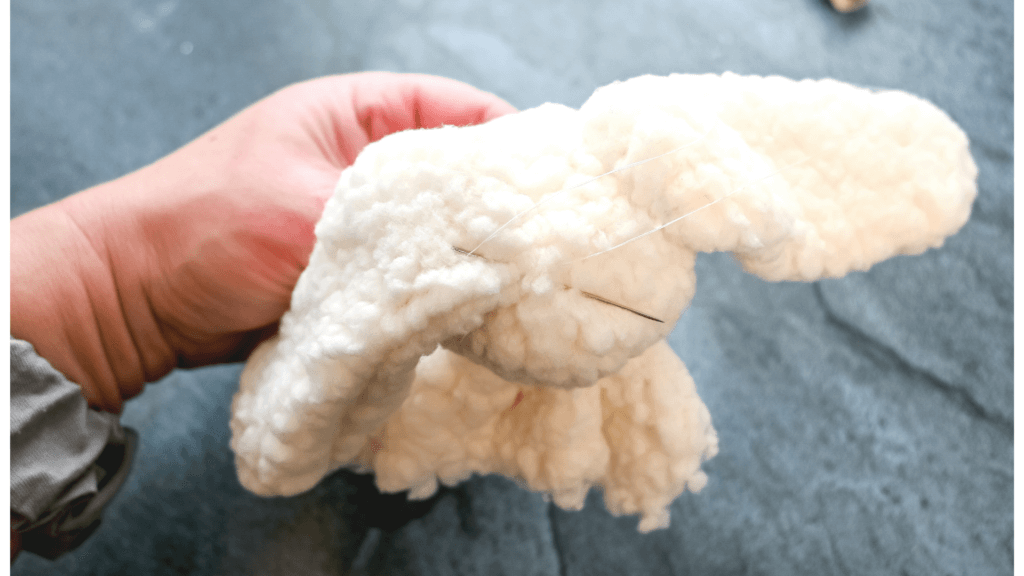 Put a little fluff of stuffing in each hand and foot.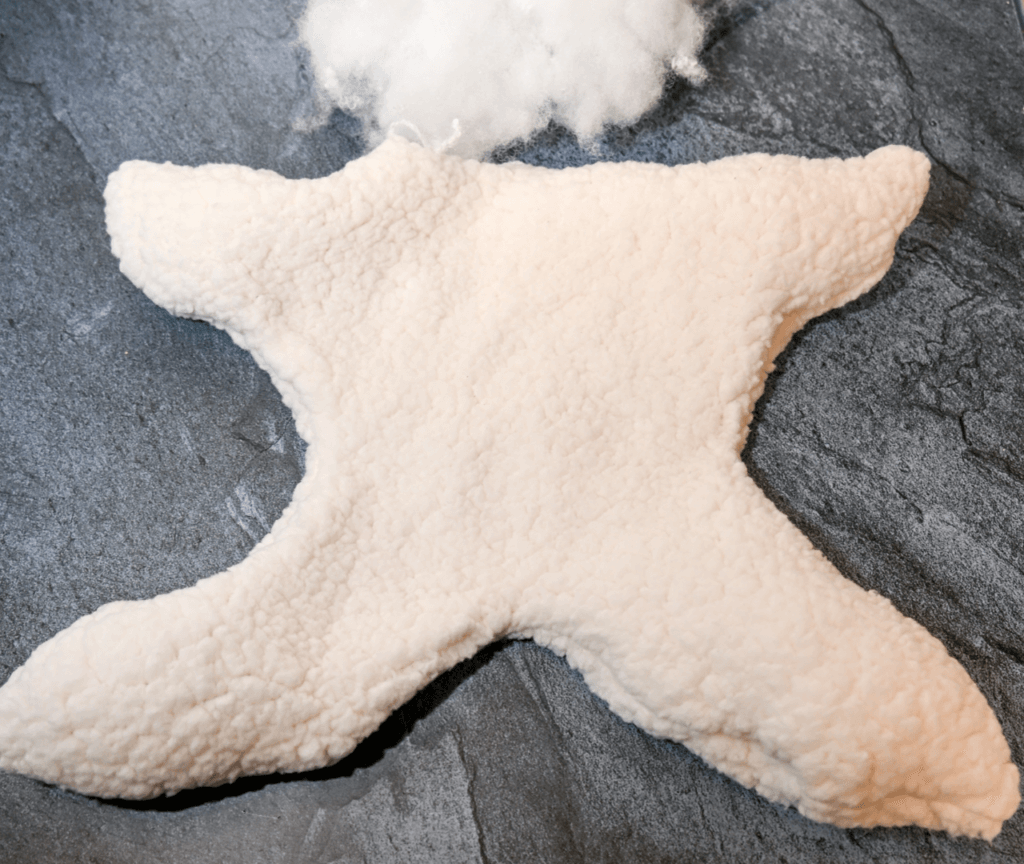 Sew a gathering stitch around each hand and each foot.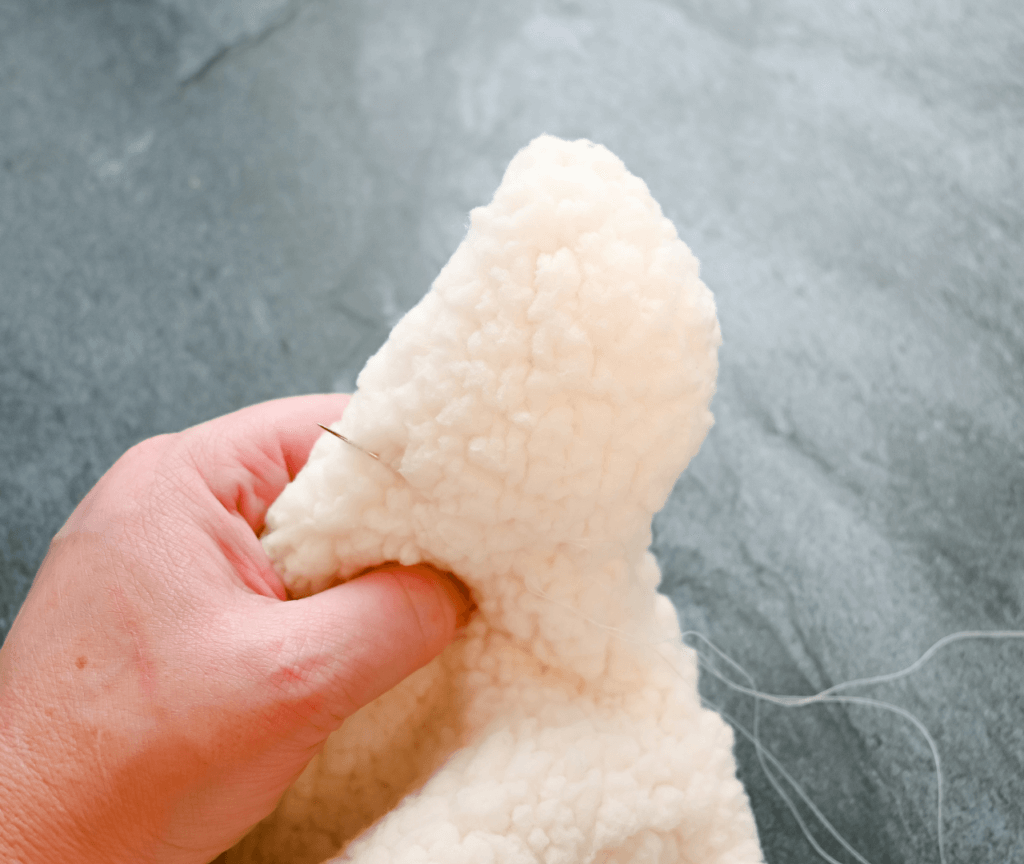 Pull the threads tight and tie off.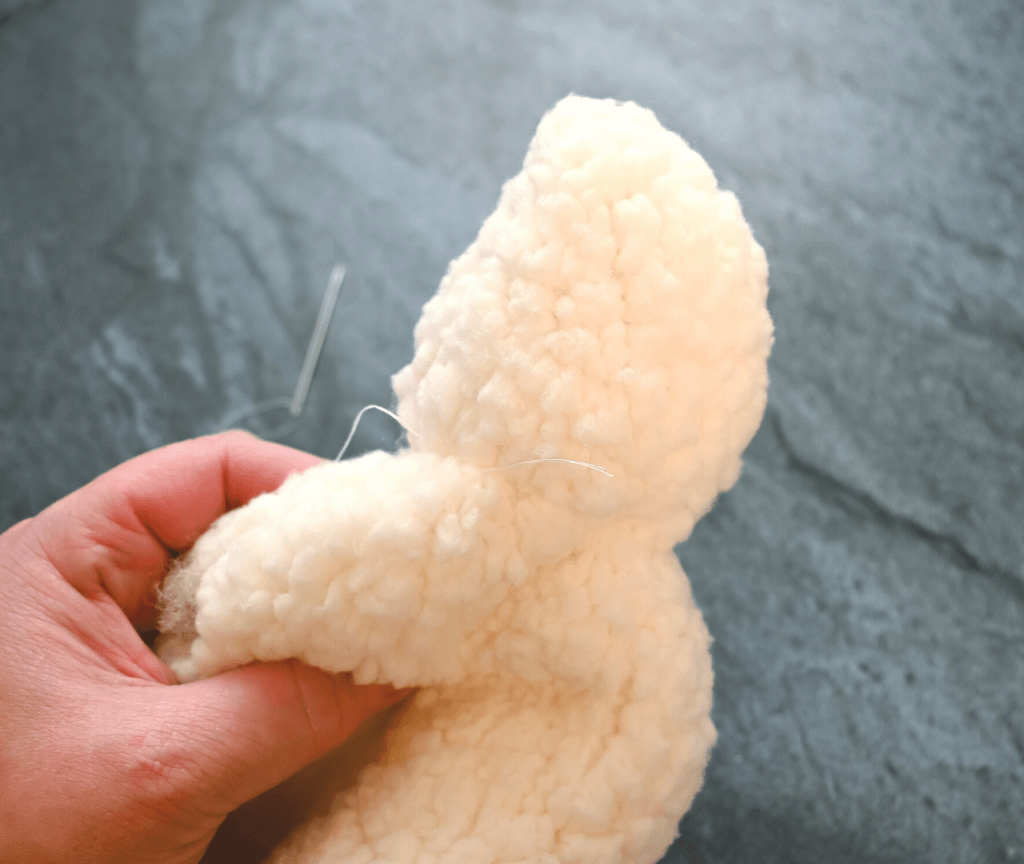 Insert the head into the body by folding the raw edges of the body inward and insert the neck all the way to the bottom of the head.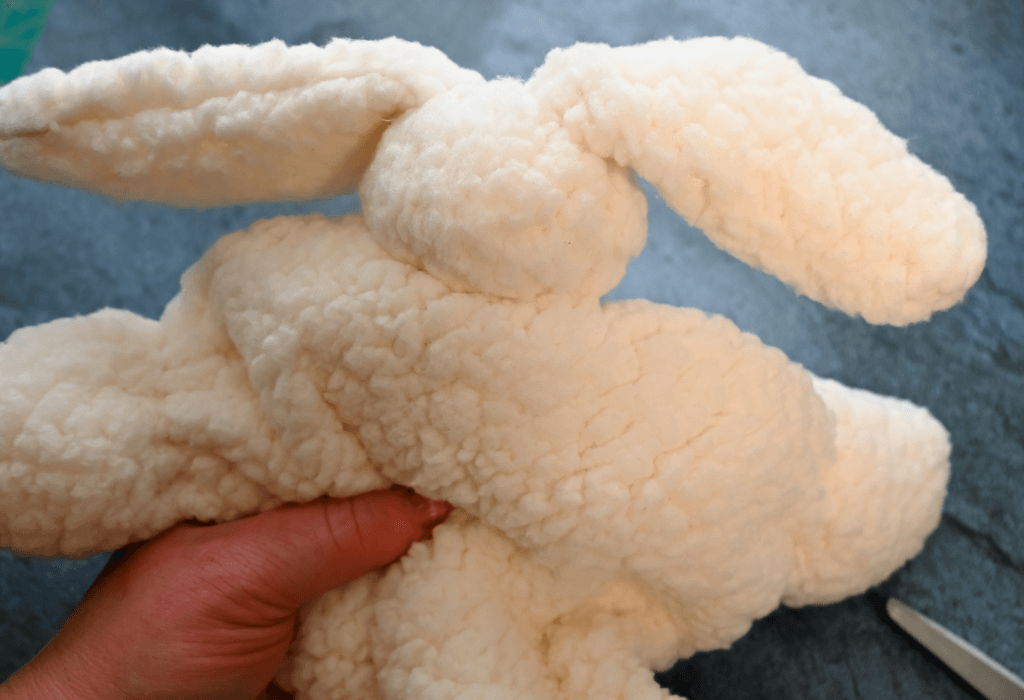 Whipstitch the shoulders if the opening is a little too big. This happens to me all the time.
Then, sew the bottom of the head to the body with small, secure whip stitches.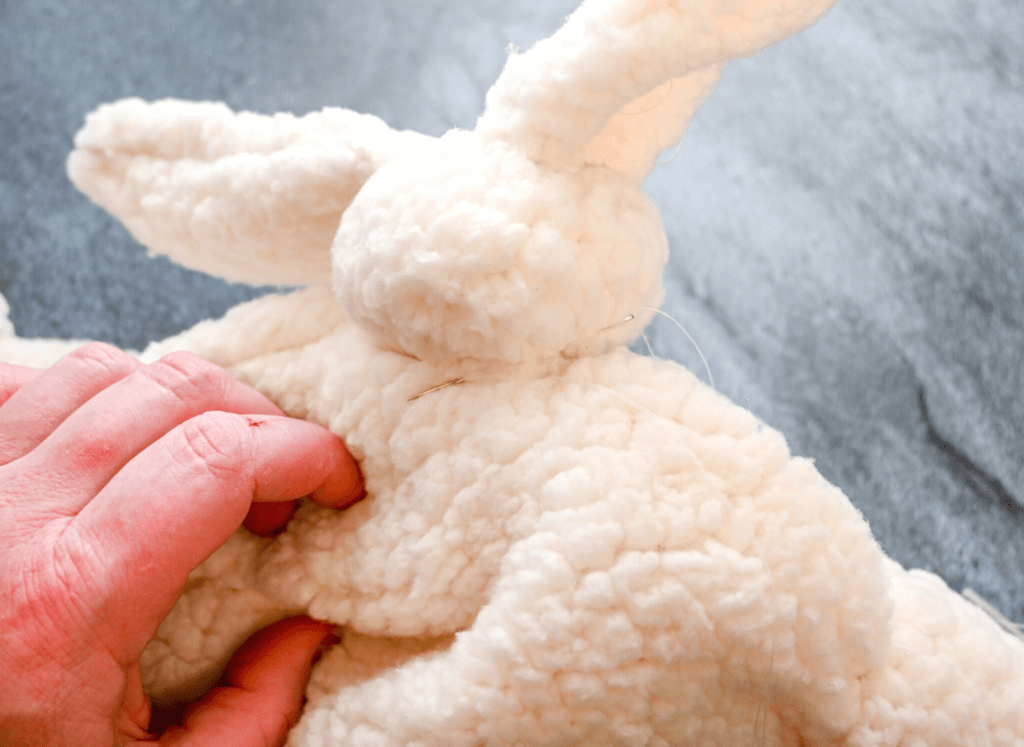 Now you're done!
Buy the Pattern + Instruction Sheets All Together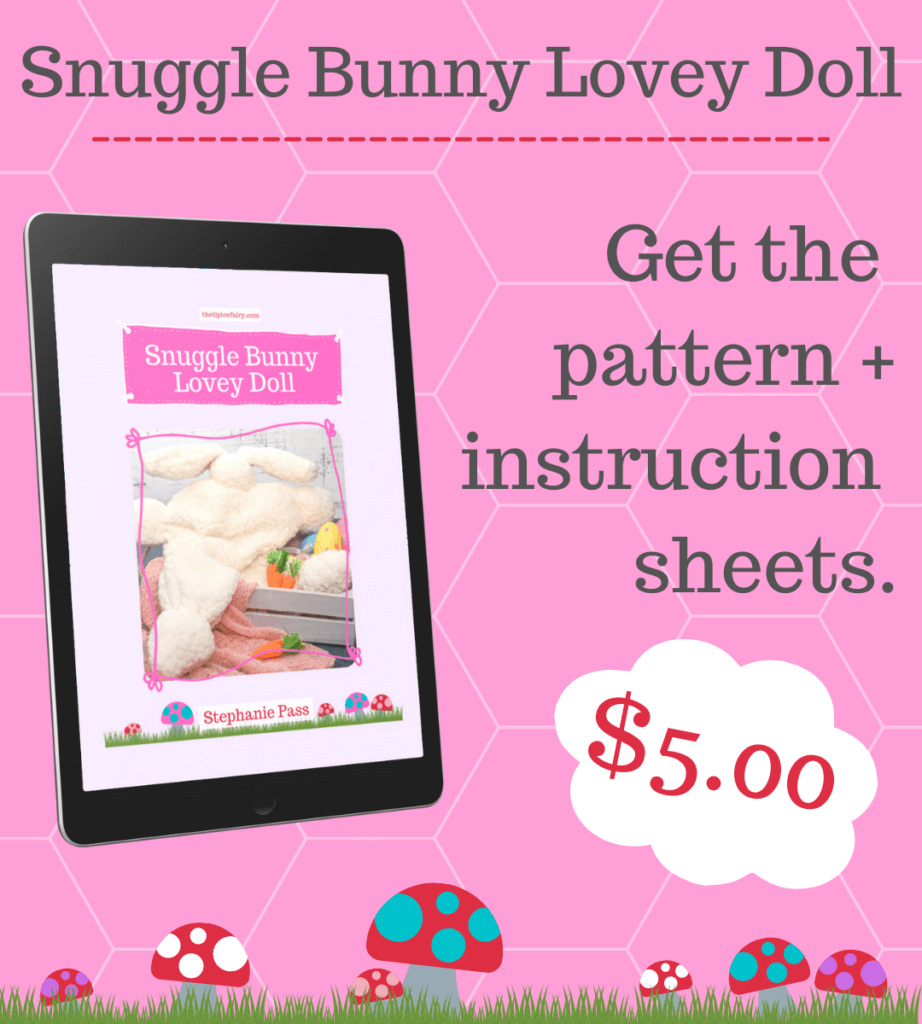 More Sewing Projects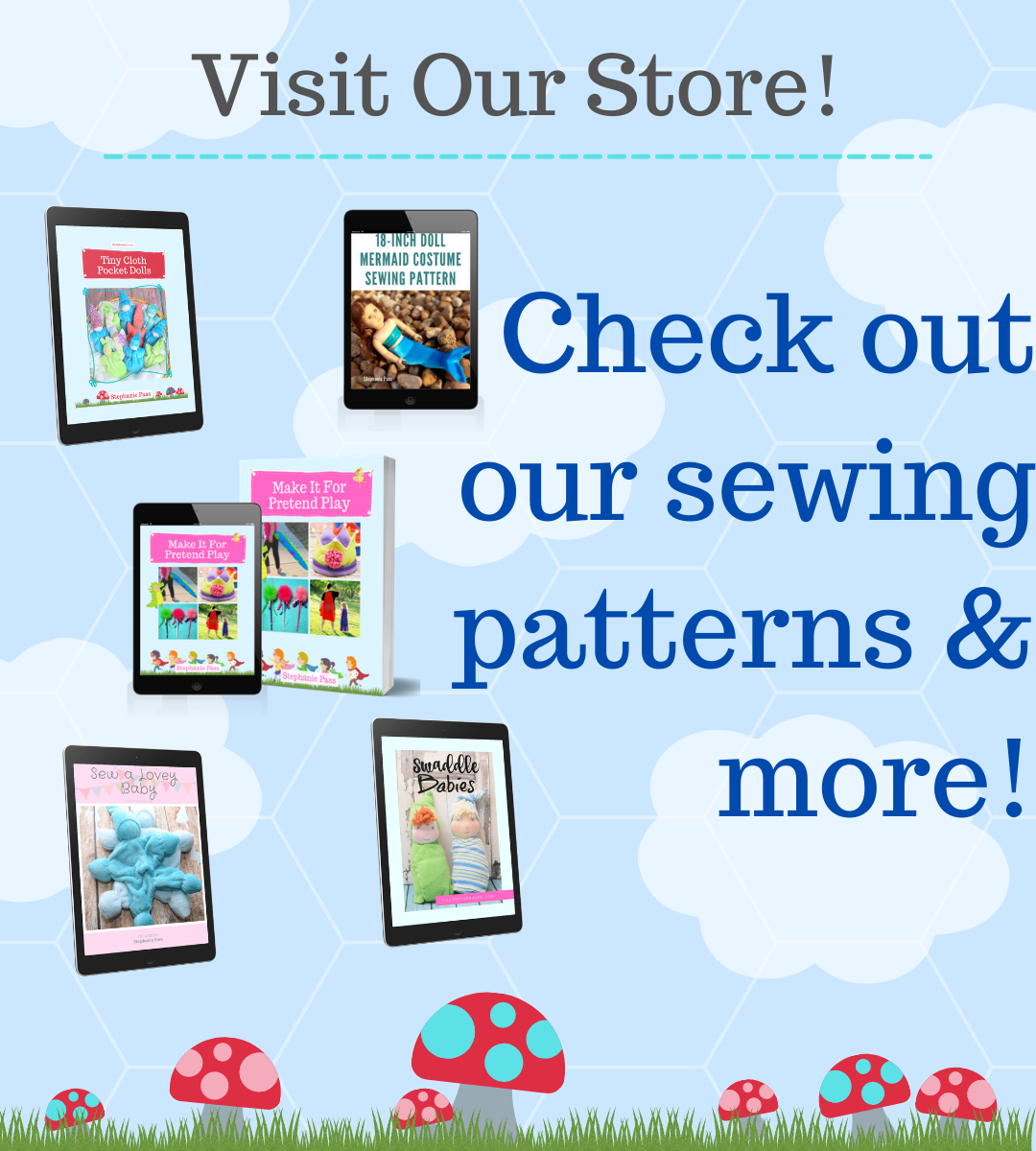 Come Join Us!
Liked this article and want more? Follow along on Instagram, Facebook, Twitter, Pinterest, TikTok, and YouTube!
Come over and join us on Facebook in the group Recipes, Crafts, and more with TipToe Fairy or Sewing and Crafting with The TipToe Fairy!
Visit Our Other Blogs!