Having a baby changes everything. When we had our newest baby, my youngest at the time was 7 years old. I had to get back in the groove of packing my bag with wipes, diapers, and a good changing pad.
She's our 4th baby, so I have a lot of experience with what works best for our babies when it comes to diaper changes. They tend to react to a lot of baby wipes, so we always look for the most gentle and sensitive wipes. I was excited to see Nice 'n CLEAN Baby Wipes available at H-E-B. They come in a variety of sizes from a big box to multi-packs and single packs, and they also have two different kinds – Green Tea Cucumber and Unscented/Sensitive.
Nice 'n CLEAN Baby Wipes
The sensitive baby wipes are now our go-to wipes for her. They are nice and thick and perfect for keeping my little one soft and clean. Plus, they are 100% plant-based fibers and use 99% purified water with no alcohol or dyes. The sensitive wipes are perfectly gentle to use on baby's face, hands, and her tiny little tushie, too.
They even made the packaging material quieter for easier nighttime diaper changes! I can't tell you how many times I've cringed at the loud noises from a package of baby wipes when I was changing my sleeping baby.
Laminated Changing Pad
One thing I always keep in my diaper bag is a laminated changing pad. Diaper changes can easily get messy. Before my baby arrived, I made a simple little changing pad using laminated fabric so I can easily just wipe off any mess with an extra baby wipe.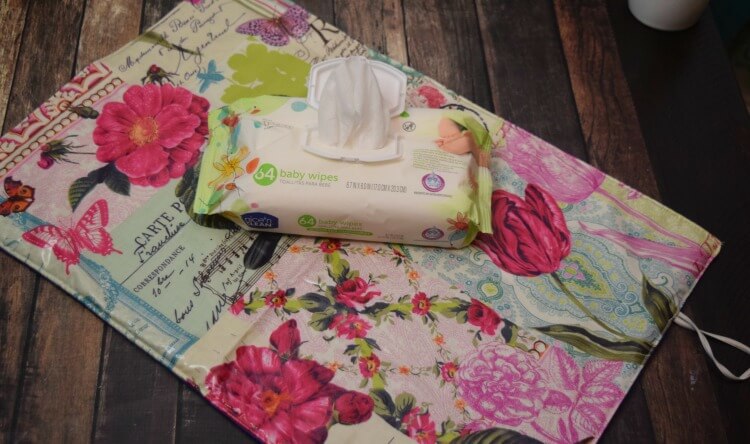 You can make this easy changing pad, too. I even designed it so I can hold the baby in one hand and roll it up and put it in my bag with just one hand.
There are few types of fabric you can find that are considered "laminated." For diaper changing pads, I look for just quilting cotton fabric that has been laminated, but you can also use oilcloth, PUL, or even tablecloth fabric — anything that's waterproof so you can easily wipe it off. Just search for "laminate fabric," and you'll find some super cute options.
DIY Baby Changing Pad
Supplies
1 yard laminate fabric
1 yard polar fleece fabric
1 yard coordinating quilting cotton fabric
thread to match
oval cord elastic
Directions
Cut a rectangle from each fabric about 25 x 17 inches.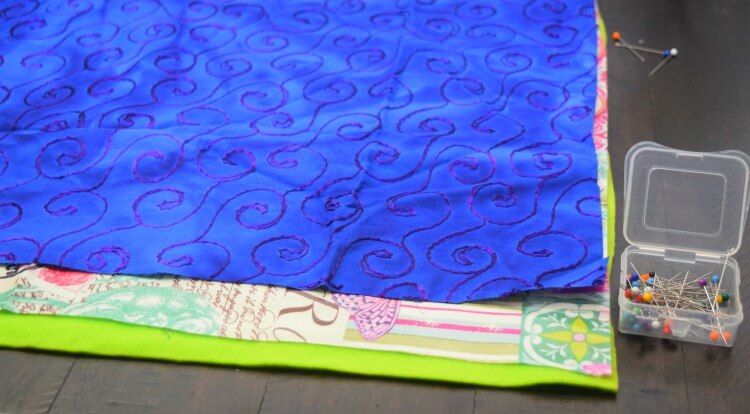 Layering the rectangles on top of each other like this:
polar fleece fabric
laminate fabric RIGHT SIDE UP
coordinating fabric RIGHT SIDE DOWN
Sew around 3 sides of the fabrics using a long straight stitch (due to the thickness). Leave one of the small sides completely open. If you have a serger, you could also sew the three sides with it.
Turn the changing pad right side out. Now the laminate fabric should be on top, the polar fleece should be the "batting" in the middle, and the coordinating fabric should be on the bottom with the right side facing down.
Next, take the open short side and fold the raw edges inward along the whole length and pin along the way.
Take a 9-10 inch piece of the oval cord elastic and insert it into the folded edge about halfway between the middle of the changing pad edge and the edge of the changing pad. It's about 1/4 from the edge.
This way when it's time to put up the changing pad, you'll fold it in half lengthwise and roll it up, and the elastic will be right in the middle of that to hold it shut.
Sew the folded edge with a long straight stitch. When you get to the elastic make sure to backtack at each raw edge of elastic to hold it sturdy. Then, continue along the other three edges and top stitch all the way around.
That is it! You're already done!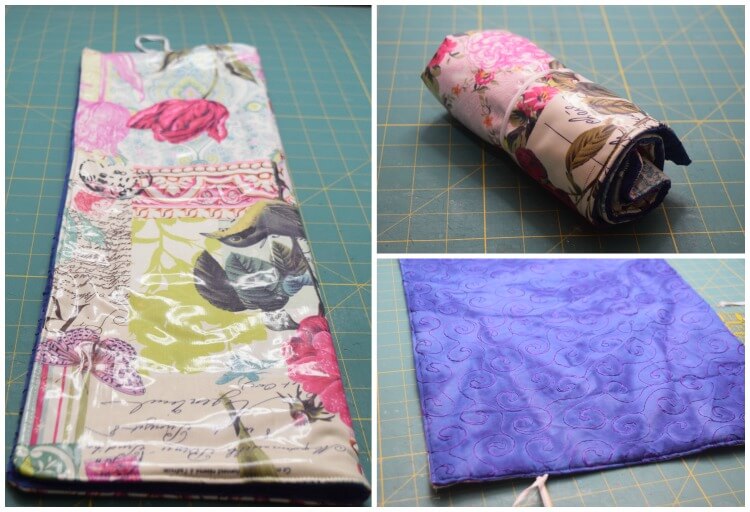 Fold the changing pad in half lengthwise and roll it up and secure it with the elastic.
OPTIONAL: If you would prefer to tie the changing pad closed instead of just popping the elastic down on the roll, you can add two ribbon ties instead. Add 2 9-inch pieces of grosgrain ribbon in the exact same spot as the elastic. The changing pad will fold the exact same way and roll up and tie closed. Personally, I find the elastic much easier because I can usually do it one-handed.
Where to find Nice 'n CLEAN Baby Wipes
Head into your local HEB to purchase Nice 'n CLEAN Baby Wipes today! You're going to love how nice and clean they leave your little one's tushie!
Looking for more easy sewing projects?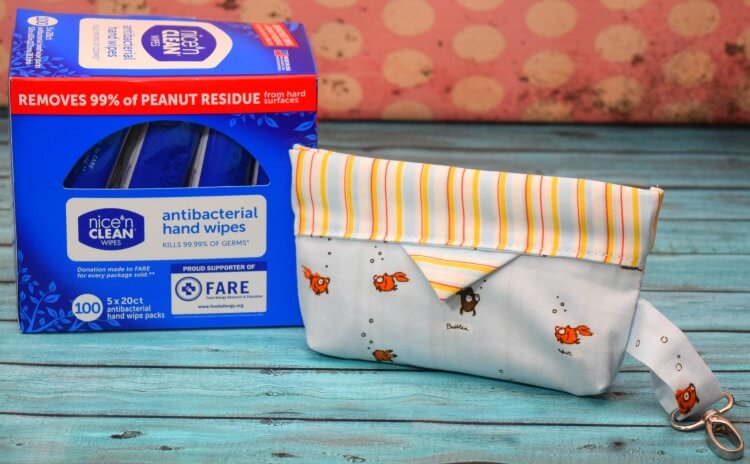 Check out this DIY Snappy Wipes Pouch.
This post is part of a social shopper marketing insight campaign with Pollinate Media Group® and NicePak, but all my opinions are my own. #pmedia #NicenCleanatHEB http://my-disclosur.es/OBsstV