This is a sponsored post. Today, I've got an easy tutorial to make a Snappy Wipes Pouch so you can always keep your hand wipes nearby.
There's even a clip to attach them. Is your diaper bag or purse a black hole? Mine is, so it's much easier to find something that is attached to my bag.
I used to keep a bottle of hand sanitizer with me all the time. But, being a mom with four kids, I now prefer hand wipes instead of gels because hand wipes can kill 99.99% of germs. They also do a much better job at removing dirt and bacteria from hands and surfaces. You can't clean their hands and wipe down a fast food table with just gel, but you can with hand wipes!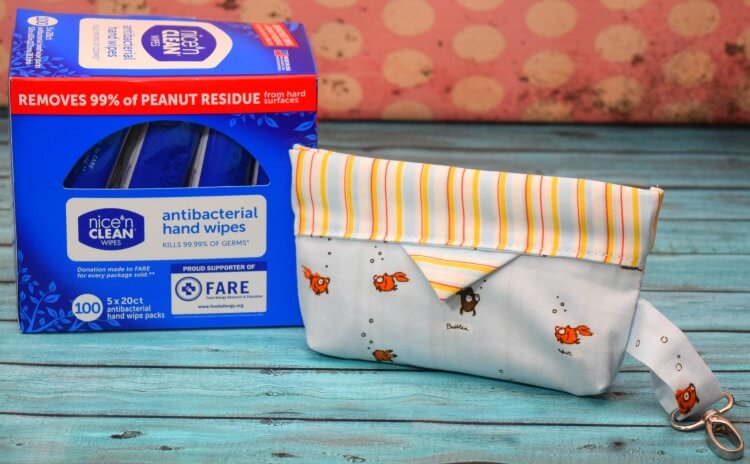 Now that I have a baby with food allergies, I am very aware of allergens when we are eating out. Did you know Nice 'n CLEAN Antibacterial Hand Wipes are proven to remove 99% of peanut residue from hard surfaces? I feel much safer wiping down the high chair and the table for my baby with hand wipes when we eat out.
Nice 'n CLEAN Antibacterial Hand Wipes support the Food Allergy Research Association (FARE) and 1% of every purchase of their hand wipes is donated to FARE. With food allergies becoming more and more prevalent, I'm glad they are supporting this cause.
Head into your local H-E-B to purchase Nice 'n CLEAN Antibacterial Hand Wipes 5 X 20 count Family Value Pack today!
Now let's get started!
Snappy Wipes Pouch
Supplies:
1/2 yd or 2 fat quarters of cotton quilting fabrics
an old metal tape measure
bad scissors
electrical tape
swivel hook hardware
Directions:
Carefully unscrew the measuring tape case. Hold the metal tape as you slowly open the casing because the tape measure can just start unwinding like crazy and will whip around! So, when you open the case, get your fingers on the roll of measuring tape and hold it wrapped up. When you take it out of the case, wrap some electrical tape tightly around it to prevent unraveling until you are ready to cut pieces.
Download the Cutting Guide
Use a 1/4 inch seam allowance.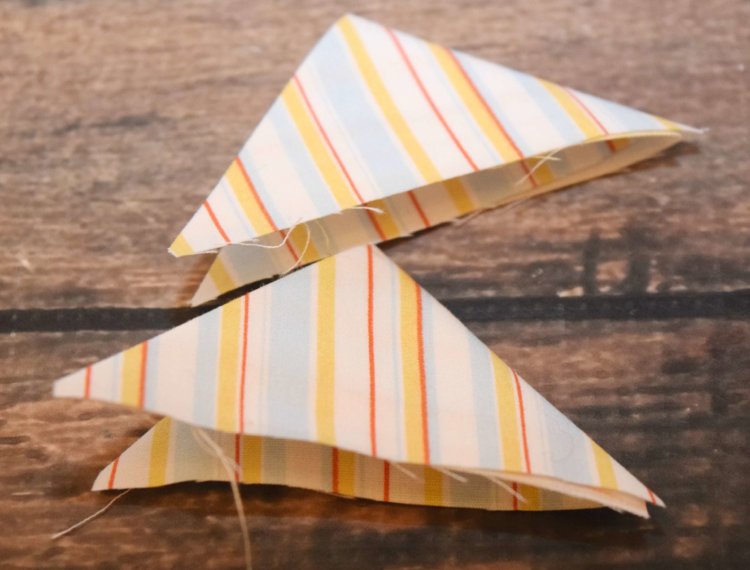 Take the 2 squares and press them in half diagonally. Then, press them in half diagonally again, so they look like the photo above. These are called prairie points in quilting. We are going to use them to open and shut our pouch. Set aside.
Take the two big rectangles and line them up with right sides together. Then, sew around the entire rectangle leaving about 1.5 inches open at the top of one edge so you can turn it right side out.
Turn it right side out and press. Make sure to press the raw edges of that little opening inward, so when you top stitch the casing for the measuring tape, it will be sewn shut.
Fold the 2.5 inch x 4 inch piece in half lengthwise (press if you'd like) and sew a tube. Then, turn it right side out and press it flat.
Take the tube and insert it into the swivel hook and fold over. Set aside.
The metal tape measure is about 1 inch wide, so measure 1 1/2 inches down and fold the inside of the bag towards the outside, both top and bottom, and press. This creates a casing for the tape measure.
In the very middle of each casing, pin a prairie point like the photo. Then, topstitch across with a 1/8 inch seam allowance making sure to catch the prairie point raw edge. If this is the same edge that has a small opening where you turned the bag right side out, make sure to catch those raw edges, too. Do this for the second casing as well.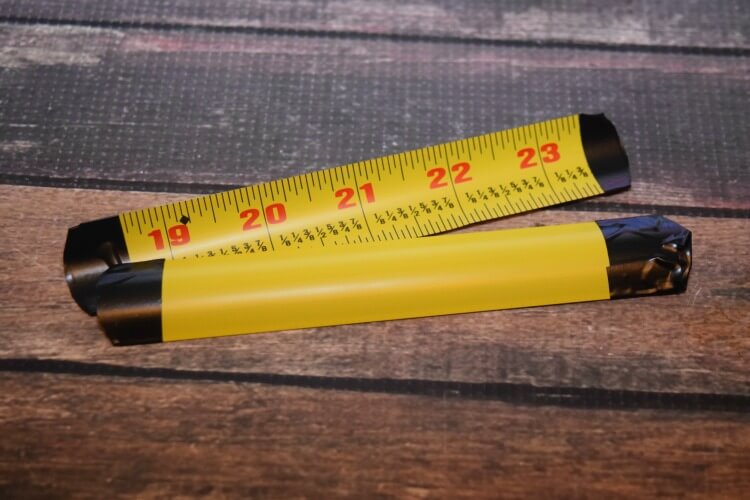 Lay the metal tape measure across the casing and measure and then cut 2 pieces of tape measure. Cut them each 1 inch smaller than the width of the casing. You'll want about 1/2 inch of room on either side of the tape measure. Use old scissors to cut the tape measure.
Take the electrical tape and cover the ends of the measuring tape as it is very sharp. Set aside.
Fold the bag in half and match up the casings. On one side, insert the swivel hook strip so the raw edges stick outward.
Sew closed the entire length of one side of the bag. Sew closed the other side of the bag, but leave open the casing (to insert the metal tape measure).
With the bag still inside out, fold each bottom edge of the bag into a point with the seam at the top of the point and measure about 1/2 inch down from the point and sew a straight line, like the photo. Do this for both sides of the bag to create a flat bottom.
Keeping the bag inside out, insert the tape measure pieces with the numbers facing out. It's very important you insert it this way. When you flip the bag right side out, you want the numbers facing each other, otherwise it won't snap open and close.
Line up the open sides of both casings and sew each one shut. Flip the bag right side out.
Now you can use the prairie points to easily pull open the bag. Insert your hand wipes in your bag.
Use the swivel hook to fasten the pouch to your diaper bag, purse, backpack or even belt loop to make them easily accessible!
Wouldn't this make a cute little stocking stuffer with a pack of Nice 'n CLEAN Antibacterial Hand Wipes?