This is a sponsored conversation written by me on behalf of Vicks at Walmart. The opinions and text are all mine.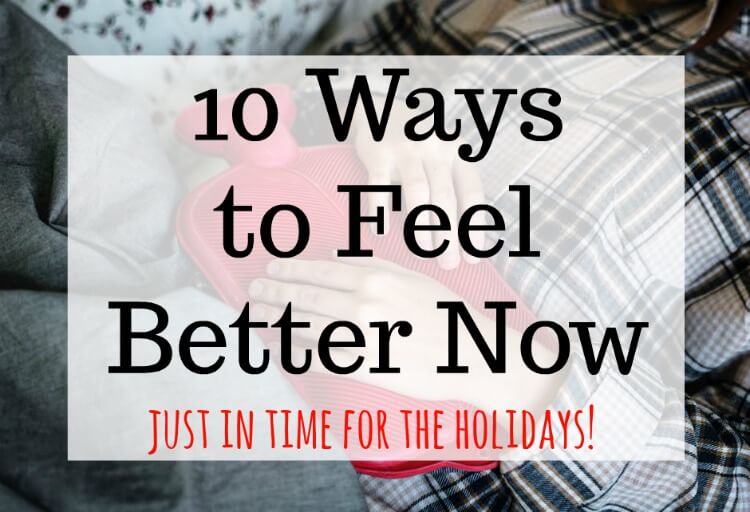 While I do love the holiday season, I dread knowing it's also the season of colds, coughs, and the flu. Last year was particularly hard on my middle daughter. By this time last year, she had three different strains of the flu, and she had strep throat twice. This year we are doing much better.
There are a lot of things you can do if you're sick during the holiday season to get over it quickly and easily.
#1 Get a flu shot. This is always our #1 thing to do when the Fall season hits. Usually it works well. Last year was the first year in ages my kids got the flu
#2 Stay home & order Grocery Pickup at Walmart. If you're sick, you don't want to go out and infect everyone else. It's amazing how easy it is to get sick when you are grab a grocery cart that someone with a cold or cough just was pushing around. This is a HUGE reason why I have been using Grocery Pickup at Walmart.
I love being able to place my order on grocery.walmart.com, select a pickup time, and then I show up and they put the order right in the trunk. I don't have to get the baby out of the car in the cold or put her in the cart to potentially catch something.
It's also a great way to pick up things I need like Vicks Dayquil and Nyquil. This past weekend my two oldest kids came down with a cold, and making a Grocery Pickup run was so convenient to stock up on tissues and cold medicines to help relieve their symptoms.
#3 Wash your hands frequently. This should go without saying! Always wash your hands. It's so easy to transfer bacteria and viruses by inadvertently touching droplets from a sneeze or cough and then touching your face.
#4 Use a vaporizer or humidifier. We have two Vicks Warm Steam Vaporizers in the linen closet. When anyone in the family starts having cough and cold symptoms, I immediately set a vaporizer up in their room. The moisture it puts in the air makes sleeping so much easier when you're sick. Plus, they have little medicine cup built in to add Vicks VapoPads to help you breathe easier.
#5 Get some sleep. This is the biggest tip I tell my kids. It's always important to get adequate sleep. It's so easy to get run down and end up susceptible to illness when you don't sleep enough.
When anybody in the family starts to feel sick, I send them to bed. Your body works wonders to heal you while you're sleeping.
#6 Eat whole foods. I keep a huge stock of fresh veggies and fruits in the kitchen all the time. Those are our go-to snacks, and my son is frequently turning them into smoothies.
I also try to cook with them as much as possible, so that my family gets foods packed with antioxidants to help them ward off illness and feel better when they are sick. There's nothing like a bowl of steaming fresh stew full of veggies when you're under the weather.
#7 Keep symptoms at bay with Vicks at Walmart. With the powerful relief from Vicks, you can clear your head and quickly relieve symptoms. This past weekend when my teens started to come down with a cold, I immediately ordered Vicks Dayquil and Nyquil liquicaps. I sent my oldest daughter off with a box when she went back to college on Sunday and kept another one here for my son.
My daughter is at the end of the semester, so even though she's sick, there's no time to rest as she has papers to write and tests to take. She's able to take the Dayquil liquicaps while she has to attend classes, and then on her days off, she's taking the Nyquil liquicaps so she can get more sleep.
My son has allergies, and unfortunately, they have turned into a full-blown sinus infection over the past few days. We are using the Vicks Vaporizer in his room every night. I also picked up Vicks Sinex nasal spray for him. While he's waiting for his antibiotics to kick in for the sinus infection, Vicks Sinex spray has a decongestant to help him get some relief, and it lasts for 12 hours!
#8 Stay hydrated. You don't necessarily need to down 8 glasses of water a day, but keep yourself hydrated. Just drink plenty of fluids. A hot beverage can really help ease cold symptoms like a sore throat. Blueberry tea is my favorite drink when I'm under the weather.
#9 Take a spoonful of honey. Honey is my favorite way to quiet a cough. If I just can't quit coughing, I'll take a spoonful of honey, and for an hour or two, it makes me stop coughing quite so much.
#10 Take a hot shower. This is my favorite tip. When I have a sinus infection or a cold, I probably take three showers a day to help me feel better. Breathing in the steam from a hot shower puts moisture in your nasal passages and lungs, and it helps break up secretions so you can move that yucky stuff out of there.
There is a lot you can do when you're feeling under the weather during the holidays. When you need something to help relieve your symptoms, avoid all those holidays shoppers and order Vicks products online with Walmart's Grocery Pickup. Check out these offers for saving money at Walmart when shopping for Vicks:
$1 off any Vicks product at Walmart (except drops, Sinex, and ZzQuil) – BrandSAVER coupon from the 11/25 newspaper
$1 off Vicks Nyquil at Walmart – iBotta offer
$0.75 off Vicks VapoDrops at Walmart – iBotta Offer
Bonus $1.25 rebate when you use both iBotta offers
This is a sponsored conversation written by me on behalf of Vicks. The opinions and text are all mine.